---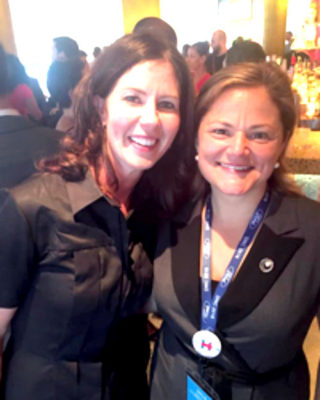 Today, Speaker Melissa Mark-Viverito (right) joined Fire and Criminal Justice Services Chair Elizabeth Crowley to celebrate $4 million in expense funding through the Fiscal Year 2018 budget to uniform all New York City firefighters with an extra pair of boots. The funding was secured through the consistent advocacy of Chair Crowley. Speaker Mark-Viverito and Chair Crowley commemorated the inclusion of this important funding with a visit to FDNY Engine 91 in East Harlem.
Harlem's Melissa Mark-Viverito's Successor Slammed For Also Supporting Puerto Rican Day ParadeThe fallout over the Puerto Rican Day Parade committee's decision to honor a convicted terrorist is …May 29 2017harlemworldmag.com
Firefighters are exposed to a variety of safety hazards in their line of duty. Being equipped with proper protective work boots helps prevent injuries to the foot that can occur during falls, slips, or sharp objects and other dangers. A second pair of boots serves as a backup to make sure that each uniformed member can do their job without having to worry about their equipment.
"Every day, our firefighters put their lives on the line to keep New Yorkers across all five boroughs safe and sound. Making sure that our firefighters are properly and adequately equipped is one of our main priorities because it ensures their safety and their ability to do their jobs properly. That is why the Council is proud to have secured this $4 million in funding to provide a much-needed second pair of boots to all of our FDNY members," said Speaker Melissa Mark-Viverito. "I thank Fire and Criminal Justice Chair Elizabeth Crowley, Finance Chair Julissa Ferreras-Copeland, the entire FDNY, and the de Blasio Administration for their partnership on this critical issue."
"I'm pleased to see this budget allocation because our firefighters need to be quick and steady on their feet, and must have adequate protection while working in an emergency," said Council Member Elizabeth Crowley, Chair of the City Council's Fire and Criminal Justice Services Committee. "The FDNY responds to hundreds of calls every day, and this second pair of boots will ensure they can perform their best to protect New Yorkers. I'd like to thank City Council Speaker Melissa Mark-Viverito and the City Council's Finance Committee Chair Julissa Ferreras-Copeland for their leadership and commitment to the people of New York City."
Immigrant Rights Coalition Praises Harlem Speaker Melissa Mark-ViveritoA coalition of immigrant rights, community based organizations and leaders will gather on Friday mor…Jun 9 2017harlemworldmag.com
"New York City's bravest put their lives at risk every day in order to keep us safe. They provide our neighborhoods with vital education to prevent fires and are dedicated members in our communities. Ensuring that they have the proper equipment to protect themselves and work efficiently is crucial to their ability to save lives and it is the least we can do," said Finance Chair Julissa Ferreras-Copeland. "This Council and I are grateful to these men and women, and we are proud to invest in them."
"Our firefighters are grateful to Speaker Mark-Viverito and Council Member Crowley for supporting their needs," said New York City Fire Department Commissioner Daniel A. Nigro. "An extra pair of boots will provide added convenience and comfort."
"So many times when duty calls, our firefighters are forced to wear wet soiled boots in order to work through poor weather conditions and endure hazardous environments," said Gerard Fitzgerald, President of the Uniformed Firefighters Association. "Thank you to the entire New York City Council and Speaker Melissa Mark-Viverito for securing the funding for a second pair of boots for our brothers and sisters. This is a matter of safety to make certain we are equipped to put forward our best on the job."
Harlem Speaker Melissa Mark-Viverito Remarks For Joint Public Hearing Of CommitteeBy Speaker Melissa Mark-Viverito The recent attempt by ICE to arrest a woman in Human Trafficking C…Jun 29 2017harlemworldmag.com
"When it comes to public safety and the safety of fire officers and firefighters, there are no better advocates than New York City Council Speaker Melissa Mark-Viverito and her fellow Council Members," said Jake Lemonda, President of the Uniformed Fire Officers Association.
Photo credit: Melissa Mark-Viverito And Elizabeth Crowley via source.
Related articles
Related Articles
---