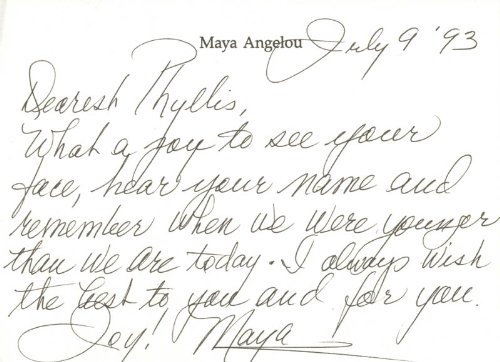 Maya Angelou Handwritten letter from the celebrated author to comedienne Phyllis Diller, reminiscing old times of their youth. Autograph letter signed: "Maya", 1 page. No place, July 9, 1993. On card imprinted with her name to comedienne and actress Phyllis Diller.
Begins:
"Dearest Phyllis". In full: "What a joy to see your face, hear your name and remember when we were younger than we are today. I always wish the best to you and for you. Joy!"
Less than six months before she wrote this letter, Angelou became only the second poet in U.S. history to write and recite an original work for a Presidential inauguration (Bill Clinton, January 1993); Robert Frost was the first (John F. Kennedy, 1961). Best-selling author and poet Maya Angelou (1928-2014) was nominated for a Pulitzer Prize for Just Give Me a Cool Drink of Water 'fore I Die (1971). Her autobiographical books, such as I Know Why the Caged Bird Sings (1970) and The Heart of a Woman (1981), recount her struggle for identity as a Black woman in a hostile world. The first Black woman director in Hollywood, Angelou has written, produced, directed and starred in productions for stage, film and television. She was nominated for the 1973 Tony Award for Best Featured Actress in a Play for Look Away. In addition to her artistic pursuits, Angelou has also lent her voice and talents to Civil Rights causes.




Comedienne Phyllis Diller (1917-2012), known for her outrageous appearance, zany outfits, distinctive laugh and a stand-up act that featured frequent references to her fictional husband, "Fang", and zingers about her sex appeal and numerous plastic surgeries, got her big break in March 1955 (at age 37), when she debuted at San Francisco's Purple Onion club. A subsequent appearance on The Tonight Show hosted by Jack Paar launched her national career, which got a big boost after Bob Hope saw Diller.
Price: $ 510.00
Related Articles