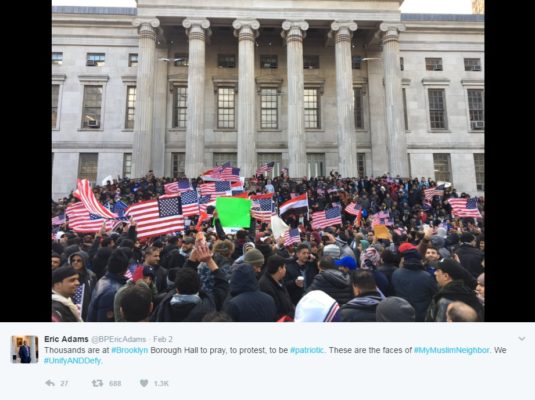 President Trump's travel ban sparked a shut down of one of the city's most vital institutions Thursday — bodegas.
Yemeni businessmen around the city took the drastic step of closing bodegas between noon and 8 p.m. in protest of Trump's executive order targeting seven Muslim-majority countries, including Yemen.
"It's not right…everybody is sad. The American people too," said Abdo Saeed, 34, who manages Yemen King Deli and Grocery in East Harlem.
The American citizen who has lived in the U.S. for 16 years closed up shop and headed to Brooklyn for a rally of his fellow Yemeni bodega owners.
"If everybody goes out, maybe he'll listen. Maybe he'll change," Saeed said.
Organizers estimated there are as many as 6,000 Yemeni-owned bodegas and grocery stores in the city.
Others carried signs that read "Muslim Lives Matter" and "I love immigrant NY."
Fawaz Said, 32, whose wife is trapped in Malaysia awaiting entry to the U.S., closed his bodega on New Jersey and Sutter Aves. to join the protest.
"We have a lot of family members who couldn't come here," he said. "My wife is stopped now in Malaysia. She was turned back at the airport four days ago. She can't go back to Yemen because Yemen is war, it's bad."
Closing up his store for a few hours was the least he could do, Said told the Daily News.
"We're here to support our families, friends and ones we love from Trump's decision," he added.
The stores, often open around the clock, are indispensable stops for New Yorkers looking for a breakfast sandwich, snack o ingredient missing from the kitchen.

"Initially I suggested they close from 8 a.m. to 8 p.m., but many did not want to disrupt the lives of the very people they serve daily who buy coffee in the morning or children that buy snacks on the way to school," organizer Debbie Almontaser said.
Harlem City Council Speaker, Melissa Mark-Viverito vowed to fight Trump's immigration orders.
Thank you all for what you do for New York City. We are all one, we are all united and we will push back against these executive orders.
"Today is a very emotional day but we are all united and in solidarity. We are here across communities to say that we are America," Mark-Viverito. "I was deeply moved…Thank you all for what you do for New York City. We are all one, we are all united and we will push back against these executive orders."
"New York City's bodega owners are bravely shutting their doors to oppose the president's shameful executive order. I stand with them," Mayor de Blasio tweeted Thursday evening.
Trump's travel ban, which was announced Friday, prompted protests at airports around the country.
The White House insists the ban on travel for 90 days from the seven countries, as well as other restrictions, is necessary to protect the U.S. from terrorism. Critics insist the ban is an unconstitutional plan implementing the Muslim ban Trump touted during his presidential campaign.
"I think it's going to start problems in their countries [in the Middle East], it's going to cause more terror," said Faustyna Grzybowska, a 19 year old nursing student who moved to Brooklyn from Poland when she was 3.
She was out to support the Yemeni and Muslim community. "I can't even wrap my head what's going on right now. I want people to be aware what's going on but the fact that the majority of New York is going against Trump has to mean something. It's a movement."
Regulars of Yemen Cafe on Atlantic Ave. in Brooklyn, which was also closing for the rally, were outraged at Trump's ban.
"These guys are the best. I've lived in this neighborhood for 20 years and they're such an important part of the community — all these guys," said Brent Burket, 54.
"To see what's happening to them and their families is sickening. Simple as that," he added breaking down in tears.
Outside the cafe, Yemeni-born U.S. citizen Alsaidi Darieham, who sported an American flag on his jacket, unfurled the flag of his homeland.
"Everyone who comes here, they like America. America is good. We are good!" the 60-year-old said. "Everyone who comes here, they come here to live."
Via source and Eric Adams.
Related Articles
---
VIDEO
---
"Dr. Harry Delany is a renowned Harlem born and raised surgeon, the son of the great jurist and civil rights leader, Hubert Delany...." This monthly post is made in partnership with Harlem Cultural Archives.