---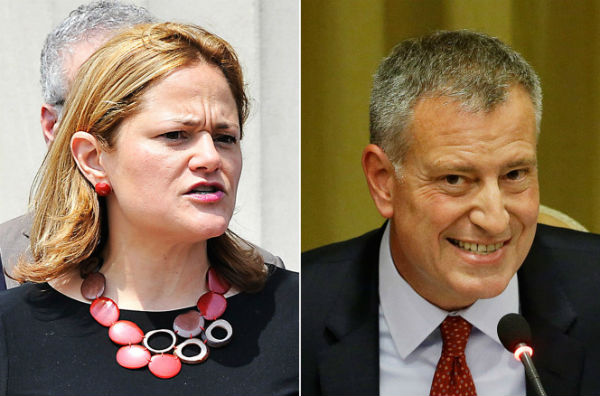 Mayor Bill de Blasio today signed Intro. 1313-A that expands paid leave to domestic violence, sexual assault, stalking and trafficking survivors. This new law will allow the nearly 3 million New Yorkers eligible for paid leave to attend to immediate safety needs without fear of penalty or loss of income. The bill was introduced by the Mayor, First Lady McCray and Council Member Julissa Ferraras-Copeland in October 2016.
"No New Yorker should ever have to decide between their safety and a paycheck," said Mayor Bill de Blasio. "This new law will make it easier for survivors to get the care they need without jeopardizing their livelihood. I want to thank the First Lady, Speaker Harlem's Melissa Mark-Viverito and Council Member Ferraras-Copeland for championing this cause, and fighting to bring an end to the pernicious cycle of domestic abuse."
"Individuals experiencing intimate partner abuse should not be forced to choose between earning a living and keeping themselves and their children safe. They need the time and space to consult police or prosecutors, seek medical attention or relocate to another neighborhood. I'm proud to stand alongside Mayor de Blasio to make Paid Safe Leave a reality in New York City so survivors can access the services they desperately need without fear of losing their job," said First Lady Chirlane McCray, Co-Chair of the Commission on Gender Equity.
"No one should have to choose between their safety or their employment," said Speaker Mark-Viverito."Providing New Yorkers with paid safe leave will help ensure that domestic violence survivors can get the help they need without fear of retribution. I thank Council Member Julissa Ferreras-Copeland for her leadership on this critical issue and the Administration on their continued partnership as we work to make our City safer and more just for all New Yorkers."
Council Member Julissa Ferreras-Copeland said: "Today, we once again demonstrate that New York City is a safe place for survivors of domestic violence. With the Mayor's signing of this important legislation, victims of domestic violence, sexual harassment, and human trafficking will be able to take the time needed to procure protection and services needed to move forward with their lives, without having to worry about losing their job or income. I want to thank Mayor de Blasio, their First Lady, and the Speaker for their partnership on this proposal and continuous efforts to protect domestic violence survivors."
No New Yorker should ever stay in a dangerous situation because they fear missing paid work to address safety needs, or face loss of income for recovering from abuse. Yet, victims of intimate partner violence across the US report an average of 7.2 days of work-related lost productivity per year.
Intro. 1313-A, which takes effect 180 days after signing, expands New York City's Paid Sick Leave law to allow workers to use paid leave to address safety and access critical services related to specified criminal offenses. This bill does not add to the total amount of leave, no less than 40 hours per year, that workers can take – instead it adds reasons for using the leave to allow a survivor of domestic violence, sexual assault, trafficking or stalking to take time off of work in order to plan their immediate next steps and focus on safety, without fearing a loss of income. NYC is the first city to pass paid safe leave legislation that includes survivors of human trafficking in addition to domestic violence, sexual abuse, and stalking. Workers who have been the victims of these offenses – or family members who need to assist them – can use Paid Sick or Safe Leave to care for their needs, whether physical, psychological, financial or otherwise. Examples of uses that will be allowed under this bill include: meeting with and safety planning with a social worker/advocate, meeting with a civil legal attorney, filing a police report, meeting with the District Attorney's Office, attending a court appearance, an appointment with a financial counselor, moving into safe housing, and others. The bill also expands the definition of family member for all uses of paid time, Sick or Safe, under the law to recognize chosen families, not just biological ones.
The Department of Consumer Affairs has enforced the Paid Sick Leave Law since it took effect in 2014; now DCA's Office of Labor Policy & Standards will continue its enforcement work of the amended law that includes the new SAFE leave uses, and the expanded definition of family member. If employers violate the Paid Sick or Safe Leave law, DCA-OLPS can require them to provide restitution to workers and pay civil penalties. DCA-OLPS will collaborate with the Mayor's Office to Combat Domestic Violence, as well as community partners, to conduct outreach and education to inform the public of these amendments. Understanding the complexity of the challenges domestic violence survivors already face, we want to ensure that survivors know their rights under this new law, and are able fully to take advantage of them.
"Assuring all New Yorkers have the ability to move towards safety without jeopardizing their employment is critical," said Deputy Mayor for Health and Human Services Dr. Herminia Palacio. "The signing of the Paid Safe Leave law fortifies the tools our brave survivors of domestic violence, sexual assault and trafficking have to secure safety for themselves and their families."
"The passage of NYC's Paid Safe Leave law is a tremendous achievement and another example of the city's commitment to survivors," said Cecile Noel, Commissioner of the Mayor's Office to Combat Domestic Violence. "This legislation will help survivors preserve one the most important things they need to move forward from abusive relationships–their employment–by allowing them to use earned sick time to attend to matters related to preserving their safety. Today, survivors can rest a little easier knowing that another form of assistance is available to them."
DCA Commissioner Lorelei Salas said: "This amendment to expand the City's current Paid Sick Leave Law comes in the face of federal threats to minimize local paid leave policies, sending a strong message that New York City will continue to fight for the workplace protections New Yorkers need and deserve," said DCA Commissioner Lorelei Salas. "The ability to use 'safe' leave to seek help provides survivors of domestic violence the necessary protection they need to ensure their safety and the safety of their families. And the broadening of the definition of family gives all New Yorkers the right to use sick and safe leave to care for those who are closest to us no matter what the label."
Jacqueline Ebanks, Executive Director of the Commission on Gender Equity, said: "Paid Safe Leave is a critical protection for survivors of intimate partner violence. At one of the most vulnerable moments any family can ever face, paid safe leave helps ensure the safety and well-being of survivors of intimate partner violence and offers comfort that they do not face this trauma alone."
In 2014, Mayor de Blasio signed legislation expanding Paid Sick Leave to half a million more New Yorkers, ensuring that employees who work in NYC for more than 80 hours a year can earn up to 40 hours of sick leave each year to care for themselves or a family member.
Across the country, cities have struggled to effectively reduce rates of domestic violence. In New York City, where crime is at historic lows, domestic violence persists. The de Blasio Administration is investing $11 million to reduce domestic violence by increasing early intervention, expanding services for survivors and better holding abusers accountable. These recommendations were developed by the Domestic Violence Task Force, which the Mayor and First Lady convened in 2016.
Director of Sanctuary for Families, the largest provider of dedicated holistic services to survivors of gender violence and their children in New York State, Dorchen Leidholdt said: "For too many domestic violence victims, reporting abuse and seeking safety, medical assistance, services, and justice for themselves and their children has resulted in increased economic hardship, the loss of their jobs, and even greater economic dependence on their abusers. The new Paid Safe Leave law will provide domestic violence victims with protection from these harms and make it far easier for them to achieve safety and independence."
Irene Jor, New York Organizer for National Domestic Workers Alliance said: "Domestic violence and labor trafficking disproportionately impact domestic workers as a direct result of the persistent discrimination domestic and care workers face as women of color and migrant workers, and the economic insecurity they experience in the sector and at large. The National Domestic Workers Alliance is thrilled to see the passage of the SAFE Leave bill which will extend paid sick leave for domestic violence and trafficking survivors. This is a key development for the members of the domestic and care sector. In order to rebuild and stabilize one's life after such traumatic and life altering experiences, there are many steps to take to break these cycles of abuse and exploitation. These steps include making necessary appointments that may be legal or health-related, and tending to personal matters like finding new housing and securing childcare. The SAFE bill is a powerful demonstration of how government, employers, and all of us can and will stand by workers who have experienced extreme and unacceptable forms of violence."
"At Her Justice we recognize the important role family court plays in the path to safety for victims of partner violence. We thank Council Member Julissa Ferreras-Copeland for her efforts to draft and pass legislation that provides protections for women in crisis by ensuring they are able to meet with an attorney and participate in their legal case," said Amy Barasch, Executive Director of Her Justice.
"We are beyond thrilled the NYC Paid Safe Leave legislation is being signed into law, as it extends critical support to those attempting to escape and recover from domestic violence," said Nathaniel M. Fields, President and CEO of Urban Resource Institute and Center Against Domestic Violence. "Far too often, employers and the general public may not be aware of or fully understand the devastating and wide-ranging effects that domestic violence has on a survivor's family, career, and finances. This legislation removes an immense barrier and encourages victims of domestic violence to seek out the life-saving services that will allow them to flee abuse and begin to rebuild their lives."
"A Better Balance is thrilled at this expansion of New York City's path breaking earned sick time law. We worked tirelessly to pass this law in 2013 and we congratulate Mayor de Blasio and the New York City Council for expanding this legislation to now cover the critical times in a worker's life when they need time off to insure their safety or the safety of their loved ones. We also applaud the recognition in this expansion that our New York City families are diverse and that all New Yorkers should be able to take time to care for those closest to them," said Sherry Leiwant, Co-President of A Better Balance.
Madeline Garcia Bigelow Esq, Managing Director of Domestic Violence Project and Urban Justice Center, said: "The robust panoply of services available to victims of violence, trafficking and stalking are only as good as their accessibility. This legislation ensures survivors are not placed in the untenable situation of choosing between relief from suffering at the hands of an abuser and the crushing bondage to poverty and homelessness. This legislation empowers survivors to make decisions based on personal safety while ensuring their wages and employment. The Domestic Violence Project at the Urban Justice Center thank Mayor de Blasio and the Honorable Julissa Ferreras-Copeland for their continued support and championing of the rights of all survivors of violence."
Related Articles
---