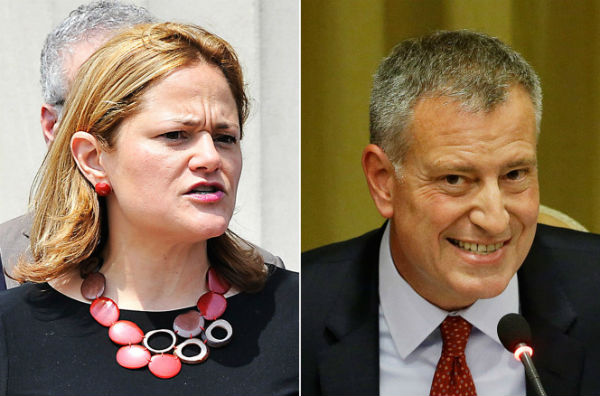 The de Blasio Administration today announced that it is supporting more than 1,300 children and youth with crucial necessities and toys this holiday season through the Secret Snowflake initiative.
In 2016, Secret Snowflake mobilized 900 City and private sector employees to answer 1,300 hand written letters from children and youth in need and provide them with gifts this holiday season, doubling the number of children served through letters last year. In addition, 10 organizations, including Greenlight Bookstore and Eeboo Toys, contributed over 2,000 in kind donations such as books, toys and school supplies. These donations are distributed to City agency partners to supplement letters and serve additional children.
"The holidays are a great time for us as New Yorkers to count our blessings and share our gratitude with others," said Mayor Bill de Blasio. "The Secret Snowflake Holiday initiative is making this season brighter for hundreds of children and youth across our City, and it reminds us of how powerful we are when we work together. I want to thank the hundreds of New Yorkers who answered letters this year and the many organizations that have contributed in-kind donations to make this possible."
"Sharing the joy of the holiday season with children around New York City is one of the ultimate highlights of this time of year," said Harlem's Council Speaker Melissa Mark-Viverito. "Through the Secret Snowflake program, hundreds of young people throughout the five boroughs will have their celebrations brightened by our dedicated civil servants and contributors. The work of the Office of Mayor de Blasio, NYC Service and partner organizations serves as a model for the giving spirit this festive month should instill in all of us, and I thank them for their commitment to even the youngest of New Yorkers."
"By leveraging the spirit of service during the holidays, Secret Snowflake brings New Yorkers together to support hundreds of children and youth in need," said Chief Service Officer Paula Gavin. "NYC Service is so honored to continue leading this initiative and we are grateful for the partnership and support from our City agencies, businesses and every day New Yorkers across the City that helped make this the most successful year of Secret Snowflake yet."
The Secret Snowflake is led by NYC Service in partnership with the Administration for Children's Services, the Department of Homeless Services, Department of Social Services and the Mayor's Office to Combat Domestic Violence.
Additionally, NYC Service coordinates with City employees, including the Mayor's Office for International Affairs, which engages the diplomatic community in service. This year, participants included representatives from the Consulates General of Australia, Belarus, Denmark, Germany, Lebanon, Singapore, Sweden, Thailand and the United Arab Emirates. Representatives from the Permanent Missions of Chile, France, Germany, Kuwait, Singapore, Switzerland, the United States, the Delegation of the European Union as well as staff from across the United Nations also participated.
Through the Secret Snowflake Holiday initiative, NYC Service actively recruits corporate partners such as Brookfield, HBO, The New York Times and Yelp to answer hand written letters from children in need.
NYC Service also uses the holiday season to involve local businesses in Secret Snowflake. Greenlight Bookstore in Brooklyn joined the initiative this year and engaged their customers and publishers in a holiday book drive that raised nearly 500 books that will supplement answered letters and serve additional children.
Over the last three holiday seasons, Secret Snowflake has mobilized a total of 1,548 New Yorkers to answer letters and provide gifts for over 2,200 children and youth. The initiative has also helped collect over 3,000 in-kind donations from organizations across the City to supplement letters and serve additional children.
2016 Corporate Partners (Employees Answered Letters)
Brookfield
HBO
Maggie Vision Productions
New York City Football Club
The New York Times
Yelp
2016 In-Kind Donors
---
---
Akashic Books
Eeboo Toys
Europa Editions
Greenlight Bookstore
Harper Collins
HBO
Mayor's Office of International Affairs
Penguin Random House
Soho Press/Soho Crime
"The holidays are a great opportunity to show our generosity to hundreds of children in foster care and their families," said Commissioner of the NYC Administration for Children's Services Gladys Carrión. "Secret Snowflake encourages New Yorkers to take the time to make a child feel special. I am proud to partner with NYC Service and other City and private agencies in giving back to our youth in care."
"NYC Service's 'Secret Snowflake' is instrumental in connecting donations made in the spirit of the season to New Yorkers who need it most," said Commissioner to the Department of Social Services Steven Banks. "We thank NYC Service for its commitment to work with us to improve the lives of homeless New Yorkers."
"The Mayor's Office to Combat Domestic Violence is proud to take part in Secret Snowflake," said Commissioner of the Mayor's Office to Combat Domestic Violence Cecile Noel. "This program embodies the best values of New Yorkers and is a shining display of generosity around the holidays. We are grateful to the many donors throughout the City who have helped bring gifts and smiles to hundreds of underserved children whose lives have been affected by domestic violence. The families at the NYC Family Justice Centers that benefit from Secret Snowflake are very grateful for the kindness they receive, and more importantly, to be able to bring joy to their children during this festive season."
"I commend NYC Service for providing this special opportunity to give back and assist families and children in need," said Commissioner of the Mayor's Office for International Affairs Penny Abeywardena. "My office is especially thrilled to be able to partner with NYC's diplomatic and consular community in this year's Secret Snowflake, giving over 250 gifts to children and families throughout the five boroughs. It is an honor to engage the diplomatic community in the City in which they live and to collaborate with our City agency partners."
"With tremendous support from our employees, HBO proudly partnered with NYC Service and the staff of the Alice Branch Plaza family shelter to expand upon the Secret Snowflake initiative and give back in a deeper, more meaningful way," said HBO Corporate Social Responsibility Vice President Dennis Williams. "Together, we renovated vital recreational areas of the shelter, just in time for the holidays. We are especially proud to have support from our friends at Sesame Street who infused creativity and imagination into a space that will now be used as an Early Childhood Learning room. The combined efforts of the Department of Homeless Services, the Mayor's Office and numerous HBO volunteers, reminds us of what we can accomplish when we mobilize our resources to help and serve others."
"Greenlight welcomed the opportunity to work with NYC Service on Secret Snowflake to give back to our city as a small business and to engage our customers in giving back as well," said Greenlight Bookstore owners Jessica Bagnulo and Rebecca Fitting. "We invited our customers to purchase carefully selected books from Greenlight at a deep discount to be donated to the city's young readers through NYC Service and the Mayor's Office; we worked with our publisher friends and brought our own expertise to bear on selecting just twelve perfect titles. The response from our customers was enormous and warm-hearted: they donated 434 books and a total of almost $5,800, in addition to Greenlight's own donations. It was a wonderful way for us to be able to highlight great books and authors, and give our book-loving customers the chance to share the gift of literacy, which matters so much to them and to us, with the kids of our great city."
Council Member Mathieu Eugene said, "The Secret Snowflake program is a wonderful opportunity for New Yorkers to lend a helping hand and make children in foster care feel special. During the holiday season, it is important for all of us as a community to use our resources to help those in need. Through this special act of generosity by our city, we can put a smile on the faces of our city's homeless youth."
Council Member Stephen Levin said, "Secret Snowflake is a fantastic program to channel New Yorkers' generosity and compassion to grant the wishes of hundreds of our City's kids. We must carry the spirit of the holiday into 2017 to ensure that homeless families and children and youth in foster care have access to the services and resources they need throughout the year."
"Initiatives such as Secret Snowflake are instrumental in providing essential items to young people during the holidays and bringing joy to families throughout the city. From books to toys to other necessities, Secret Snowflake fills a critical void. We applaud this program, the Mayor's Office and all the companies, organizations and individuals invested in this wonderful effort," said Heather Butts, co-Founder of HEALTH for Youths.
"There are many people who are experiencing trying times during the holiday season. The Secret Snowflake initiative helps to lighten the burden. The Secret Snowflake initiative is a great one! Thank you Mayor de Blasio," said Nikki Lucas, Female District Leader of the 60th Assembly District in Brooklyn.
"Our strongest partnership at City Mission has been working with the Mayor's Office and the Department of Homeless Services, addressing the marginalized individuals, families and communities in New York City. We are so encouraged by the Secret Snowflake initiative as it inspires other New Yorkers to show love in action to those in need. More than ever, we all have a role in furthering civility, community services and social justice," said Lester Lin, Founder and Board President of City Mission.
To learn more about NYC Service and connect to volunteer opportunities across New York City, visit nyc.gov/service.
Related Articles