---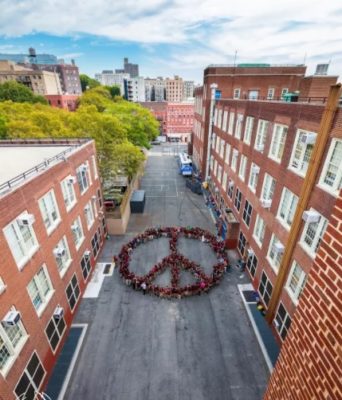 A  great photograph of students, staff and others forming a human peace sign as part of the John Lennon Educational Tour Bus 20th year celebration at the Urban Assembly School for the Performing Arts in Harlem, NY.
The Bus dedicates itself to providing state-of-the-art mobile audio, video and live production facility. The Bus continues to dedicate itself to providing young people with career development tours of the studios and offers free digital media production workshops. In the workshops, assisted by three on-board engineers, students learn how to write, record, and produce original songs, music videos, documentaries, and live multi-camera video productions, using the most up-to-date IT Solutions –  all in one day, powered by Nearpod.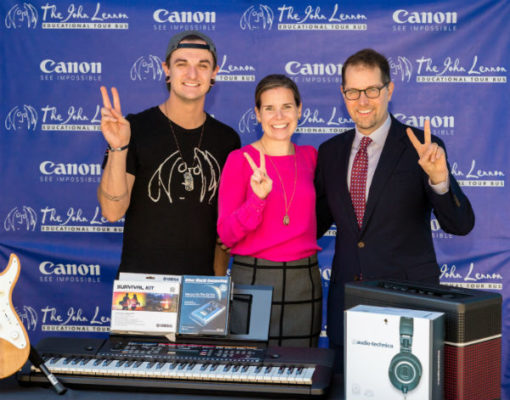 The visit to Urban Assembly was part of The Bus' fourth annual month-long NYC residency entitled Come Together: NYC. Throughout the month, The Bus will host a Block Party in Jackson Heights and across NYC on October 7, 2017. 
Check out John Lennon Educational Tour Bus videos HERE
Photo credit: 1) Students, staff and others forming a peace sign. 2) L-R: Lennon Bus Producer/Engineer Luke Huisman, Principal Meghan McMahon, and Council Member Mark Levine. 
Related Articles
---