---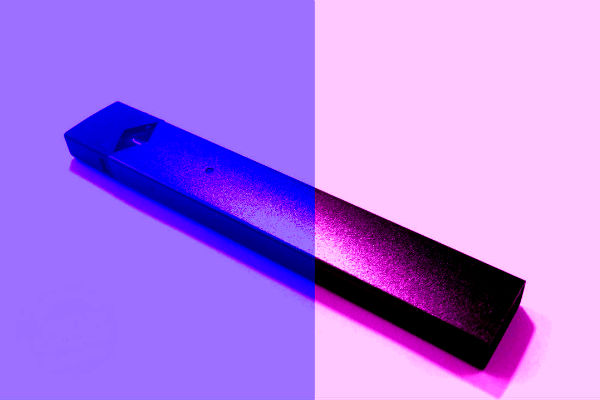 Today the Health Department launched a new media campaign to educate teens about the dangers of e-cigarettes. The fast-paced videos alert young people to the dangers of nicotine addiction and vaping products, including the presence of toxic chemicals, like formaldehyde and benzene, which can cause cancer, or heavy metals, like nickel, tin, and lead. One pod of a popular e-cigarette, JUUL, can contain as much nicotine as a whole pack of cigarettes. The $300,000 campaign will run on digital platforms—including Instagram, Snapchat, Twitter, YouTube, Hulu, Facebook, and Google search—in English and Spanish through the end of the year.
"E-cigarettes put teens at risk of addiction to nicotine and expose them to dangerous chemicals," said Health Commissioner Dr. Oxiris Barbot. "We cannot stand by while Big Tobacco hooks a new generation on nicotine through targeted advertising and enticing flavors. We must rid the marketplace of flavored nicotine like bubblegum, mango, mint and menthol, once and for all."
"As Big Tobacco continues to peddle perfume-coated poison into our communities, and seducing our young people into an addiction for profit, we are fighting back. We want to make our city a healthier place to live — for all New Yorkers, and for future generations," said First Lady Chirlane McCray. "That is why we are having more conversations about vaping, peer pressure, advertising, and the science behind addiction. This is a matter of health justice for our families, our loved ones and our children."
The dangers of e-cigarettes to youth are considerable. Nicotine can change the chemistry of the teen brain, worsening memory, and concentration. Studies show that adolescents may be more susceptible to developing nicotine dependence than adults. In New York City, 1 in 6 public high school students (nearly 45,000 students, or 17.3%) and 1 in 15 public middle school students (about 13,000 students, or 6.7%) reported using e-cigarettes in the past month, according to surveys completed in 2017 and 2018, respectively. However, only 2.5% of adults vape in New York City.
"Vaping has reached epidemic levels among young people in New York City," said City Council Health Committee Chair Mark Levine. "Products from JUUL and other companies are now ubiquitous not just in our high schools but even in middle schools. These companies have sold–and continue to sell–vaping products in an array of enticing flavors like chocolate mint, mango, cherry crush, and watermelon twist. These candy-like flavors are clearly designed to appeal to young people and e-cigarette companies have used savvy social media and digital media campaigns to marketed their products as glamorous lifestyle choices. As we work to ban these flavors in the city, this digital campaign will target teenagers where they are consuming information online and be an effective counter-measure to educate our city's youth on the dangers of these products."
"Teens are particularly at risk of addiction to nicotine and exposure to dangerous chemicals due to the lack of awareness of the dangers of e-cigarettes and vaping products," said State Senator Gustavo Rivera, Chair of the Senate Health Committee. "I commend the Health Department on this full-fledged media campaign to combat Big Tobacco's attempts to hook a new generation on nicotine through targeted advertising and enticing flavors. We must continue to raise awareness and educate young people to confront the health issues these products may cause."
"Despite years of efforts by many well-intentioned folks, many Staten Islanders still smoke cigarettes, and the use of e-cigarettes is alarmingly on the rise among our youth," said Staten Island Borough President James Oddo. "I am grateful to see this social media campaign to educate teens about the dangers of e-cigarettes. We must do everything we can to raise awareness of the risks of vaping and prevent young folks from becoming addicted in the first place."
"We applaud the New York City Health Department on its new campaign empowering young people with information on the mounting dangers and unknown health consequences of e-cigarette use," said Robin Koval, CEO and President of Truth Initiative. "It's time to hit the stop button on this giant e-cigarette chemistry experiment being conducted on our youth, whose health and well-being is not for sale."
Michael Seilback, National Assistant Vice President, State Public Policy, American Lung Association said, "Educating our youth about the dangers of vaping is an absolute necessity.  High school e-cigarette use increased to 27.5% in 2019, with 5 million middle and high school students now using e-cigarettes. We're glad to see a strong education campaign from the City of New York; combined with removing flavored tobacco products from our shelves, it will have a drastic effect on fighting the youth e-cigarette epidemic. We also encourage teen tobacco users and their families to visit lung.org for our expanding cessation and education resources."
"We must be vigilant in keeping up with the tobacco industry's ever-morphing predatory practices to attract younger customers keep current smokers addicted", said Deidre Sully, Director of Public Health Solutions' NYC Smoke-Free program. "This includes their move toward e-cigarettes, the use of kid-friendly flavors, and the historic underhanded practices of pushing menthol to the Black community. We must continue to thwart their efforts to normalize any form of addiction."
"The rising use of flavored electronic cigarettes and menthol by our city's youth is an urgent crisis. The American Heart Association strongly supports all efforts to address this public health emergency, and we look forward to the impact made by the Health Department's media campaign. Coupled with the potential in front of City Council to remove flavored e-cigarettes and menthol tobacco from our retail shelves, the city promises to address the scourge of this industry head-on," said Robin Vitale, VP of Health Strategies, American Heart Association, NYC.
"As parent advocates, we are grateful that the Department of Health is communicating vital information directly to our kids about the very real dangers of vaping flavored e-cigarettes. JUUL and its copycats-Big Tobacco 2.0-used social-marketing and influencers, fruity flavors, and tech-chic design to convince young people that vaping is essential to a cool lifestyle: in fact, the lifestyle these predatory companies were selling our teens was one of long-term nicotine addiction. We hope the DOH's bilingual digital campaign will counter the dangerous misconceptions that e-cig companies communicated to adolescents, many of whom continue to believe that the heated toxic brew of nicotine, carcinogens, and unknown chemicals they pull deep into their lungs is simply flavored water vapor," said Meredith Berkman, co-founder of Parents Against Vaping E-cigarettes.
The U.S. currently faces an alarming epidemic in reported cases of vaping-related lung injury, with more than 800 cases and 13 deaths. While many of these cases seem to involve vaping cannabis products, no single substance, chemical or type of product has been linked to every case.
Legislation currently under consideration by the New York City Council (Int. 1362, Levine) would ban the sale of flavored e-cigarettes in New York City. A corresponding bill (Int. 1345, Cabrera) would ban the sale of menthol tobacco products, including cigarettes. Commissioner Barbot testified in support of the legislation at a City Council hearing on January 30, 2019. In September, New York State announced an emergency ban on flavored e-cigarettes and nicotine e-liquids, and last week added menthol to its emergency ban on e-cigarettes, citing the flavor's popularity among teens.
Like e-cigarettes, menthol has long been used to make nicotine products seem less dangerous. Since the 1950s, tobacco companies have sold traditional cigarettes flavored with menthol to mask the harshness of tobacco and make a product that is easier for new users, like youth, to tolerate. In 2018, about half (49%) of New Yorkers who smoked usually smoked menthol cigarettes. Menthol use was also higher among certain demographics: 84% among Black adults who smoke, 60% among Latino adults who smoke, 59% among women who smoke, and 70% among Bronx residents who smoke. In addition, more than half of New York City middle and high school students who smoked used menthol cigarettes. Menthol has been found to increase signs of nicotine dependence among youth and can be associated with less successful quit attempts.
New York City has adopted various laws to prevent and reduce the use of e-cigarettes, including banning the sale of all tobacco products and e-cigarettes to anyone younger than 21 and prohibiting the use of e-cigarettes in all places where smoking is illegal – for example, residential common areas, restaurants, sports arenas and workplaces. In 2018, a mandatory new license for retailers selling e-cigarettes went into effect, along with a cap on the total number of available e-cigarette licenses in each community district.
The Health Department, in partnership with the Department of Education, has developed guidance for principals and other school staff on e-cigarettes and vaping, including new information they can share with families and staff on the recent outbreak of lung injury associated with vaping and educational materials for all New York City public school children and parents: 
Tobacco, drug and alcohol use prevention is part of comprehensive health education and is included in the Department of Education's recommended curriculum to help students learn skills related to decision-making, self-advocacy and peer influences. The Office of Counseling Support Programs, through its Substance Abuse Prevention and Intervention Specialists program, also provides a range of prevention and intervention services in grades K through 12.
Tips for parents:
Learn about e-cigarettes and the different types of products young people are using.
Ask your child what they have heard about vaping and if any of their friends are vaping.
Discuss the current high risks of vaping, given the recent outbreak of vaping-related illnesses.
Answer questions about e-cigarettes while encouraging your children to talk with their friends about the risks of vaping.
Share your concerns and acknowledge how hard it is to resist peer pressure.
Set a positive example by being keeping your home smoke- and vape-free.
For additional resources, including health information, updates about the lung injury outbreak, advice for parents, details about local laws, and guidance for clinicians, visit nyc.gov/health and search "e-cigarettes."
---