---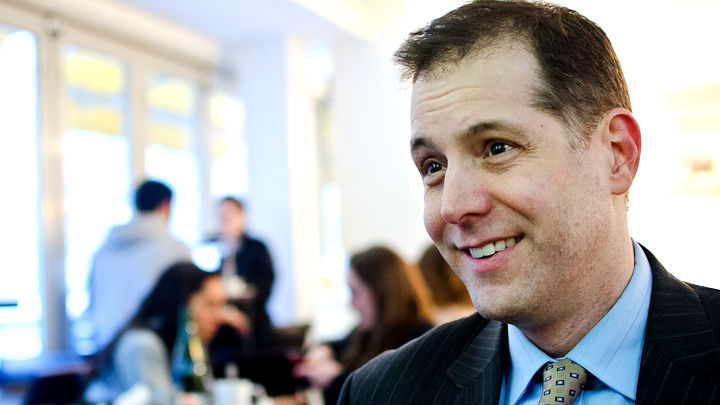 On Thursday, October 29, Harlem Council Member Mark Levine, Council Member Jumaane Williams, Public Advocate Letitia James, and a group of council members and state legislators joined a coalition of teachers, students and business leaders calling for a broad expansion of foreign language education programs in New York City.
The press conference came after
Council Member Levine released a white paper
calling on the city to increase the number of elementary students in immersion programs from the current level of 3% to 20%. Levine's white paper also calls for the number of languages available for immersion to grow from the current total of 10 to 20, with emphasis on the languages in highest demand by employers, including non-Western European languages like Mandarin, Arabic, Russian, and Japanese. Levine also notes that immigrant parents have limited awareness about dual language programs and urges DOE to continue aggressive outreach efforts to this group.
There are 182 existing dual language programs in New York City–including 40 new programs opened this fall by Chancellor Carmen Fariña. While roughly half of New York City households speak a language at home other than English, these programs are reaching only about 3% of elementary school students.
Following the press conference, Council Member Jumaane Williams and Council Member Levine introduced legislation that would direct the Department of Education (DOE) to collect information and report to the City Council on the current landscape and availability of foreign language learning (FLL) programs in the city on an annual basis. Council Member Levine also introduced a resolution calling for the New York State Legislature to pass and for the Governor to sign A.329/S.554 sponsored by Assemblymember Nily Rozic and State Senator Kevin Parker that would establish incentives for college students to become bilingual-certified teachers.
"New York is the most multilingual city on Earth, yet relatively few students in New York City's public schools receive foreign language instruction at an early age. As the world becomes ever more connected, multilingualism is an increasingly valuable asset in the job market. Language learning– especially at a young age–also aids cognitive development and promotes academic achievement in other subjects. We can help our kids grow up to succeed in today's global world, by creating a language learning system for the 21st Century, focused on immersion at a young age," said Council Member Mark Levine.
"New York City is one of the greatest melting pots in the U.S., so our schools should be offering dual and foreign language courses as diverse and pronounced as our constituencies. And in order for our youth to compete globally, they must be equipped with a broad range of linguistic skills. I am proud to introduce this legislation that will require the Department of Education to thoroughly report on our existing language programs, which will help us ensure that students across the city are receiving the world class instruction they deserve," said Council Member Jumaane D. Williams (D-Brooklyn), Deputy Leader and Chair of the Council's Housing and Buildings Committee.
"Our children need foreign language skills to be competitive in today's society, but only a fraction of our students have access to this type of education. More languages are spoken in New York City than almost anywhere else in the world, and we must better utilize this diversity in our public schools. Working together with the Department of Education, we can ensure our city has the data and resources necessary to expand foreign language education for the next generation," said Public Advocate Letitia James.
"The pilot program proposed under my bill would secure funding for foreign language learning programs in elementary schools so that students can receive instruction at an early age when the ability to adapt to new languages is at its highest. As we consider what tools students should be equipped with to succeed in a competitive economy, we must not overlook the ability to communicate in a globalized workforce. I thank Council Member Levine for his support on a measure that is in the best interest of our children's futures,"said Assemblywoman Nily Rozic (D,WF-Fresh Meadows).
"In these times of increasing globalization, the need to understand another language has become more essential than ever before in our country's history," said Senator Parker.  "At this important juncture, we not only have an opportunity,  but an obligation as a society to ensure that our young people are prepared to enter into a growing, global workforce.  Achieving this goal will take resources and qualified teachers and this bill (S554) which will provide incentives to school districts wishing to implement foreign language programs, is critically important in that effort. It gives me great pleasure knowing that  it has gained traction and garnered the attention among my  esteemed colleagues in the City Council–Council Members Mark Levine and Jumaane Williams.  I am looking forward to working with them both on a resolution that will urge the New York Legislature to pass this bill and I will continue to support their efforts."
"On behalf of the membership of The New York State Association of Foreign Language Teachers, I applaud the efforts of Council Member Mark Levine, and the entire New York City Council, to ensure that the children of New York City are not only college and career ready, but world-ready! New York City has an incredible asset, but it is not exploited for the benefit of its children. The linguistic and cultural diversity that exists in NYC is the envy of the world! New York City school children deserve world language programs to provide them with the keys to success in our global community. Students who are world-ready possess the 21st century skills of communication, collaboration, critical thinking, and creativity. Early and sustained world language programs ensure that students will reach a level of proficiency and knowledge of other cultures which will meet our country's needs in business, social services and national security," said Francesco L. Fratto President, The New York State Association of Foreign Language Teachers.
Advocates for Children said, "Advocates for Children supports the expansion of foreign language programs, and in particular, dual language programs, so that all NYC students, including English Language Learners and students with disabilities, are provided with the opportunity to become bilingual."
"We have long advocated for the expansion of dual language programs and applaud Councilmember Levine for undertaking this important initiative," said Steven Choi, executive director of the New York Immigration Coalition. "Dual language programs are especially valuable to the educational success of English Language Learners (ELLs). Far too often, immigrant families are unaware that dual language programs may be options for their children, and face further hindrances due to the limited number of these programs in New York City schools. With the expansion of these programs for all New York City students, we're encouraged that the city will undertake an extensive effort to reach out to immigrant families so programs have the required mixed enrollment of English Language Learners and Foreign Language Learners that make this model successful."
"In New York City, we must equip our youngest students with the skills to compete in the global marketplace in the 21st Century. Our policymakers must rethink language education and offer immersion programs in schools starting in elementary school when fluency is easiest to attain. Learning languages other than English, including non-Western languages like Arabic and Mandarin, will prepare our young people for the jobs of tomorrow and foster the crucial cross-cultural understanding needed to build a truly global city," said Nancy Ploeger, President of the Manhattan Chamber of Commerce.
"In a city as linguistically diverse as our ours, dual language programs should not be a luxury for only a few schoolchildren. The expansion of foreign language education in our city needs to be a priority so that students can understand different cultures and compete in a global economy," said Council Member Margaret Chin. "As a multi-lingual New Yorker, I understand the many benefits that come with the learning of world languages. It is time to make that knowledge accessible to all of our children."
Council Member Costa Constantinides said, "Learning in a foreign language brings several benefits to students, whether as a cultural enrichment or as a future career asset. This legislation from Council Members Levine and Williams would bring us information about the current availability of Foreign Language Learning programs for the first time, helping to encourage greater access to these successful programs. Dual language programs in public schools immerse children in languages that may not necessarily be spoken at home and helps make them stronger students. I thank my colleagues for their leadership on this important issue."
"The power and uniqueness of New York City are fueled by its diversity. I could not think of a more culturally relevant curriculum than speaking the languages of the world in our classrooms today. As the child of immigrants and as a former history teacher, I understand the importance of staying connected to your cultural roots. Culture and language are inherently connected. And by continuing to offer more foreign language education opportunities for native English speaking students, we are exposing them to rich cultures, experiences, and traditions. Fluency in foreign languages is also an important attribute to have in today's competitive job market. A child's capacity to learn languages decreases as they get older, making it all the more important to emphasize foreign language education during formative years. Expanding foreign language education is a necessary measure to ensure that our young people are properly equipped to pursue career opportunities. I thank my colleagues in the City Council, Council Members Mark Levine and Jumaane Williams, for working to advance this very important initiative forward," said Council Member Mark Treyger, co-chair of the Brooklyn Delegation.
Related Articles
---