---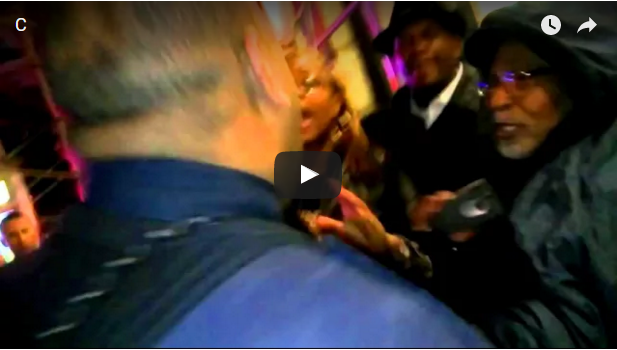 An adviser to Mayor de Blasio and Harlem activist Joseph "Jazz" Hayden were arrested for disorderly conduct Tuesday night for allegedly obstructing police officers who handcuffed an emotionally disturbed homeless man.
Five Omar Mualimm-ak, 40, who has worked with the Mayor's Office on corrections issues and police interactions with the emotionally disturbed, said he was at Broadway and West 57th Street Tuesday night with his friend and fellow activist and Harlemite Joseph "Jazz" Hayden, 74 — trying to help a man with mental issues — when the situation turned violent.
"Two cops jumped out with their nightsticks and started roughing [Hayden] up," Mualimm-ak said.
He said he also took issue with the way the homeless man was treated.
"I'm not gonna allow officers to be abusive with people with mental illness," he said.
Cops had a different rundown of the incident. Officers were trying to "establish dialogue" with a 42-year-old "apparently disoriented" man who was yelling in the street at about 8:40 p.m., police said.
The man eventually sat on the sidewalk and calmed down but became riled up once again when he spotted a group, including Mualimm-ak and Hayden, recording him and the officer, cops said.
The man took off his shirt, threw it to the ground and began to bang his head against the building, cops said. Officers handcuffed him for safety, walked him to an ambulance that had arrived and requested additional units for his aggressive behavior, police said.
An NYPD spokesman said that the incident is under investigation.
Mualimm-ak and Hayden were returning from a book-launch party when the incident occurred.
Hayden documents police activity on video for the web site All Things Harlem.
Both were charged with disorderly conduct, harassment and obstruction of governmental administration. Hayden was also charged with resisting arrest.
Via NY Post
---