---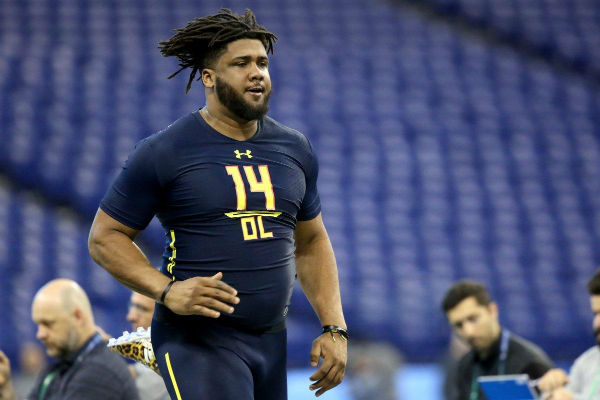 Jessamen Dunker's hometown is listed officially as Boynton Beach, Fla. But the Giants undrafted free agent is actually from Harlem originally, and he's now back home as an undrafted free agent battling for a roster spot along Big Blue's offensive line.
"My mom actually moved back up here. My dad's from Brooklyn. A lot of people don't know that because I moved, but I'm really from 125th St. Nicholas Terrace, right up the street from the Apollo," Dunker said Friday at Giants rookie minicamp.
Dunker, 24, a 6-4, 318-pounder out of Tennessee State, moved as a kid to Georgia and then Florida, so recruiting websites always listed the high school where he finished, Boynton Beach. He started his college career at the University of Florida but transferred after an arrest for grand theft of a motor scooter.
Such stories easily can bump a mid-to-late round prospect out of an NFL draft, but Dunker has found opportunity with the NY Giants, and he's not just here, he said, because it's home.
"I didn't come here just because I'm from Harlem," he said. "I came here because I feel me and the team got good chemistry. I feel like I can do something good with this team, can win some games."
Dunker said a coach told him the Giants want him to play left guard but he may see time at left tackle, too. In the meantime, he'll try to make his family proud.
"My mom lives in Jersey and works in New York. My Dad's in Georgia. And they're both excited, telling all my family 'he plays for the Giants,'" Dunker said with a smile. "It feels good."
Related Articles
---