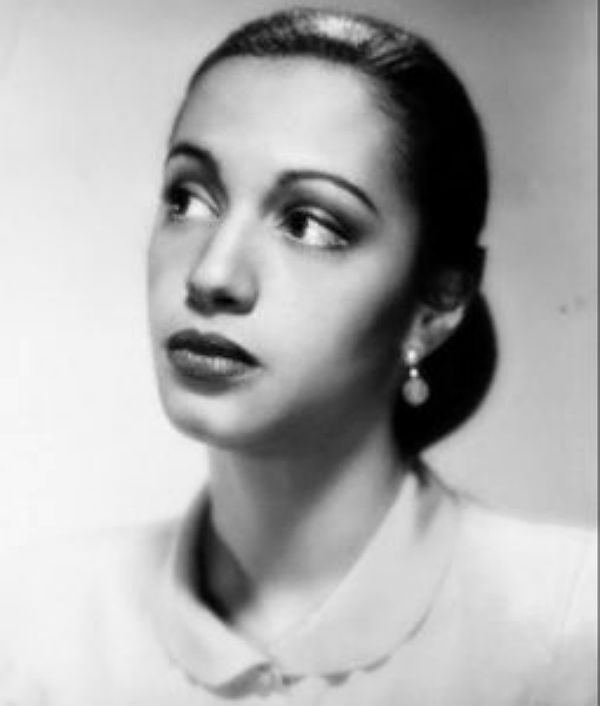 Jane White was born on this date in 1922. She was an African American stage actress and dancer.
From New York City she was the daughter of Walter and Leah Gladys (Powell) White. The Whites stood among the elites of the Harlem Renaissance. Walter White rose through the ranks of the National Association for the Advancement of Colored People (NAACP) to become national secretary of the organization in 1931. Young White grew up in the Sugar Hill section of Harlem. As children, she and her brother Walter Carl Darrow, born in 1927, absorbed the artistic and intellectual influence of their parents as well as such regular guests as James Weldon Johnson, Paul and Eslanda Robeson, Carl Van Vechten, and George Gershwin. Her brother went on to become an opera singer and television writer. She was the first African American to attend Smith College and the New School.
She was graduated from Smith in 1944 and worked for a short time as a proofreader for the Research Institute of America while she also attended beginners' acting classes at New York's New School. In 1945 she secured her first stage role, the lead in a high profile Broadway production. José Ferrer was staging Lillian Smith's Strange Fruit, a controversial novel about interracial love in the South, and sought an actress for the role of Nonnie, a light-complexioned, small-town black woman whose white lover ultimately spurns her. Paul Robeson, a friend of the White family, suggested Jane for the part, and her inexperience did not hamper a successful audition. Though critical response to the play was mixed, it did well, particularly after Eleanor Roosevelt praised it-and White's performance-in her column, "My Day."
In the fifteen years following this debut, White pursued the time-honored learning arc of an acting career with stints in summer stock, on Broadway and off, and acting instruction under various teachers, including Uta Hagen. Her broad recognition in the theater world ultimately came with the highly successful off- Broadway-to-Broadway run of Once Upon A Mattress, the musical comedy that served as a launching vehicle for Carol Burnett. A role as the domineering queen showcased White's commanding stage presence and ushered in a spate of portrayals of similarly powerful women in Shakespearean and classical pieces throughout the 1960s and into the 1990s. She won the 1965-66 Obie award for her performances in the New York Shakespeare Festival as the Princess of France in Love's Labor's Lost and Volumnia in Coriolanus, and the 1988-89 Los Angeles Critics Circle Award for the Mother in Lorca's Blood Wedding.
Despite these critical successes, White grew dissatisfied with the range of roles offered to her, a problem particularly complicated by her skin tone, which made her "too black for white roles-and this really hurt-too white for black roles." Her light complexion, shared with her father who had used it to his advantage by crossing the color line to investigate crimes against blacks in the South, often worked against her in the literal-minded American theater, compelling her to use make-up to create a distinctly Anglo-Saxon look for the stage. Even so, White found that she was often not considered for roles because she did not fit the cliché image of a black woman. Frustrated, she and her husband Alfredo Viazzi, an Italian-born restaurateur and writer whom she had wed in 1962, relocated to Rome in 1965. In Europe, her roles ironically included a critically acclaimed stage performance in Trumpets of the Lord, a piece about the black church based on the writings of Walter White's mentor, James Weldon Johnson. In the late 1960s, the Viazzis returned to the U.S.
---
Become a Harlem insider - Sign-Up for our Newsletter!
---
In addition to work in the theater, White (who continued to use her maiden name in her profession) began a series of cabaret performances in her husband's restaurants. The genre highlighted White's versatility and led to her one-woman show, Jane White, Who? (1979-80). In the 1980s, the Kool Jazz Festival featured her as a soloist, and Bobby Short presented her at Town Hall for a cabaret evening. In her personal life, White experienced the loss of many of those close to her. Her father ended his career with the NAACP in a scandal brought on by his divorce of Gladys and remarriage to white food expert Poppy Cannon in 1948, and he died of a sudden heart attack in 1955. Her mother died in Germany in 1979 at age 85. Her brother was killed in a mountain climbing accident in 1975 at the age of 48, and her beloved husband Alfredo Viazzi succumbed to a heart attack in 1987 when he was 66.
These tragedies, however, did not slow her career. From the 1970s to the 2000s, she filled roles of imposing, strong-willed women in a gamut of productions: comedies and musicals including A Little Night Music and Follies, and such classical and dramatic works as Ghosts, Pygmalion, and Brecht's Caucasian Chalk Circle. The Metropolitan Opera presented her, in the 1983-84 and 1993-94 seasons, in spoken roles in Les Troyens and La Fille du Regiment. She also worked in television, memorably as a villain on the soap opera Search for Tomorrow, and in film, playing the role of a Park Avenue Madam in Klute and the Schoolteacher in Beloved. Critical response to White's career since her Strange Fruit debut has ranged from pans to raves but has enabled a long and varied life's work, the NAACP for that work honored her. She has counted among her fans such notables as Bobby Short, playwright Moss Hart, maestro James Levine, and theater impresario/actor Jean-Louis Barrault, as well as the numerous performers and directors with whom she has worked.
Jane White, a stage veteran who created the role of Queen Aggravain in Once Upon a Mattress, died on July 24, 2011 in New York. She was 88.
Via source
Related Articles
---
VIDEO
---
"Dr. Harry Delany is a renowned Harlem born and raised surgeon, the son of the great jurist and civil rights leader, Hubert Delany...." This monthly post is made in partnership with Harlem Cultural Archives.