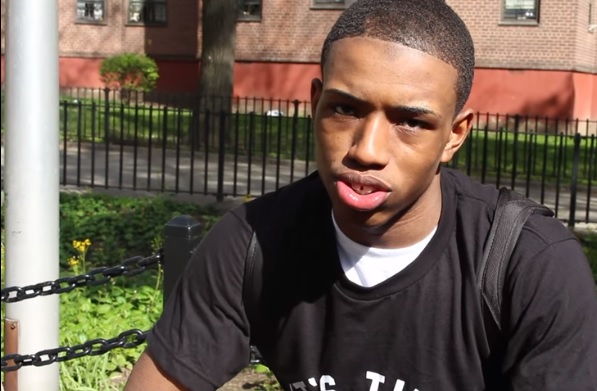 Michelle Simon reports to Medium that 6'1 senior star point guard from Harlem, Isaiah Washington, is being considered as "the best thing since Stephon Marbury to come out of [the] city."
With all the hype comes the eventual status and ability to begin building a brand. Washington, who rocks Nike heavily and loves to wear Kevin Durant 4 sneakers, has been thinking of branding for some time now.
But it isn't Nike, a longtime sponsor of the St. Raymond's Ravens, that is constantly on his mind.
Amazin 583-Foot Basketball Shot By Harlem Globetrotter Buckets Blakes (Video) For the first annual World Trick Shot Day, Harlem Globetrotter Buckets Blakes went 58 stories high…Dec 20 2016harlemworldmag.com
Washington would rather be associated with a movement he began along with a buddy of his since the eighth grade, dubbed "Jelly Fam."
"If you nice and you can 'jelly' I'll put you down," Washington said in an interview with HoopDreams magazine last spring.
Basketball players commonly use the term "jelly" when they score a point by an elegant finger roll off the hands where the ball lays into the basket.
Isiah Washington and Saquan Singleton explain "Jelly Fam":
The "jelly fam" name originated from a few of Washington's friends, some who were his teammates. To qualify, one must "jelly" at least three times in a row in one game and possess keen ball skills. But what started as an insider among a group of friends has gradually evolved the level of competition among local players, raised a standard, and turned into a mentorship.
Harlem's Butch Lee's Basketball Is Never Final Alfred "Butch" Lee, Jr. (born December 5, 1956) is a Puerto Rican retired professional basketball …Apr 1 2017harlemworldmag.com
"I've watched it from an organic perspective and watched it grow into a phenomenon and because so many people are drawn to it, so many young kids are drawn to it, he turned it into a positive message," said St Raymond's Head coach, Jorge Lopez. "It went from being a simple finger roll to 'hey listen, go to school, work hard in the classroom, work hard in the game, and eventually good things are going to happen for you'."
---
Washington describes how he views his brand simply by "being a role model."
But this wasn't always the case.
HW Pick: Percy "Master P" Miller Named President Of The Global Mixed Gender Basketball LeagueOkay all you die hard Harlem basketball fans, Businessman, entrepreneur, philanthropist and ex-profe…Aug 4 2017harlemworldmag.com
Immaturity was a trait Washington has long since polished from his younger days as a class clown.
"Coach told us we have to move like professionals," Washington said. "Before, I'd like to joke around a lot and now I'm just more calm so I don't want kids [who follow me] to act immature. "
Related Articles