---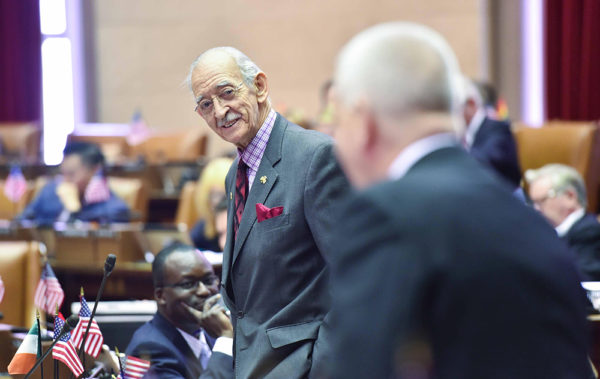 When Assemblymember Herman "Denny" Farrell, who heads the chamber's Ways and Means Committee, announced he would not seek reelection next year, it set off a murmur about who might succeed him in the powerful — and lucrative — committee post.
Farrell, a Democrat elected to the Assembly in 1974 and the third longest serving member of the body, is known for his diplomacy and good natured bantering with Republicans and Democrats alike during budget hearings and on the Assembly floor.
Well-liked among his peers and beloved in his community, Farrell — who represents Harlem, Washington Heights and Inwood — was recognized by the Legislature last week, when it voted to rename Upper Manhattan's Riverbank State Park after him as part of a special legislative session dealing with mayoral control over schools.
Governor Andrew Cuomo also honored the Assembly member at a breakfast at the Executive Mansion on June 20, speaking in eulogistic terms of Farrell's time in the Assembly and as former chair to both the Manhattan and State Democratic Parties.
"Denny also taught me politics was the means to the end, and that was getting into government to achieve power…not power you would use personally, not power to take care of some donors, to take care of some unions, to take care of the political complex — power to do good things for your people and for your community," Cuomo said, according to a recording of his remarks obtained by Politico New York. "Government is about accomplishing things for people and making their life better. Everything else is bull—-."
While Farrell's current two-year term is set to officially end at the end of 2018, the grand farewell he received in Albany and other indicators have signalled to many in Harlem that he plans to resign before January, when the Legislature is next due back in the capital. The move would virtually ensure the party nomination of his chief of staff, Rev. Al Taylor, in a special election, according one Harlem insider who spoke to Gotham Gazette on the condition of anonymity. For special elections to the state Legislature, the borough party committees name the party representative on the ballot.
"His departure is something that a lot of people Uptown are talking about. Farrell is putting a lot of his energy and political assets into his chief of staff, Al Taylor. Wherever Denny is, Al is nearby," the insider said, noting that the Assembly office's most recent quarterly newsletter featured Taylor more than Farrell. "All the signs point to Farrell's resignation being imminent."
In addition to Taylor, Juan Rosa, a former City Council staffer and community activist, is considering a run for the seat, according to multiple people familiar with the district.
Farrell, who did not return a request for comment, has not confirmed any plan to vacate his Assembly seat before January 2019, when his term would officially end.
If Farrell does indeed leave before the end of the year, not only would Taylor have the inside track to the Assembly, but Assembly Speaker Carl Heastie would name a new Ways and Means chair, the top Assembly budget post below the Speaker, before the next budget season in Albany — a move that would likely prompt a series of new committee chair appointments throughout the Assembly for the 2018 session.
"When you make one change, you make 30 changes. That is always the part that outsiders don't understand," said former Assemblymember Richard Brodsky. "Part of the calculus that any Speaker makes is not just how to fill that position, but how it will affect the entire food chain."
As capital watchers have noted Farrell's imminent departure, it has also become apparent that several female legislators are in line for the committee leadership job — a post no woman has ever held before.
While new leadership appointments are made every year by the Speaker, the Ways and Means chairship is arguably the most powerful and well-paid committee position in the Assembly. It is also arguably the most challenging, as the committee is tasked with budget hearing leadership and examining any legislation considered by the body that has a fiscal component.
The position comes with a significant stipend. On top of the standard $79,500 legislative salary, the Ways and Means chair earns $34,000, on par only with the $34,500 stipend received by the Assembly Majority Leader, currently Joseph Morelle, of Monroe County. Other committees, such as Codes and Education, may deliberate over a comparably high volume of bills, but come with a stipend of $18,000 each. The Ways and Means chair also has access to a significantly larger staff than any other chair in the Assembly.
Geography and seniority have long played a role in who is selected for both leading Ways and Means and other top committees. For Ways and Means, other factors typically considered include knowledge of the budget process, diplomacy, ability to get along with Republicans in both legislative houses, and the stamina to sit through many hours of annual budget hearings.
Photo credit: Assemblymember Herman Farrell (photo: The Assembly)
Related articles
Related Articles
---