---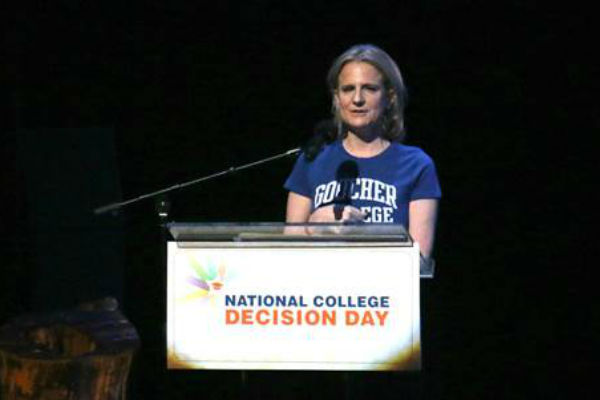 On Thursday, May 10th, Harlem Educational Activities Fund (HEAF) and 20 nonprofit college access organizations will gather for the 6th Annual College Decision Day. The event will be held at the historic Apollo Theater in Harlem, NY featuring over 200 students, from schools across the New York metropolitan area, who will announce to an audience of family, friends, mentors and education advocates.
Ruth Rathblott, President and CEO of Harlem Educational Activities Fund created College Decision Day to celebrate the success of college-bound students and to raise awareness about the importance of nonprofit college access organizations who work fervently to support young people's journey to and through college. Ruth Rathblott said, "I am both honored and humbled to host the 6th Annual College Decision Day at the historic Apollo. Not only is the event full of energy and excitement, it is also an opportunity to honor young people's academic achievements and continued commitment to their education, leadership development and service." She added, "It is extraordinary to have twenty college organizations partnered with us and to be joined by incredible leaders such as Laurie Cumbo, Jonelle Procope, Ron Claiborne, Justine Skye and more."
The annual College Decision Day celebration is also a part of HEAF's effort to expand its impact beyond their direct service demographic and to help forge a cultural paradigm shift regarding our Nation's collective support around students' transition to colleges and careers. This year's keynote, New York City Council Majority Leader Laurie A.Cumbo said, "I'm so excited to be part of College Decision Day. We know that individuals with a college degree can earn as much as $1million dollars more in their lifetime than those without one, so it's vital for students to continue their education beyond high school." She added, "Each year, HEAF showcases many of our city's best students and the next generation of creators and innovators. The future is bright and I can't wait to marvel their contributions to our communities in the years to come."
Also to join this year's festivities, is Jonelle Procope, the CEO and President of Apollo Theater. "The Apollo Theater is very proud to host members of the class of 2018 as they announce their college decisions, and the college access groups that helped them achieve this important milestone," said Procope. "The Apollo has long been a gathering place for the Harlem and Greater New York community in times of joy, with a history of offering impactful education programs and workforce development opportunities. As these young women and men begin the exciting next chapter of their educational and pre-professional lives, we are honored to join HEAF and the other community-based organizations to celebrate their achievements and offer them support and encouragement."
A returning supporter, journalist Ron Claiborne of ABC news added, "I am happy to return to emcee HEAF's College Decision Day because I love the mission. In my family, it was always assumed my brother and I would go to college. It was a given. HEAF, the partnering college access organizations and the guiding hand of caring parents provide students with that same faith in their future: that they will go to college and that they can and will succeed."
In addition to highlighting college-bound students, the event will also feature a special performance by RocNation Recording Artist, singer-songwriter, and actor, Justine Skye. The multi-talented Brooklyn-born artist will perform three songs from her new album Ultraviolet.
For more information about Harlem Educational Activities Fund, College Decision Day or our partnering organizations, please visit www.heaf.org
Thursday, May 10, 2018 – Doors open at 5:00PM.
Program begins at 5:30pm.
Apollo Theater, 253 West 125th Street, New York, New York 10027
Photo credit: Ruth Rathblott kicks off 2017 College Decision Day at the Apollo. (Photo Credit: Harlem Educational Activities Fund).
---