---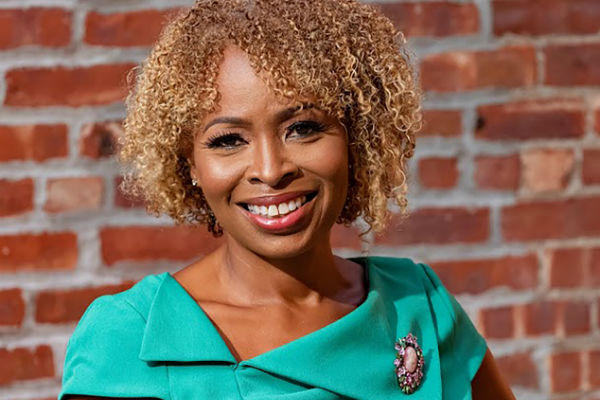 East Harlem's Getting Out and Staying Out (GOSO), the nonprofit that has helped more than 10,000 formerly incarcerated and justice-involved young men access education,
achieve emotional well-being and secure meaningful employment, has named Jocelynne Rainey, Chief Administrative Officer of the Brooklyn Navy Yard Development Corporation, as its new President & CEO.Rainey, who has helped build the Brooklyn Navy Yard into a premier workforce organization, succeeds GOSO founder Mark Goldsmith at a high point for the organization's impact in New York City. She is expected to expand the reach of GOSO's employment program, GOSOWorks, as well as its programming focused on education, vocational training and mental health.
Since Goldsmith founded GOSO 15 years ago, the organization has expanded to serve over 1,000 young men annually in New York City each year, providing social work services, assistance in achieving educational goals and training, and placement in jobs that lead to careers. Fewer than 15% of GOSO clients return to prison, compared to an average of 67% for the 16-24 age group. GOSO has worked closely with the Mayor's Office of Criminal Justice to launch and grow the Cure Violence initiative Stand Against Violence East Harlem (SAVE), and has partnered with the NYC Department of Education to start and expand a high school equivalency program for court-involved young men.
"Reducing mass incarceration and creating a path to stability and success for disadvantaged young people is the issue of our time," said Dr. Jocelynne Rainey. "GOSO levels the playing field for young men who have been in the justice system, who are disproportionately young men of color. This is essential to uplifting individuals, families and communities, and making New York a fairer, more equitable city."
At the Navy Yard, Dr. Rainey led workforce development, administration, security and human resource strategies for the organization, which has a staff of 240. She placed local Brooklyn residents in jobs at the Navy Yard, eliminating barriers to employment for disadvantaged populations and increasing placements of formerly incarcerated individuals to 20 percent and total workforce placements from 100 to over 500 in eight years.
"Working with young men who are justice-involved is incredibly important for our communities. We support them as they navigate the cultural, education, economic and civil rights issues present in their everyday lives," said Reg Andre, GOSO Board Chair and Investment Banking VP at Goldman Sachs. "Dr. Rainey has the talent, experience, and passion to lead GOSO into the next chapter of serving this community and our city."
A partner in the City's Works Progress Program, GOSO's innovative job placement program, GOSOWorks, has resulted in employment for hundreds of young men at NYC businesses including restaurants like Dos Toros and Littleneck Outpost, food service purveyors like One Girl Cookies and Ovenly Bakery, and construction and transit companies like Rusk Renovations and Vamoose Bus Lines. Since its inception, 70% of program clients completing the GOSOWorks program have gotten full-time jobs.
"I've always said, it's all about the GOSO guys, who have limitless energy and potential. Dr. Rainey shares a profound commitment to robust education, employment and emotional well-being for our clients, and I look forward to working with her as she leads GOSO into our next era," said GOSO Founder Mark Goldsmith, winner of the Encore Purpose Prize, Richard Cornuelle Award for Social Entrepreneurship and Mutual of America Partnership Award, who will now serve as a consultant to GOSO. "I am immensely proud of all that GOSO has accomplished, and of our incredibly committed staff members, our Board, and the guys—who have worked so hard to make our collective success possible."
Dr. Rainey will assume her role as GOSO president and CEO of GOSO on January 6, 2020.
As Chief Administrative Officer and Executive Vice President for the Brooklyn Navy Yard Development Corporation (BNYDC), the not-for-profit corporation that manages and develops the Brooklyn Navy Yard as a nationally-recognized model urban industrial park, Dr. Rainey has been a key executive in the execution of a 100% corporate growth target over the next five years, leading the organization's administrative, security, workforce development and human resource strategies incorporating over 240 staff members and a $15 million dollar budget.
Joining BNYDC in 2011 as the Vice President of Human Resources, Dr. Rainey quickly became interested in its Employment Center (EC), a cornerstone of its mission to create high quality employment opportunities for local residents. Dr. Rainey's interest stemmed from her conviction that employment is a vital tool for improving the quality of life for marginalized communities. At the time, the EC was placing approximately 100 local residents in jobs on the Yard a year. Convinced by her passion, the then CEO promoted Dr. Rainey to Senior Vice President of Human Resources and Workforce Development. In that capacity, she shepherded the EC team into a new model of service; job placements doubled accompanied by a significant increase in the number of Yard tenant businesses partnering with the EC to recruit talent.
Under Dr. Rainey's leadership, the Navy Yard last year matched over 500 New Yorkers in jobs and provided valuable early career experience to over 150 area students in the Yard's thriving design, tech and manufacturing industries. Even more, the EC is partnering with the Department of Education in the creation of the Brooklyn Navy Yard S.T.E.A.M. Center, a high school program that re-envisions Career and Technical Education to give students real-world experience while simultaneously addressing an oft-discussed talent deficit in the tech industry.
Dr. Rainey began her career in 1992 at the Independent Living Association as the Director of Training and Development. She then transitioned to become the Regional Human Resources Representative with industry giant Boar's Head Provisions. Prior to arriving at BNYDC, she was the Human Resources Director for specialty food retailer Agata & Valentina.
Dr. Rainey is a member of the New York City Workforce Development Board, Trustee at Mark Morris Dance Group, and a member of the New York College of Technology Foundation Board of Directors. She holds a B.S. degree from Southern Connecticut University, an M.S. degree from Metropolitan College and recently earned a Doctorate in Executive Leadership from St. John Fisher College, where her research centered on under and unemployment of college graduates of color and the impact of social skills. She lives in the Bedford Stuyvesant section of Brooklyn, NY with husband, Dr. Perry Rainey, a high school principal and has two adult sons Pericles, a Brooklyn College graduate, and Andrew who attends Binghamton University.
An in-demand executive in the cosmetics industry for more than 35 years, Mark L. Goldsmith rose through the ranks at companies like Revlon, Yves St. Laurent, and Almay before starting his own company specializing in buying and selling commodities and inventories in the cosmetics market. A civic-minded businessman, Goldsmith first visited Rikers Island over 15 years ago, as a volunteer for the "Principal for the Day" program at Horizon Academy, the jail's high school. He immediately saw in the young men assembled the potential for success, given practical direction and, crucially, the tools and resources for creating stability in their lives upon reentry into their communities. Goldsmith continued to use his experience and successes in the corporate world to mentor young men who had been incarcerated and were justice-involved. He built GOSO from a volunteer mentorship program to a robust reentry and workforce development organization that now helps more than 1,000 young men each year to achieve educational goals and jobs that lead to careers. GOSO has become a leader in preventing justice-involvement by collaborating with community partners, public defenders, and the courts to identify at-risk individuals who have had contact with the criminal justice system. The organization's programming and targeted interventions divert young men from entering the justice system and prevent continuing involvement with that system.
GOSO is a reentry, youth and career development nonprofit organization that serves approximately 1,000 justice-involved young men, aged 16 to 24, citywide. GOSO's goal is to help participants achieve their employment and educational goals while avoiding further involvement in the criminal justice system. By providing access to education and vocational training, employment, and individual and group counseling since 2004, GOSO has helped thousands of young men gain financial independence and become contributing members of their communities. GOSOWorks, a wage-subsidy program, connects GOSO participants to employment opportunities with local businesses around New York City. Utilizing funding from the City of New York, GOSO screens, interviews, and places participants who have completed the Two-Week Job Readiness Curriculum in internship-to-employment (I2E) opportunities. A GOSOWorks internship is often the first employment experience for many participants, and it helps them use and develop the personal and professional skills needed to succeed in life. 70 percent of young people who complete internships through GOSOWorks attain employment.
Related: Listen to Mark L. Goldsmith talk Harlem Reentry Program on The Danny Tisdale Show.
GOSO provides additional programming for participants, including vocational training, High School Equivalency classes, Peer Navigator opportunities and runs Stand Against Violence East Harlem (SAVE), an anti-gun violence program guided by the principles of Cure Violence, which leverages the experiences of members of the community to do outreach, including people who have been directly affected by gun violence. SAVE outreach workers and violence interrupters are trained to mediate conflicts on the street and work to de-escalate disputes before crisis or violence erupt. SAVE connects at-risk individuals to extensive networks that provide job training, employment opportunities, mental health services, and legal services that lead to long-term violence reduction. For more information, visit www.gosonyc.org.
---