---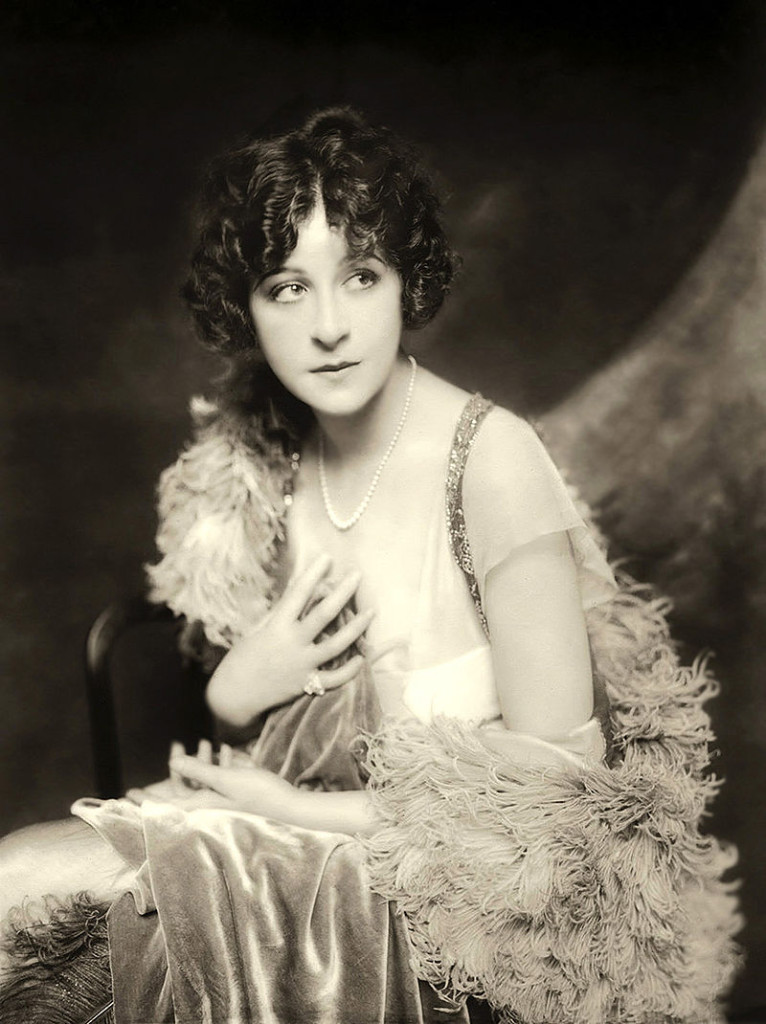 Fanny Brice (October 29, 1891 – May 29, 1951) was a popular and influential American illustrated song model, comedienne, singer, and theater and film actress who made many stage, radio and film appearances and is known as the creator and star of the top-rated radio comedy series The Baby Snooks Show. 
Thirteen years after her death, she was portrayed on the Broadway stage by Barbra Streisand in the musical Funny Girl and its 1968 film adaptation, for which Streisand won an Oscar.
Fania Borach was from Harlem, New York, the third child of Rose (née Stern 1867-1941), a Hungarian Jewish woman who emigrated to America at age ten, and Alsatian immigrant Charles Borach. The Boraches were saloon owners and had four children: Phillip, born in 1887; Carrie, born in 1889; Fania, born in 1891; and Louis, born in 1893. Under the name Lew Brice, her younger brother also became an entertainer and was the first husband of actress Mae Clarke. In 1908, Brice dropped out of school to work in a burlesque revue, "The Girls from Happy Land Starring Sliding Billy Watson".
At the outset of her career, when ethnic stereotypes were a popular source of comedy, Brice used an Irish accent and a German one and even sang what were called "coon songs". In her first Follies (1910), she was a Harlem cutie singing about her boyfriend, "When he starts to love me, ah jes' hollahs, 'Mo'!" But, the year before, a novice songwriter called Irving Berlin pointed her in a more profitable direction, with a "Hebe song" titled "Sadie Salome", and said it would go over big if she did it with a Yiddish accent. Brice learnt one, and indeed scored a hit portraying the consternation of a Jewish man whose sweetie has taken up the dance of the seven veils:
"Everybody knows that I'm your lovin' Mose./Oy, oy, oy, oy, where is your clothes?"
Two years later she began her association with Florenz Ziegfeld, headlining his Ziegfeld Follies from 1910 to 1911. She was hired again in 1921 and performed in them into the 1930s. In the 1921 Follies, she was featured singing "My Man" which became both a big hit and her signature song. She made a popular recording of it for Victor Records.
The second song most associated with Brice is "Second Hand Rose", which she introduced in the Ziegfeld Follies of 1921.
She recorded nearly two dozen record sides for Victor and also cut several for Columbia. She is a posthumous recipient of a Grammy Hall of Fame Award for her 1921 recording of "My Man".
Brice's Broadway credits include Fioretta, Sweet and Low, and Billy Rose's Crazy Quilt. Her films include My Man (1928), Be Yourself! (1930) and Everybody Sing (1938) with Judy Garland. According to film historian Richard Barrios, My Man is a lost film. Brice, Ray Bolger, and Harriet Hoctor were the only original Ziegfeld performers to portray themselves in The Great Ziegfeld (1936) and Ziegfeld Follies (1946). For her contribution to the motion picture industry, she has a star on the Hollywood Walk of Fame at MP 6415 Hollywood Boulevard.
From the 1930s until her death in 1951, Fanny made a radio presence as a bratty toddler named Snooks, a role she premiered in a Follies skit co-written by playwright Moss Hart. Baby Snooks premiered in The Ziegfeld Follies of the Air in February 1936 on CBS, with Alan Reed playing Lancelot Higgins, her beleaguered "Daddy". Brice moved to NBC in December 1937, performing the Snooks routines as part of the Good News show, then back to CBS on Maxwell House Coffee Time, with the half-hour divided between the Snooks sketches and comedian Frank Morgan.
In September 1944, Brice's longtime Snooks sketch writers, Philip Rapp and David Freedman, brought in partners, Arthur Stander and Everett Freeman, to develop an independent, half-hour comedy program. The program launched on CBS in 1944, moving to NBC in 1948, with Freeman producing. First called Post Toasties Time (named for the show's first sponsor), the show was renamed The Baby Snooks Show within short order, though in later years it was often known colloquially as Baby Snooks and Daddy. On the spinoff version of Baby Snooks, Hanley Stafford played Daddy, with Reed instead appearing as Daddy's employer, Mr. Weemish. Stafford eventually became the longest-running actor to portray the "Daddy" character.
Brice was so meticulous about the program and the title character that she was known to perform in costume as a toddler girl even though seen only by the radio studio audience. She was 45 years old when the character began her long radio life. In addition to Reed and Stafford, her co-stars included Lalive Brownell, Lois Corbet and Arlene Harris playing her mother, Danny Thomas as Jerry, Charlie Cantor as Uncle Louie, and Ken Christy as Mr. Weemish. She was completely devoted to the character, as she told biographer Norman Katkov: "Snooks is just the kid I used to be. She's my kind of youngster, the type I like. She has imagination. She's eager. She's alive. With all her deviltry, she is still a good kid, never vicious or means. I love Snooks, and when I play her I do it as seriously as if she were real. I am a Snooks. For 20 minutes or so, Fanny Brice ceases to exist."
Baby Snooks writer/producer Everett Freeman told Katkov that Brice did not like to rehearse the role ("I can't do a show until it's on the air, kid") but always snapped into it on the air, losing herself completely in the character: "While she was on the air she was Baby Snooks. And… for an hour after the show, she was still Baby Snooks. The Snooks voice disappeared, of course, but the Snooks temperament, thinking, actions were all there."
Brice had a short-lived marriage in her teens to a local barber, Frank White, whom she met in 1910 in Springfield, Massachusetts, when she was touring in College Girl. The marriage lasted three years and she brought suit for divorce in 1913. Her second husband was professional gambler Julius W. "Nicky" Arnstein. Prior to their marriage, Arnstein served fourteen months in Sing Sing for wiretapping. Brice visited him in prison every week. In 1918 they were married, after living together for six years. In 1924, Arnstein was charged in a Wall Street bond theft. Brice insisted on his innocence and funded his legal defense at great expense. Arnstein was convicted and sentenced to the federal penitentiary at Leavenworth, where he served three years. Released in 1927, Arnstein disappeared from Brice's life and that of his two children. Reluctantly, Brice divorced him on September 17, 1927, soon after his release. She went on to marry songwriter and stage producer Billy Rose and appeared in his revue Crazy Quilt, among others. Their marriage also failed.
Brice and Stafford brought Baby Snooks and Daddy to television only once, an appearance in June 1950 on CBS-TV's Popsicle Parade of Stars. This was Fanny Brice's only appearance on television. Brice handled herself well on the live TV broadcast but later admitted that the character of Baby Snooks just didn't work properly when seen.
She returned with Stafford and the Snooks character to the safety of radio for her next appearance, on Tallulah Bankhead's big-budget, large-scale radio variety show The Big Show in November 1950, sharing the bill with Groucho Marx and Jane Powell. In one routine, Snooks asks Bankhead for advice on becoming an actress, despite Daddy's insistence that Snooks has no acting talent.
She resided in a house built in 1938 on North Faring Road in Holmby Hills, Los Angeles, designed by architect John Elgin Woolf (1908-1980).
Six months after her Big Show appearance, on May 29, 1951, Brice died at the Cedars of Lebanon Hospital in Hollywood from a cerebral hemorrhage at 11:15 a.m., she was 59.
The May 29, 1951, episode of The Baby Snooks Show was broadcast as a memorial to the star who created the brattish toddler, crowned by Hanley Stafford's brief on-air eulogy: "We have lost a very real, a very warm, a very wonderful woman." Brice was cremated. Her ashes were interred in the Chapel Mausoleum at the Jewish Home of Peace Cemetery in East Los Angeles, California. A half-century later, at the time of Brice's daughter Frances's death in 1992, Fanny Brice's ashes were reinterred at Westwood Village Memorial Park Cemetery, Los Angeles, some 20 miles west of her original interment place. Today the ashes, and those of her daughter, are in an outdoor pavilion.
Two children were born of the Brice-Arnstein marriage. Daughter Frances (1919–1992) married Ray Stark, while son William (1921–2008) became an artist of note, using his mother's surname.
The Stony Brook campus of the State University of New York (SUNY at Stony Brook) had a Fannie Brice Theatre, a small 75-seat venue which was used for a variety of performances including a 1988 production of the musical Hair, staged readings, and a studio classroom space. The building was razed in 2007 to make way for new dormitories.
The Fanny Brice Theatre is one of three situated in the University of Southern California's School of Cinematic ArtsComplex, completed in 2010.
Mexican comedienne Maria Elena Saldana was influenced by Brice and created a character similar to Brice's Baby Snooks, La Guereja.
In 2006, Brice was featured in the film, Making Trouble-Three Generations of Funny Jewish Women, a tribute to Jewish comedians produced by the Jewish Women's Archive.
Although the names of the principal characters were changed, the plot of the 1939 film Rose of Washington Square, in which the principal characters were portrayed by Tyrone Power and Alice Faye, was inspired heavily by Brice's marriage and career, to the extent it borrowed its title from a tune she performed in the Follies and included "My Man". Ms. Brice sued 20th Century-Fox for invasion of privacy and won the case. Producer Darryl F. Zanuck was forced to delete several production numbers closely associated with the star.
Barbra Streisand starred as Brice in the 1964 Broadway musical Funny Girl, which centered on Brice's rise to fame and troubled relationship with Arnstein. In 1968, Streisand won an Academy Award for Best Actress for reprising her role in the film version (sharing the Oscar with Katharine Hepburn for The Lion in Winter). The 1975 sequel, Funny Lady, focused on Brice's turbulent relationship with impresario Billy Rose and was as highly fictionalized as the original film. Streisand also recorded the Brice songs "My Man", "I'd Rather Be Blue Over You (Than Happy with Somebody Else)", and "Second Hand Rose", which became a Top 40 hit.
Funny Girl, and its sequel Funny Lady, took liberties with the events of Brice's life. They make no mention of Brice's first husband at all, and suggest that Arnstein turned to crime because his pride would not allow him to live off Fanny, and that he was wanted by the police for selling phony bonds. In reality, however, Arnstein sponged off Brice even before their marriage and was eventually named as a member of a gang that stole $5 million worth of Wall Street securities. Instead of turning himself in, as in the movie, Arnstein went into hiding. When he finally surrendered, he did not plead guilty as he did in the movie, but fought the charges for four years, taking a toll on his wife's finances.
In 2010, One Night with Fanny Brice, a one-woman show about Brice written and directed by Chip Deffaa and starring Kimberly Faye Greenberg premiered in New Jersey. The cast album, on the Original Cast label (OC-3831), was released in September 2010. The next production of the show, by the American Century Theatre Co. of Arlington, Virginia, starring Esther Covington, was slated to open in November 2010, directed by Ellen Dempsey. The 1946 Warner Bros. cartoon Quentin Quail features a character based on Brice's characterization of Baby Snooks.
In October 2015 The Segal Centre in Montreal, Quebec, Canada mounted a production of Funny Girl starring Gabi Epstein as Fanny Brice and directed by Peter Hinton.
Here's a video of Fanny Brice performing "When a Man Loves a Woman":
Photo credit: 1-3) Fanny Brice Wikipedia. Via source.
Related Articles
---