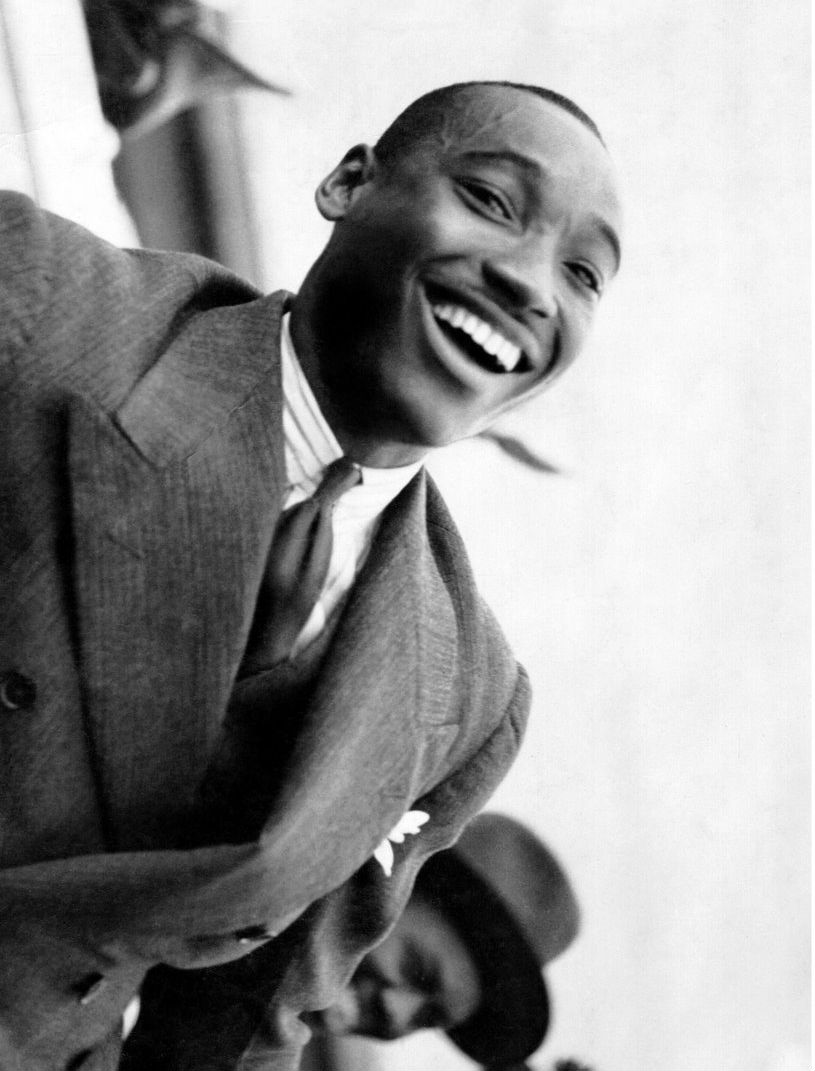 Frankie Manning (May 26, 1914 – April 27, 2009) was an American dancer, instructor and choreographer. Manning is considered one of the founding fathers of the Lindy Hop.
Manning was born in Jacksonville, Florida, in 1914. He moved to Harlem at the age of three, with his mother, who was a dancer. Frankie began dancing as a child, then started attending the early evening dances for older teens at the Renaissance Ballroom. When he was older, he started going to the Savoy, which was for better dancers. He frequented Harlem's Savoy Ballroom in the 1930s, eventually becoming a dancer in the elite and prestigious "Kat's Corner," a corner of the dance floor where impromptu exhibitions and competitions took place. During a dance contest in 1935, Manning and his partner, Frieda Washington, performed the first aerial in a swing dance competition against George "Shorty" Snowden and his partner, Big Bea, at the Savoy Ballroom. The airstep he performed was a "back to back roll" and was danced while Chick Webb played "Down South Camp Meeting," which was Manning's request after having heard the song earlier in the evening. The airstep went flawlessly to the music and astonished the more than 2,000 audience members.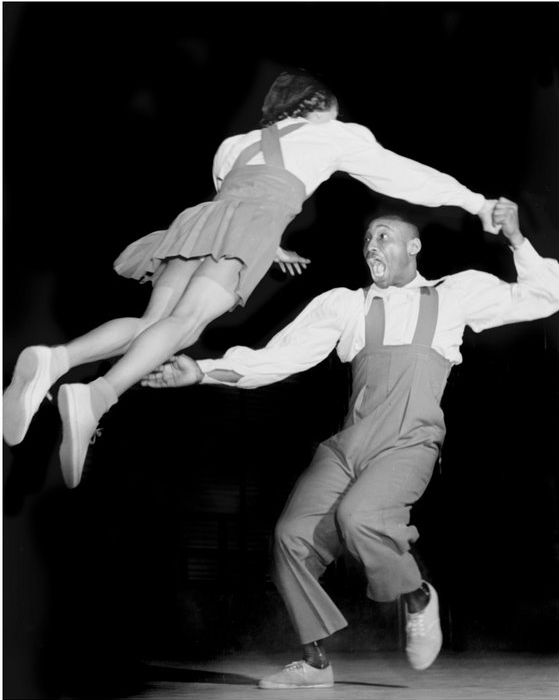 In 1935, Herbert White organized the top Savoy Ballroom lindy hop dancers into a professional performance group that was eventually named Whitey's Lindy Hoppers. Manning created the troupe's first ensemble Lindy Hop routines and functioned as the group's de facto choreographer, although without that title. The troupe toured extensively and made several films. While with Whitey's, Manning also danced with Norma Miller, who became known as the Queen of Swing. Whitey's Lindy Hoppers disbanded around WWII when many of the male dancers were drafted. After the war, in 1947, Manning created a small performance group called the Congaroos. When the Congaroos disbanded in 1955, Manning quietly settled into a career with the United States Postal Service. Some 30 years later Frankie Manning started his second career in dancing: travelling the world as a renowned instructor and inspirator.
In 1982, Al Minns, a former member of Whitey's Lindy Hoppers, started to teach Lindy Hop at the Sandra Cameron Dance Center, where he introduced a new generation of dancers to the Lindy Hop. Before he died in 1985, he told his students that Manning, another surviving member of Whitey's Lindy Hoppers, also lived in New York City.
In 1986, dancers Erin Stevens and Steven Mitchell contacted Manning and asked him to teach them the Lindy Hop. Manning at first declined, before finally agreeing to meet with them; he was skeptical that a much younger generation would really be interested in swing or Lindy. However, Mitchell and Stevens returned to California and helped to spread Lindy Hop to the West Coast and other areas of the U.S. Thus, the swing revival began. That same year, Lennart Westerlund contacted Manning and invited him to Sweden to work with The Rhythm Hot Shots. Manning traveled to Sweden in 1987 and returned there every year from 1989 onward to teach at the Herräng Dance Camp.
Once the swing dance and Lindy Hop revival took hold during the late 1980s, Manning taught Lindy Hop to eager devotees around the world, occasionally appearing with Norma Miller. Sometimes, dance workshops returned him to places he hadn't been in decades. For example, Frankie first visited Melbourne, Australia in 1939 to perform at the Princess Theatre. The swing revival and Melbourne's Swing Patrol, brought him back again in 2002; it was his first visit to Melbourne in 63 years.
At the age of 75, Manning co-choreographed the Broadway musical Black and Blue, for which he received a 1989 Tony Award. In 2000, he was awarded a National Endowment for the Arts National Heritage Fellowship.
Manning's autobiography, Frankie Manning: Ambassador of Lindy Hop, written with co-author Cynthia R. Millman, was published by Temple University Press in May 2007. It contains a collection of stories about the early days of swing dancing, Manning's years performing with Whitey's Lindy Hoppers, his experiences during World War II, and his post-war dance troupe, the Congaroos. The book also recounts his experiences of the revival of swing dancing that began in the mid-1980s, and the two decades following.[3]
In recent years, Manning's annual birthday celebrations have drawn together dancers and instructors from all over the world. His 80th birthday, in 1994, was commemorated by a weekend-long celebration in New York City; his 85th culminated in a sold-out party at New York's Roseland Ballroom, where a pair of his dance shoes were placed in a showcase along with those of dancers such as Fred Astaire. For his 86th birthday, a huge gala was held in Tokyo in his honor, which included workshops taught by the maestro himself; the climax of the festivities featured a live orchestra. Manning drew a huge crowd of Japanese and foreign expatriate swing enthusiasts for this memorable occasion. Dedicated cruises were organized for his 89th and 90th birthdays; for his birthday dances, Manning followed his custom of dancing with one woman for every year of his life, partnering 89 and 90 women, respectively, in succession.
Before his death in April 2009, Manning had been planning to celebrate his 95th birthday in May 2009 in New York City at a special Lindy Hop dance event over Memorial Day weekend. The event, commonly referred to as Frankie Fest or Frankie 95, proceeded without him but in his memory and gathered dancers and instructors from around the world. In anticipation of the event, dance groups from all over the globe posted more than 160 videos to YouTube of local performances of the Shim Sham (a swing line dance long associated with Manning) as well as many videos of a Savoy-style routine choreographed especially for the Frankie 95 celebration by noted swing dancer and Lindy instructor Peter Strom. On Sunday of Frankie 95, attendees attempted to set three Guinness world records in Central Park, including one for the greatest number of people dancing the Shim Sham simultaneously in one place.
Proceeds from the five-day Frankie 95 celebration were used to create a Frankie Manning Foundation.
---
---
A resident of Corona, Queens, Manning died in Manhattan on April 27, 2009, aged 94. He is interred in the Hillcrest Plot at Woodlawn Cemetery in Bronx, NY.
Manning was inducted into the National Museum of Dance's Mr. & Mrs. Cornelius Vanderbilt Whitney Hall of Fame in 2009.
On July 4, 2012, a road in the village of Herräng was named after Frankie Manning, as a gift from the municipality of Norrtälje for the 30-year jubilee of Herräng Dance Camp.
Related Articles
---