---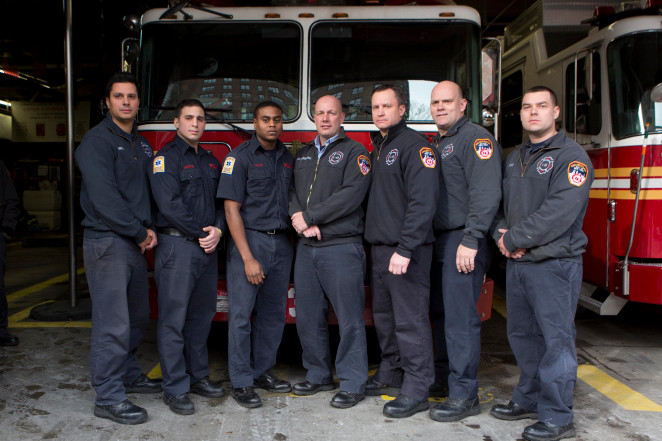 NY Post reports that an FDNY probie helped prevent a Christmas season tragedy Friday by assisting in saving seven members of an East Harlem family who became trapped when a fire broke out in their apartment, officials said.
The blaze started when Christmas lights and a space heater caused a power strip to overheat, sparking the blaze in the top-floor apartment of the six-story building on East 112th Street near Third Avenue around 3:15 a.m.
"It's a dangerous time of year, especially with space heaters if the apartment is not warm… it's the makings of a disaster," said Lt. Ryan MacDougall, who was involved in the search and rescue mission.
Firefighters arrived within minutes and began battling the smoke and intense flames before coming upon the apartment where they found a sofa ablaze in the living room.
The seven family members — ranging in age from 3 to 31 — were all in bedrooms at the rear of the apartment and could be heard screaming for help.
Firefighter Osmar Martinez — who has been with the FDNY for two years — entered one of the bedrooms and found a woman, 31, and four children ranging from three to 9-years-old, before guiding them to safety.
"I grabbed one of the children, I tell him I'm going to take him out. That's when I turn around and tell the others to stay close behind me," Martinez told reporters hours after the harrowing rescue.
"I turn around and pick up another child. I turn back around, tell the woman to closely follow me," he said. "I walk into another bedroom, open up the door, and there's a [boy] and the dog. He's reluctant, doesn't want to leave the dog behind."
The smokeater eventually coaxed the boy and dog out of the apartment and guided them to safety as well.
Meanwhile, probationary firefighter Amir Francis discovered an adult man, 31, gasping for air in another bedroom and carried him out.
"Firefighter Francis is a probie. But what he showed us today is absolutely remarkable,'' MacDougall said.
The man who Francis saved was rushed to an area hospital in critical condition before being transferred to Jacobi Medical Center in The Bronx.
"To be able to give someone this so close to Christmas — it's great," Francis said.
The others suffered only minor injuries and were treated at local hospitals.
Two firefighters also suffered minor injuries.
FDNY fire marshals later pointed to the faulty power strip as the cause of the fire. The home did not have any working smoke alarms.
Photo: FDNY firefighters from Truck 43 who helped rescue a family at 175 East 112th Street. From left: Robert Perrone, Osmar Martinez, Amir Francis, Ryan MacDougall, Justin Pelka, Andrew Hawkins and Miguel Diaz.James Messerschmidt. Source.
Related Articles
---