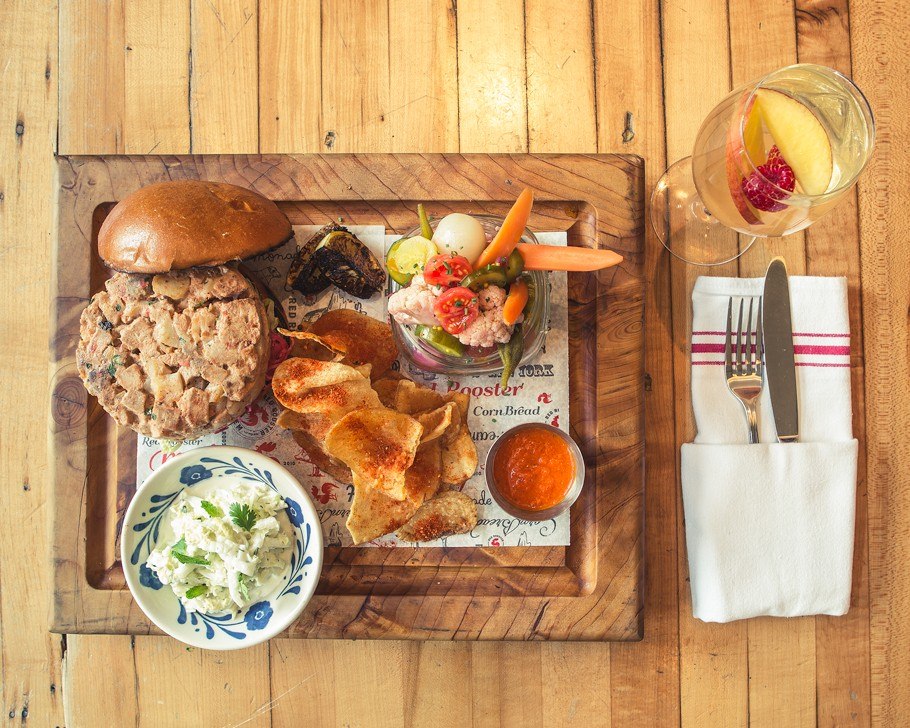 VanityFair.com says feel free to argue with them, but the best phrase in the Declaration of Independence has got to be "the pursuit of happiness." Not even because it's the only line to get its own Will Smith movie, but because we know what it really means: the right to eat good food. After all, every great American holiday is celebrated around either a grill or a dinner table. In honor of July 4th, VanityFair.com asked New York's most esteemed chefs to serve us "America" on a plate—however they define that, one of asked happened to be Harlem chef Marcus Samuelsson. They also asked each of them what beer will be in their cooler this weekend. As they said, "this might be the most patriotic food porn you've ever seen."
Here is chef Samuelsson's pick:
Dish: Tuna burger, cabbage tzatziki, house pickles, Red Rooster hot sauce, and Old Bay potato chips, with white peach and sage sangria.
There is nothing more iconic than a burger in America. I grew up eating fresh fish in Sweden, and always looked up to American icons like Levi's, Michael Jackson, and, of course, burgers. Taking a fresh catch and making it into a burger rings home to me in more ways than one. And really, what could be better than that?
What's the beer in your Fourth of July cooler?
I'd go with rosé, a pilsner, or a shandy.
We would only add a fine Harlem Ale that's good with anything from the folks at Harlem Brewing. Okay, time to head to Best Food Market.
Related Articles
---