---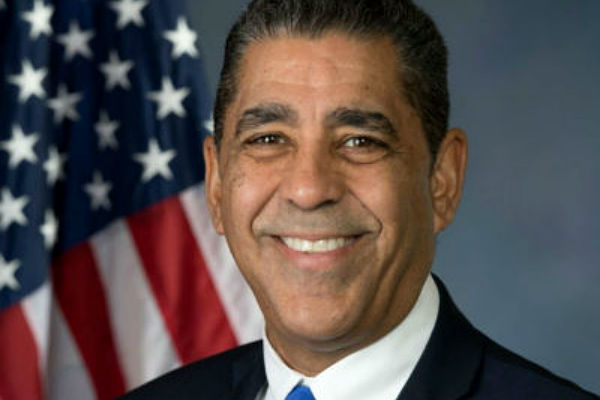 Today, Representative Adriano Espaillat announced that he has taken full advantage of the House Transportation and Infrastructure Committees.
The committee's solicitation of requests for member-directed projects in the upcoming surface transportation reauthorization bill.
Three of Espaillat's member-directed projects, totaling $20 million, have been included in the draft bill, which is slated to advance to the full House later this month.
"The inclusion of three of my member-directed projects in the draft surface transportation reauthorization bill is incredible news for my constituents, and a win all of New York's 13th Congressional District," said Rep. Espaillat. "If signed into law, these investments will go a long way toward revitalizing safety and connectivity in our schools and will revamp components of our city's public transit to make it more accessible to my constituents who rely on it each and every day.
"Our communities need our support now more than ever — and there is no better way than to have members of Congress weigh in on how federal funding flows to their districts. These projects are a first step towards building our communities back better, and stronger," Espaillat concluded.
Earlier this year, the House Transportation and Infrastructure Committee announced that it would accept requests from House members to designate specific surface transportation projects for priority funding.
In order to be considered, a project sponsor (a state or local transportation or public transit agency or planning organization) was required to provide evidence that the project could be fully funded and completed in a timely manner if designated.
The project was also required to have non-federal matching funds. In order for projects ultimately to receive funding, a final list will need to be included in the report to accompany the final surface transportation reauthorization legislation that is passed in the House and Senate and is signed into law.
The Senate committees with jurisdiction over surface transportation legislation have not yet announced their own process for member-designated projects.
The projects Rep. Espaillat submitted that have been included for potential funding are listed below:
Project name: Safe Routes to School – Bronx
Project sponsor: New York City Department of Transportation
Project location: Various locations in the Bronx (see summary)
Amount included: $1,682,000
Project summary: This project will enhance pedestrian accessibility, connectivity and safety around four schools in the Bronx: P.S 85, P.S/I.S. 218, P.S. 307 and Rosalyn Yalow Charter school. The project will create a safer, more accessible, environment for pedestrians, particularly school-aged children, by shortening street crossing distances, expanding public space, and calming vehicular traffic. The project will include redesign of intersections including sidewalk, curb, median tip extensions, new turning lanes, bench and fence replacements. This project is located in several neighborhoods which have been overlooked and under-resourced historically, improving safety, equity, and environmental justice.
Project name: Safe Routes to School – Manhattan
Project sponsor: New York City Department of Transportation
Project location: Various locations in Northern Manhattan (see summary)
Amount included: $3,643,000
Project summary: This project will enhance pedestrian safety, connectivity and accessibility around seven school zones: P.S. 92 / P.S. 275, P.S. 83; New Design Middle and KIPP Infinity Charter School (was previously named I.S. 195); P.S. 153, P.S. 128, and P.S. 4. The proposed scope of improvements mainly includes median tip and curb extensions, full neckdowns, and pedestrian safety islands.
Project name: Williams Bridge Station Renewal
Project sponsor: MTA-Metro North
Project location: 402 Gun Hill Road, Bronx, NY 10467
Amount included: $14,675,000
Project summary: The funding is designated for Station Renewal at Williams Bridge located on the Harlem Line in the Bronx. It includes accessibility improvements (new elevators) and platform replacement. Station work also includes customer amenities (customer information enhancements, etc.). The project is an appropriate use of taxpayer dollars and is anticipated to improve accessibility at the Williams Bridge Station by building 2 new elevators and 2 new stairs. It will also bring the Williams Bridge Station to a state of good repair along with Customer Service Initiatives Improvements (PA, Customer Information signs, security cameras).
Representative Espaillat is the first Dominican American to serve in the U.S. House of Representatives and his congressional district includes Harlem, East Harlem, West Harlem, Hamilton Heights, Washington Heights, Inwood, Marble Hill and the northwest Bronx.
First elected to Congress in 2016, Representative Espaillat is serving his third term in Congress. Representative Espaillat currently serves as a member of the influential U.S. House Committee on Appropriations responsible for funding the federal government's vital activities.
He is also a member of the Congressional Hispanic Caucus (CHC), where he serves as the Second Vice-Chair and is a member of the Congressional Progressive Caucus, where he serves as Deputy Whip.
Representative Espaillat also currently serves as a Senior Whip of the Democratic Caucus. To find out more about Rep. Espaillat, visit online at https://espaillat.house.gov/.
---