---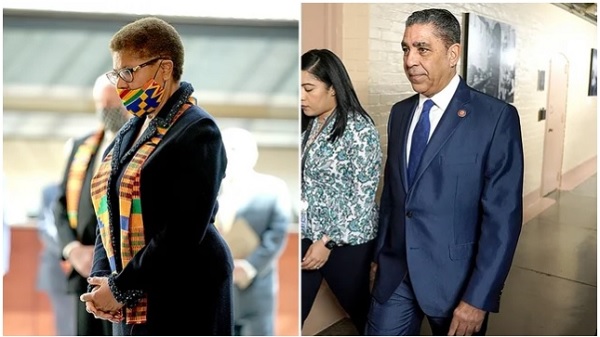 The debate on police discrimination and violence is forcing Hispanic and black Americans to address both the commonalities and tensions between their communities.
Although Hispanic communities have historically been subject to police discrimination, many Latino leaders are looking to African American leaders to shape the police reform movement.
That deference in large part comes from a recognition that racism, particularly based on skin tone, is pervasive among Hispanic communities.
"As Latinos we need to understand our own history of colonialism and racism. We see racism in Mexico from the time we're children," said Rep. Jesús García (D-Ill.), who moved to the United States as a child during the civil rights movement.
"We have seen it in the attitudes of our families, through the color of our skin. People who are lighter-skinned and look more European are always assumed to be better off because of their light skin; people with darker skin are always pitied and relegated to the lower rungs of our societies," said García.
"I think it's clear now that we shouldn't fight over the crumbs that fall off the table rather than fight for our just share of the pie." – @RepEspaillat
But there are also political considerations behind following black leaders on critical civil rights issues.
"When it comes to legislation there's no question the CBC [Congressional Black Caucus] is taking the lead on legislation at the federal level," said Rep. Tony Cárdenas (D-Calif.), the head of the Congressional Hispanic Caucus (CHC) campaign arm, Bold PAC.
Cárdenas touted collaboration between the minority caucuses — along with the Congressional Asian Pacific American Caucus, collectively known as the Tri-Caucus — adding that the same deference was proffered to the CHC on immigration legislation.
"Taking the lead in no way means excluding the Hispanic Caucus," said Cárdenas.
Rep. Karen Bass (D-Calif.), chairwoman of the Congressional Black Caucus, could not comment for this story because she was attending George Floyd's funeral in Houston.
Still, after Floyd's killing by former Minneapolis police officer Derek Chauvin, tensions have at times flared in places where the two communities live different realities.
In García's Chicago district, for instance, looting that initially targeted the downtown area known as the Loop moved to the Latino-majority commercial strips that neighbor black neighborhoods after the city closed off the Loop.
The initial violence led some community members to react aggressively toward black passers-by in those neighborhoods.
"The nonsense of harassing black people coming to the shopping strip in Little Village and Pilsen: That needs to stop," said García.
But García added he'd not heard of similar incidents "in more than a week."
The truce has come as protests over Floyd's death have evolved into a largely peaceful national movement, but also as a result of direct interaction between black and Hispanic community leaders and local gangs in the area.
"If we fight, clash, engage in violence against each other, it's mutual destruction, it doesn't benefit anybody," said García.
"This understanding is … getting down to folks who don't have the luxury to go to college, weren't invited to dialogues on race and inequality, but they live this stuff," he added.
Rep. Adriano Espaillat (D-N.Y.), a Dominican-born Afro-Latino member of the CHC, said the movement sprung from Floyd's killing is changing the way the entire country sees race relations.
"I think everyone has come to grips with the issue of racism and police brutality," said Espaillat.
"That's something that's captured everyone's attention and heart," he added.
Still, Espaillat said that Afro-Latinos are sometimes doubly targeted, out of both racial and ethnic bigotry.
"We get it in English and in Spanish," said Espaillat.
The origins of Hispanic discrimination against black people has similar historical origins to white American discrimination, but with an added element of local competition, according to Barrett Holmes Pitner, founder of the Sustainable Culture Lab, a think tank that specializes in studying ethnocide.
"Cultural tension derives from the countries that Latinos have moved from, but also the tension of what would you expect from America," said Holmes Pitner.
"You're not coming to America to become a black person, you're coming to America to get white people stuff. When you get here, people treat you like a black person, that's going to create tension," he added.
But Espaillat said that tension has eroded at the leadership level, particularly as Hispanic and black representation has grown.
"I think it's clear now that we shouldn't fight over the crumbs that fall off the table rather than fight for our just share of the pie," said Espaillat.
And much like other learned racial and ethnic biases, many of the factors that separate black and Latino communities are generational.
In Garcia's Chicago district, earlier attempts at cross-community interaction between Mexican immigrants and their black neighbors were a wash.
"Language is a huge barrier because so many adults in Little Village … English is not their first language," said García.
"When you seek to have these convos and understand the black experience in America and then you share the Latino experience in America … by the time you translate everything that presenters have said, it takes a lot of time — hours — just to have one of those sessions and people don't have that luxury to set aside so many hours," he added.
The national conversation is forcing the communities to address each other's relationship with authority and with each other.
"This crisis is causing many Latino and Latina leaders to ask themselves hard questions about injustice and about the black experience," said García.
"I am confident that it will lead to a proactive engagement like never before across the boundaries that have made us uncomfortable in talking about race ethnicity and immigration," he added.
And the members said it's common now to see younger black and Hispanic Americans jointly denouncing racism.
"I like what I see happening among young people and there's no baggage there. I think it's genuine and transparent. It's authentic, that's the word," said Espaillat.
"That's a light at the end of the tunnel and I think we should follow it," he added.
Read the article online at The Hill.
Photo credit: Greg Nash.
---