---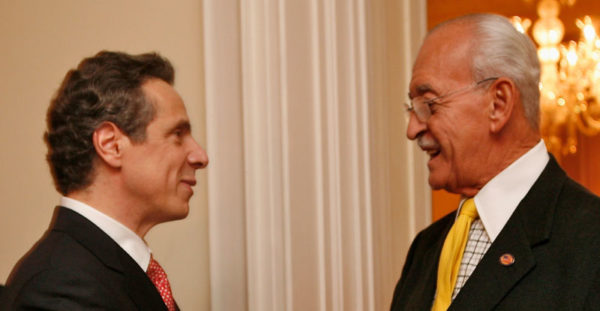 The new Tappan Zee Bridge is set to be named after Gov. Cuomo's father, the late Gov. Mario Cuomo, under an agreement reached late Wednesday night.
The Assembly passed legislation just before midnight that would rename the span after Gov. Andrew Cuomo's dad, less than a week after the Senate did the same.
Although many people criticized the governor for renaming a bridge that his father dedicated to GOP governor and Westchester native Malcolm Wilson, Cuomo (left) said the idea was first brought up by retiring Assemblyman Herman "Denny" Farrell (right), D-Harlem during a speech made during breakfast at the governor's mansion in Albany last week.
The renaming bills were slipped into legislation passed by the Democrat-controlled chamber in the wee hours of Thursday morning. The legislation included extensions of laws set to expire because the legislature failed to renew them last week.
Cuomo forced lawmakers to return to Albany for a "special session" to renew mayoral control of New York City schools and county sales taxes. Just a handful of other measures passed the Assembly, including the plan to name the bridge after Mario Cuomo.
The younger Cuomo has prided himself on seeing through the construction of the new span, despite criticism of the $4 billion cost.
Gov. Wilson's daughter is among those who are upset that the bridge won't retain her father's name.
Via source
---