---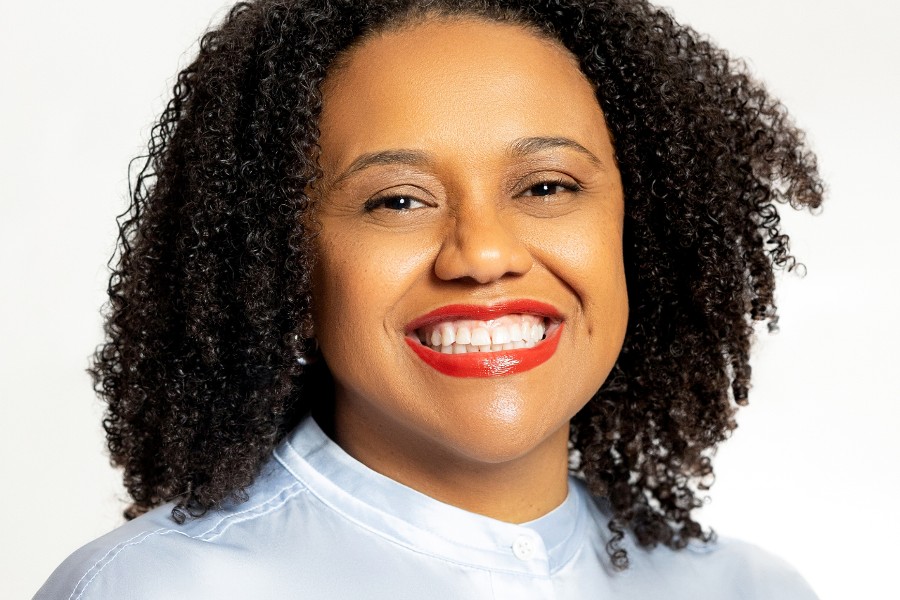 Bronx Children's Museum's Board of Directors and President Arlene Lewis Bascom announce the appointment of Harlem's Denise Rosario Adusei as the new Executive Director as of March 6, 2023.
An experienced social entrepreneur, author and early childhood leader, Adusei succeeds Carla Precht who stepped down as the Executive Director after 13 years during which time she successfully launched the first-ever children's museum facility in the Bronx.
Bronx Children's Museum's permanent home opened to the public in December 2022, having provided more than a decade of quality outreach enrichment programs throughout the borough as a museum "without walls." The Museum will continue to provide programming outside its walls as well as inside the building.
Adusei is the founder of Peartree Preschool, an arts-focused educational program in Harlem. Over the past 12 years, she successfully launched the school, graduated 1,500 children into New York City elementary schools and helped families secure over $8 million in tuition relief for private competitive programs. Adusei was responsible for implementing the school's distinctive educational mission that prioritized the creative and cognitive development of young children, from two to five years old.
In addition to being a children's book author, Adusei co-founded Latinx Pitch and Black Creators HQ, two artist-development organizations focused on increasing diverse representation in children's books. Adusei played a key role in the strategic growth of both organizations and has been instrumental in helping hundreds of Black and Latinx authors and illustrators navigate the children's book industry and secure publishing opportunities. "My immigrant mother taught me that 'As we climb, we lift.' It only made sense that I share my experience with other aspiring children's book authors by helping them navigate the publishing industry," Adusei said when asked about her cultural activism.
Having previously worked in nonprofit management consulting for Community Resource Exchange and the Commissioner's Office for the Department of Health and Mental Hygiene, Adusei brings with her extensive community partnerships, and organizational development and social-entrepreneurial experience. Adusei holds a Master of Business Administration from Columbia Business School and a Bachelor of Arts degree from Brown University. She was born in Brazil and speaks Portuguese, Spanish, and Cape Verdean Creole. She currently lives in Harlem with her Ghanaian husband, who grew up in the Bronx, and their children.
"We are delighted to have Denise take the helm of Bronx Children's Museum," said Carla Precht, the Museum's Founding Executive Director. "As an experienced early childhood education and community leader, Denise's visionary and inclusive approach to children's education and arts makes her a perfect choice to carry the vision of the Museum forward. I have no doubt that under her leadership the Museum will grow and flourish as an incubator for dreams and imagination."
In 2022, Precht announced her plans for retirement from the Museum, having realized the goal of opening a state-of-the-art children's museum with and without walls in the South Bronx. Bronx Children's Museum's Board of Directors and staff commend Precht for her dedication and leadership and wish her well in her future endeavors.
Board President Arlene Lewis Bascom remarked, "With Denise's energy and enthusiasm, I'm confident that she will build upon the Museum's accomplishments of the past 13 years by strengthening our community partnerships, expanding the Museum's educational footprint throughout the Bronx and beyond and inspiring young children's creative spirits and lifelong love of the arts and learning."
Adusei will also play a key role in developing equitable learning environments for Bronx children and families through science and arts programming. "This is a dream," Adusei said. "As a young immigrant child, I always wondered what was inside museums and art institutions. It was not until high school that I entered a museum for the first time as part of a school field trip. My goal is to make all young children feel welcome and know that Bronx Children's Museum is their creative home to learn about themselves and the world around them."
Bronx Children's Museum's new facility is located at 725 Exterior Street along the Harlem River, just steps from Yankee Stadium. Children and families can discover the amazing interactive exhibits at the 13,650-square-foot, award-winning space featuring site-specific art installations and exhibits where families can play, learn and connect to the Bronx ­– its natural and cultural resources – through dramatic role-play, art and scientific exploration. Exhibit highlights include: The Waterways, a 30-foot-long water table; The Nest, an area for exploration for infants to three year olds; The Woods, where young people can discover native plants and animals; The Block, a place to explore the Boogie Down Bronxand peek inside a bodega; and The Enchanted Garden, perfect for dramatic play.
Bronx Children's Museum
In December 2022, Bronx Children's Museum opened the borough's first-ever children's museum facility in a new 13,650 square-foot facility in the South Bronx in a historic NYC-owned building along the Harlem River, just steps from Yankee Stadium and Bronx Terminal Market. The multicultural, Bronx-inspired children's museum, geared to children from infancy to nine years old, operates "with and without walls." Since 2010, Museum educators have engaged more than 150,000 children and families in science and arts-based programming at 774 different community events and 103 educational institutions. Venues include schools, afterschool programs, community-based organizations, shelters, libraries, local festivals, parks and the Museum's On the Go! Traveling bus exhibit. The award-winning facility features interactive exhibits where families can play, learn and explore, as well as the Arts Builds Community (ABC) Collection comprised of eleven installations by fourteen Bronx-connected artists. Bronx Children's Museum nurtures children to find their voice, fulfill their potential and connect to their communities, the Bronx, and the world beyond. The Museum anticipates engaging nearly 36,000 children and families in 2023.
Photo Caption: Denise Rosario Adusei, Executive Director, Bronx Children's Museum. Photo: Joseph Martin, Keyz2Life Media
---