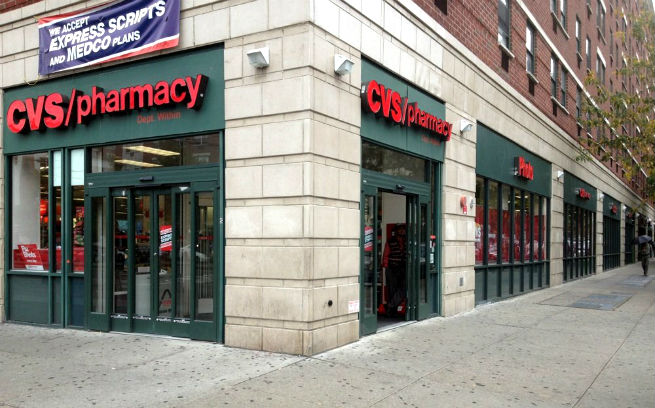 U.S. drugstore chain CVS Health Corp., which has a number of stores in Harlem, said on Monday it would start next-day delivery from its stores in 2018, a move some analysts said was in response to Amazon.com's potential entry into prescription drug sales.
Shares of drugstore operators have been under pressure on fears that the online retailer will use its vast ecommerce platform to disrupt the pharmaceutical supply chain.
"We will bring the pharmacy to our patients' doorsteps, with nationwide next-day delivery from our stores," CVS Chief Executive Larry Merlo said on a conference call with analysts.
The pharmacy store operator, which also reported better-than-expected quarterly profit on Monday, said it would offer same-day delivery in select metro areas and free same-day delivery for drugs in Manhattan starting on December 4, 2017.
Mizuho Securities USA analyst Ann Hynes said the plan could be seen by some as a defensive move in the face of Amazon's potential entry.
CVS' shares fell as much as 4 percent in early trading before paring some losses to trade down 2.7 percent.
The company said it was open to working with Amazon, adding that it would never close the door on any type of partnership.
"I think CVS also worries about Amazon's potential future moves … This is possibly a defensive strategy just to make sure that CVS is in a position to respond when that happens," GlobalData Retail analyst Neil Saunders told Reuters.
Aetna Offer
CVS Health, which is said to be in talks to buy health insurer Aetna Inc., said it would not comment on "rumors or speculations".
CVS is reported to have made an offer to buy Aetna for more than $66 billion in a deal that would give the drugstore chain more leverage in price negotiations with drug makers.
A deal would also merge one of the nation's largest pharmacy benefits managers and pharmacy operators with one of its oldest health insurers, whose far-reaching business ranges from employer healthcare to government plans nationwide.
---
---
Net income attributable to CVS fell 17 percent to $1.29 billion, or $1.26 per share, in the quarter ended September 30, 2017.
The drop in net income was mainly due to a loss of contracts to fill millions of retail prescriptions for customers of Tricare, a Department of Defense health care program, and pharmacy benefits manager Prime Therapeutics.
Excluding items, CVS earned a profit of $1.50 per share, beating he average analyst estimate of $1.48, according to Thomson Reuters I/B/E/S.
Revenue rose 3.5 percent to $46.18 billion, largely in line with the average analyst estimate of $46.17 billion.
Related Articles