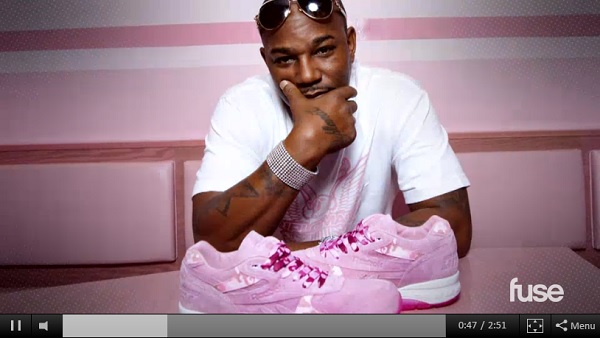 After debuting his "Purple Haze" Reebok collaboration earlier this year, Cam'ron is ready to drop his second installation, the all-pink Reebok Ventilator Supreme Cam'ron, on Cyber Monday. The Harlem native gave Sole Searching host Esteban Serrano a sneak peek of the shoe before diving into his "all-pink lifestyle."
Nicknamed the "Fleebok 2," the sneaker boasts Killa Cam's signature all-pink look using suede, a touch of camo, and the Dipset logo across the back.
Crediting Dame Dash for jump-starting his venture into pink fashion, Cam recalls,
[Dash] used to go to Fashion Week all the time. He'd tell me the people who were gonna be there…I'll wear a pink mink, a pink headband, or a purple mink, or suede, or something I know that's gonna get people's attention to make Page Six of the New York Post.
While the "Fleebok 2" won't hit shelves until Nov. 28, 2016, you can cop a pair of Cam'ron's pink camo Stance socks to match the rapper's latest kicks.
Here's the video:
Via Fuse.tv.
Related Articles
---