---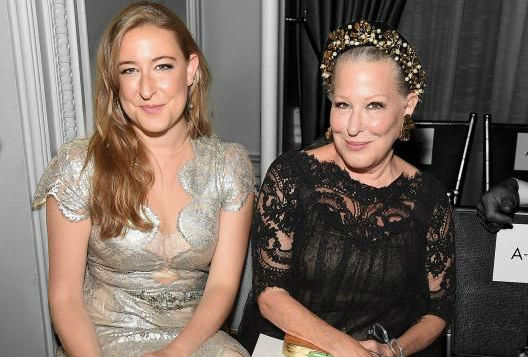 At Marchesa's Spring 2016 Ready-to-Wear show on Wednesday, designers Georgina Chapman and Keren Craig sent a slew of red carpet ready gowns down the runway.
Inspired by a "botanical menagerie of caged birds," pieces ranged from black cage-like dresses with structural details to flowing numbers fit for princesses, one such even featuring a long watercolor rainbow train. Sitting front row were friends of the label including redheads Bella Thorne and Christina Hendricks (look out for her in one these at the Emmys on Sunday), Jennifer Hudson, and Anna Sophia Robb. But scoring the coveted seat next to Chapman's husband, Hollywood hotshot Harvey Weinstein, was none other than central Harlem resident Bette Midler.
And with Milder was her lookalike daughter, Sophie von Haselberg. The 28-year-old child of the legendary star seemed almost like a mirage perched next to the 69-year-old. The pair's features so familiar it makes cloning seem like a reality, the only factor differentiating factor between the pair being their outfits and a few decades. While von Haselberg opted for a silver lace dress and matching strappy heels, Midler, on the other hand, went for a darker look choosing leather pants and a lace top with a bauble-embellished crown.
After taking in the romantic Marchesa, the mother-daughter duo booked it downtown to attend a show with a decidedly different atmosphere and theme: The Blonds. Before taking up residence in the FROW next to Kelly Osbourne, they both traded their chantilly-heavy ensembles for looks more fit for a nightclub (which, let's face it, The Blonds show basically is). Midler switched her crown for another eye-catching topper, this one a black fez. She stuck with black but the blazer featured dangerous gold spikes on the shoulders and von Haselberg, a Yale graduate, put on the dark shade as well and added a little sex appeal with a cleavage-boosting black and gold bustier.
"It's all very girly. They're not practical; they're just great fun," Midler told the New York Times of the show, which sent gold mini dresses with spikes protruding from the hips, turquoise embellished pieces with dangerously high hemlines, wings, and bodysuits down the runway on models wearing cartoonish blonde wigs. The singer wore custom made costumes designed by Phillipe and David Blond during her recent "Divine Intervention" tour (source).
Related Articles
---