---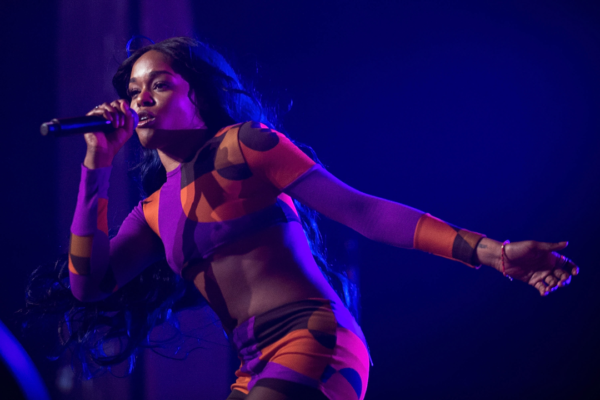 BET reports that with cases of assault, both domestic and sexual, in the entertainment industry peaking at an all-time high in 2017, rap artist Azealia Banks has come forth with allegations against Dave Holmes, music executive and manager for Coldplay, Interpol, Santigold and My Chemical Romance.
For her story, the Harlem femcee has taken the details of a terrifying domestic assault incident with Holmes to a lengthy Instagram post.
Azealia spoke in third person as she described how her relationship unfolded with Holmes when she was only 18 years old. At the time, she says, she was still signed to XL Recordings and had begun dating the then-43-year-old, which "made her feel like Naomi Campbell!," she explained. Azealia admits that though he was married at the time, he insisted that him and his wife were separated. However, she added, their relationship took a sharp left turn once she was released from her label and Holmes switched up on her without warning.
"This was the first time she'd ever been in love," she wrote in the post. "When she is dropped from XL recordings, he breaks up with her and abruptly stops paying the rent on the apartment he had been renting for her. She haphazardly moves out of her apartment on dyckman street and heads to Montreal where She spends a lonely, depressed summer."
Azealia said that eventually he popped back up in 2012 once her career kicked off for the better, but one argument that happened on the night before recording her "1991" music video, things took another turn for the worse. And it was all due to $2,000 she borrowed from him a couple of weeks prior, the Ice Princess claimed.
"She grabs hold of his fancy espresso machine and pushes it on the floor, which prompts him to put her in a choking headlock," she recalled. "The fight gets nasty, with her throwing rocks through glass windows and him dragging her by her hair and throwing her into a freezing cold shower. During the headlock she cuts the inside of her lip on her teeth and begins to spit blood."
Afterward, Azealia said her friend came to pick her up and take her home, where the trauma from the incident led to a sleepless night and hours of crying. She still had her video to shoot the next day, Azealia concluded, but once her hairstylist Brianna arrived to glam her up, she revealed what happened the night before. The story abruptly ends after she said that somehow through the anguish brought on by the alleged incident, she was able to pull herself together and push forward for her femcee duties.
Holmes has not yet responded to Azealia's claims, but you can read her entire statement in the post below.
No related posts found...
---