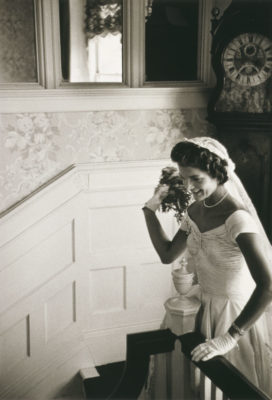 Diva Ann Cole Lowe, 1898 – February 25, 1981, was a Harlem resident, American fashion designer and the first African American to become a noted fashion designer. Lowe's one-of-a-kind designs were a favorite among high society matrons from the 1920s to the 1960s. In 1953, she designed the ivory silk taffeta wedding dress worn by Jacqueline Bouvier when she married Senator John F. Kennedy.
"She was exceptional; her work really moves you," says Smithsonian curator Elaine Nichols.
Lowe was born in Clayton, Alabama, the great granddaughter of a slave woman and an Alabama plantation owner. She had an older sister, Sallie. Lowe's interest in fashion, sewing and designing came from her mother and grandmother, both of whom worked as seamstresses for the first families of Montgomery and other members of high society. Lowe's mother died when Lowe was 16 years old. At the time of her death, Lowe's mother had been working on four ball gowns for the First Lady of Alabama, Elizabeth Kirkman O'Neal. Using the skills she learned from her mother and grandmother, Lowe finished the dresses.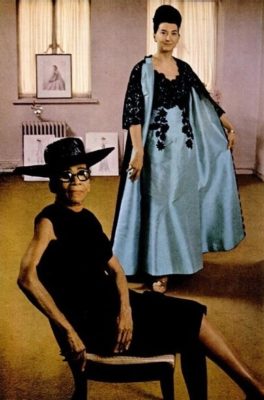 In 1912, she married Lee Cohen with whom she had a son, Arthur Lee. After her marriage, Lowe's husband wanted her to give up working as a seamstress. She complied for a time but left him after she was hired to design a wedding dress for a woman in Florida.
In 1917, Lowe and her son moved to New York City where she enrolled at S.T. Taylor Design School. As the school was segregated, Lowe was required to attend classes in a room alone. After graduating in 1919, Lowe and her son moved to Tampa, Florida. The following year, she opened her first dress salon, "Annie Cohen". The salon catered to members of high society and quickly became a success. Having saved $20,000 from her earnings, Lowe returned to New York City in 1928. For a time, she worked on commission for stores such as Henri Bendel, Chez Sonia, Neiman Marcus, and Saks Fifth Avenue.
Through the 1940s to the end of the '60s, Lowe was known as society's "best-kept secret," designing outfits for famous socialites.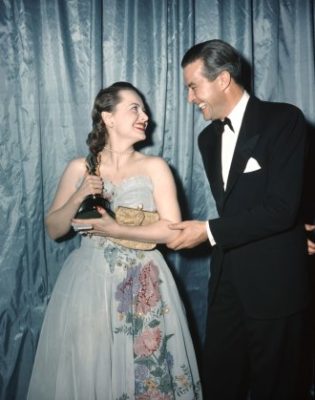 In 1946, she designed the dress that Olivia de Havilland (above) wore to accept the Academy Award for Best Actress for To Each His Own, although the name on the dress was Sonia Rosenberg.
As she was not getting credit for her work, Lowe and her son opened a second salon, Ann Lowe's Gowns, in Harlem, New York on Lexington Avenue in 1950.
As she was not getting credit for her work, Lowe and her son opened a second salon, Ann Lowe's Gowns, in Harlem, New York on Lexington Avenue in 1950.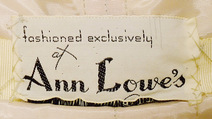 Her one-of-a-kind designs made from the finest fabrics were an immediate success and attracted many wealthy, high society clients. The Saturday Evening Post later called Lowe "society's best kept secret". Throughout her career, Lowe was known for being highly selective in choosing her clientele. She later described herself as "an awful snob", adding "I love my clothes and I'm particular about who wears them. I am not interested in sewing for cafe society or social climbers. I do not cater to Mary and Sue. I sew for the families of the Social Register." Over the course of her career, Lowe created designs for several generations of the Auchinclosses, the Rockefellers, the Lodges, the Du Ponts, the Posts and the Biddles.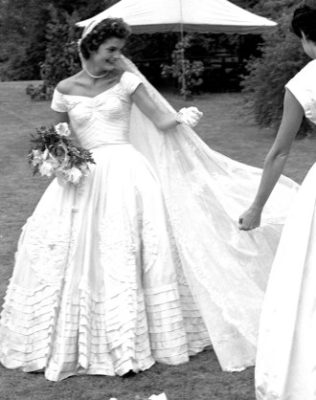 In 1953, she was hired to design a wedding dress for future First Lady Jacqueline Bouvier and the dresses for her bridal attendants for her September wedding to then-Senator John F. Kennedy. Lowe was chosen by Janet Auchincloss, the mother of Jacqueline Bouvier, who had previously commissioned Lowe to design the wedding dress she wore when she married Hugh D. Auchincloss in 1942. Lowe's dress for Jacqueline Bouvier consisted of fifty yards of "ivory silk taffeta with interwoven bands of tucking forming the bodice and similar tucking in large circular designs swept around the full skirt." The dress, which cost $500 (approximately $4,000 today), was described in detail in The New York Times's coverage of the wedding. While the Bouvier-Kennedy wedding was a highly publicized event, Lowe did not receive public credit for her work.

The NY Post reports that "when Christian Dior first beheld her handiwork, he exclaimed, with probably a bit of envy, 'Who made this gown?'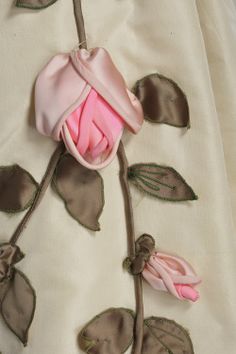 'She had excellent technique,' says costume historian Margaret Powell, who is working on one of the kids' books about Lowe. 'Even the insides [of her dresses] are beautifully finished . . . Her clients realized that they could get the same quality as Dior at a much lower price."
Throughout her career, Lowe continued to work for wealthy clientele who often talked her out of charging hundreds of dollars for her designs. After paying her staff, she often failed to make a profit on her designs. Lowe later admitted that at the height of her career, she was virtually broke. In 1962, she lost her salon in New York City after failing to pay taxes. That same year, her right eye was removed due to glaucoma. While she was recuperating, an anonymous friend paid Lowe's debts which enabled her to work again. Soon after, she developed cataract in her left eye which was saved after surgery. In 1968, she opened a new store, Ann Lowe Originals, on Madison Avenue. She retired in 1972.
Lowe was married twice and had two children. She married her first husband, Lee Cohen, in 1912. They had a son Arthur Lee who later worked as Lowe's business partner until his death in 1958. Lowe left Cohen because he opposed her having a career. She married for a second time but that marriage also ended. Lowe later said, "My second husband left me. He said he wanted a real wife, not one who was forever jumping out of bed to sketch dresses." Lowe later adopted a daughter, Ruth Alexander.
Since the 1930s, Lowe lived in an apartment on Manhattan Avenue in Harlem.
Since the 1930s, Lowe lived in an apartment on Manhattan Avenue in Harlem. Her older sister Sallie later lived with her. Both were members of St. Marks United Methodist Church.
In the last five years of her life, Lowe lived with her daughter Ruth in Queens. She died at her daughter's home on February 25, 1981 after an extended illness. Her funeral was held at St. Marks United Methodist Church on March 3.
A collection of five of Ann Lowe's designs are held at the Costume Institute at the Metropolitan Museum of Art. Three are on display at the Smithsonian Institution's National Museum of African American History and Culture in Washington, DC. Several others will be included in an exhibition on black fashion at the Museum at the Fashion Institute of Technology in Manhattan in December 2016.
Photo credit: 1) Jacqueline Bouvier wedding to John Kennedy.  2) Anne Lowe in Harlem studeio. 3) Olivia de Havilland. 4) Anne Lowe label. 5) Jacqueline Bouvier in Anne Lowe dress wedding dress.
Related Articles
---
VIDEO
---
"Dr. Harry Delany is a renowned Harlem born and raised surgeon, the son of the great jurist and civil rights leader, Hubert Delany...." This monthly post is made in partnership with Harlem Cultural Archives.