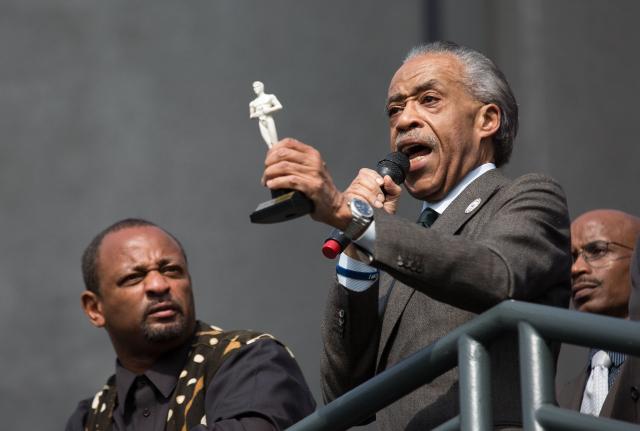 Just blocks from the Dolby Theatre on Sunday, the Rev. Al Sharpton led about 70 demonstrators in a rally and march circle to protest the lack of diversity among this year's Oscar nominees."You are out of time," Sharpton said, addressing the Academy. "…This will be the last night of an all-white Oscars."
Speaking to demonstrators gathered in a strip mall parking lot at Sunset and Highland, Sharpton promised a longer protest, along with pressure on advertisers, if the situation doesn't change next year.
Sharpton noted that he expressed dismay at the lack of diversity last year as well, and also had a meeting with Amy Pascal, then a Sony executive, over an email she wrote that was disclosed during the hack and was viewed as racially insensitive.
Sharpton marched in a circle around the parking lot with demonstrators, as funk music played and marchers chanted, "diversify the Academy."
At one point Sharpton held an Oscar painted white, saying that when statuettes are handed out, that is the color they should be.
Mollie Bell, a resident of Compton who works for the postal service, said that she is an avid moviegoer but came to the event because she wanted Hollywood to know "we are more than just a ticket buyer."
Via Variety
Related Articles