---
Al Pacino, the 77-year-old actor, who is most known for his legendary gangster roles in flicks including Scarface and The Godfather, donned hospital gowns for sliders for his new role while shooting in his hometown in Harlem.
The new film, which is yet to be given a release date, will chronicle the harrowing true story of the Jerry Sandusky child sex abuse scandal.
It is currently being tentatively titled Happy Valley, but it is yet to be confirmed if this will remain.
Pacino will play the role of Joe 'JoePa' Paterno – an American college football player and coach for the Penn State Nittany Lions from 1966 to 2011.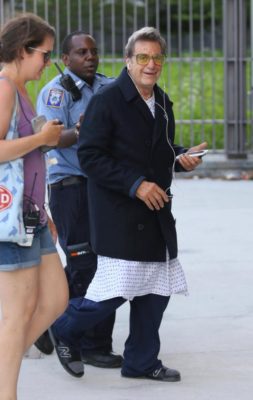 Sandusky acted as the coach's assistant until was found guilty on a shocking 45 counts of child sex abuse against ten boys across a fifteen year period.
In October 2012, he was given a thirty to sixty year prison sentence.
Paterno was dismissed from his duties as a result in November 2011, after he was criticized that he failed to alert the correct authorities after he was told a witness saw one of the incidents occurring in the showers of the school.
Related Articles
---