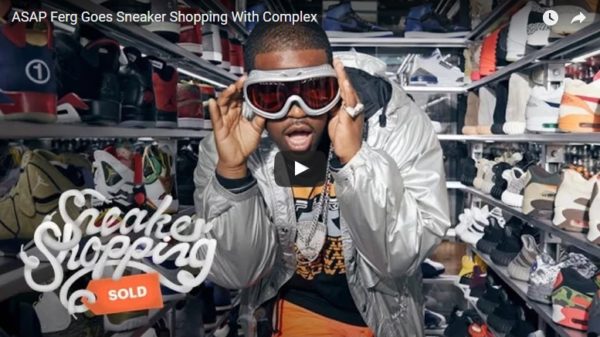 Baller Status reports that Harlem rap star Harlem A$AP Ferg appears on the latest episode of "Sneaker Shopping" on Complex, where he visits Flight Club in New York City.
During the episode, the rapper reminisces about his love for Air Force 1s while growing up in Harlem, he shares a story about wearing a pair of Jordans so small his feet were bleeding, and his ongoing partnership with Adidas.
"I went to go visit some family members, I was so thirst to get these Jordans, and I had got them in the wrong size," Ferg explains. "It was a small size. In the hood you can get away with squeezing your feet into some sneakers. I took the insole out and my joints was still crunched up. That whole day my feet was bleeding. I remember wanting to wear those Jordans so bad that I sacrificed my toes that day."
Regarding Adidas, he reveals that another sneaker is coming, as well as apparel. "I come from where only athletes get sneaker deals. To sell out in a day, being from Harlem, and being the only person where I'm from with a sneaker — that's crazy. We have a capsule collection coming later this year. There's going to be two different color ways, and it's going to come with a jacket, T-shirt, and pants. New sneakers, different model. The new model is crazy."
Ferg talks about A$AP Bari's VLONE Air Force 1s, expressing how proud of him he is. "I'm crazy proud of him. He's not a rapper, he's the designer. Rappers look up to him for style," he says. "I see Uzi, Yachty, Drake, LeBron James, Odell [Beckham Jr.] wearing his sneakers. They're constantly calling me and asking me how they can get shoes. I just feel good that I have the very rare VLONES. I have the samples. I don't have the embroidery on mine's."
Watch the episode above and see what kicks Ferg cops at the end.
Related Articles