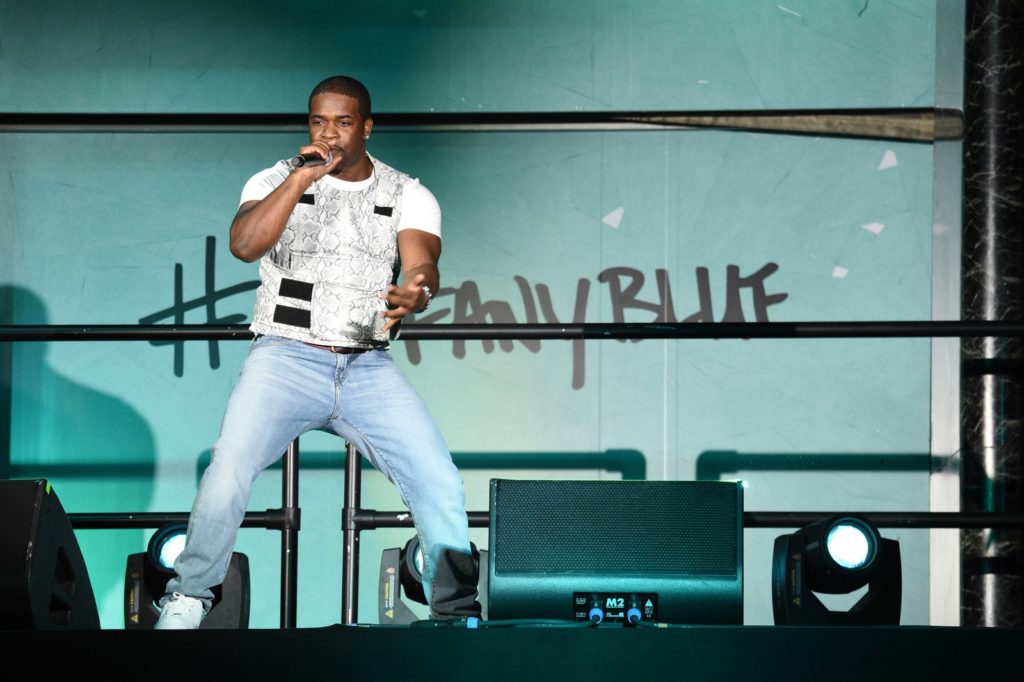 Vanity Fair reports that on the roof of the Tiffany & Co. flagship Thursday night, A$AP Ferg did his best Audrey Hepburn. The rapper's remix of "Moon River," a collaboration with the actress Elle Fanning and a chopped-up callback to Breakfast at Tiffany's, celebrates his recent partnership with the jeweler. Ditching Hepburn's strummed guitar for a pair of verses about his own tastes in luxury, Ferg tucked the song into a set of his biggest hits for a crowd of 50 or so.
"What rapper you know shuts down Tiffany's," he asked his fans as they circled him. Ferg became a spokesman for the brand after meeting with its chief artistic officer Reed Krakoff, and Thursday's show was put together to commemorate the relationship in front of his super-fans, as defined by their Spotify habits. One wore a full Power Ranger costume; another, a hoodie with the Balenciaga logo ripped from a Sanders '16 ad. The show was held on a patch of astroturf enclosed by Tiffany-blue traffic cones, and if the rooftop hadn't been shrouded in mist that night, there would've been a clear view of Central Park and Fifth Avenue's row of luxury flagships.
Sitting at a wooden boardroom table just prior to his performance, Ferg was already busy tweaking his new partner's wares. While linking together two Tiffany T chains, he said that he viewed the show as a way of "letting people know that Tiffany's can be for anybody, not just for older, wealthy people." One chain was thick and the other slim, and the fusion of the two was pleasantly jarring. "I usually just wear one link, just because I like it to be either slim or bulky," Ferg said. "But I may flex both, I don't know."
A$AP Mob, the hip-hop collective that Ferg and its other breakout star A$AP Rocky belong to, counts multiple outlets beyond music, from fashion to furniture to directing. Hip-hop and aspirational luxury have long had an easy relationship, but it's become downright symbiotic in recent years. In January, Gucci opened an atelier with Dapper Dan, the Harlem designer (and mentor to Ferg and his late father) who'd been forced underground for 25 years. Pusha T's album that was released last week is named after a Rolex Daytona, and Ferg himself has a song called "Coach Cartier" on his most recent mixtape. To mark the release of his new album Testing, Rocky did performance art at Sotheby's.
None of this made it any less thrilling to hear 50 people yelling along to Ferg's highest-charting song, 2017's "Plain Jane," from a Manhattan rooftop: "Ride with the Mob, alhamdulillah!" "I went to Art and Design High School, I majored in fashion, and I've always been a big fan of Tiffany's," Ferg explained beforehand. "My school was on 57th and Second, and we used to have to walk past Fifth Avenue sometimes to take the train. So I would always walk past the windows and be like, 'Man, I wish that one day I'll be able to afford something in there,' let alone walk in the store."
Since its debut last week, Testing has been met with mostly middling reviews despite its grander ambitions. Ferg, who's always been the A$AP Mob's relentlessly affable id, seemed content with his role these days, suggesting that the collective is just fine. "I feel like I had to figure out my lane in the Mob as far as what I'll be bringing to the table," he said. "We all want to make innovative sounds. . . . But my own thing is we weren't getting played in the club and we wasn't getting played on the radio, and I'm naturally a hyper dude."
Towards the end of Ferg's set, he took the single step down into the crowd. "She wants to hear 'Shabba' so just play that shit for her," he instructed his D.J., motioning to a fan. On came Ferg and Rocky's 2013 tribute to the Jamaican dancehall musician, Shabba Ranks, and his gold rings, chains, and tooth. "We're not gonna play with the phones anymore," he announced, as the circle around him grew tighter and filmed closer. "We're just gonna drink and have fun."
Related Articles
VIDEO
---
Harlem Cultural Archives is a donor and foundation-supported Historical Society, Its mission is to create, maintain and grow a remotely accessible, online, interactive repository of audio-visual materials documenting Harlem's remarkable and varied multicultural legacies, including its storied past as well as its continuing contributions to the City and State of New York, the nation, and the world.
Support Harlem Cultural Archives
and
click here to get more Harlem History
, Thank you.