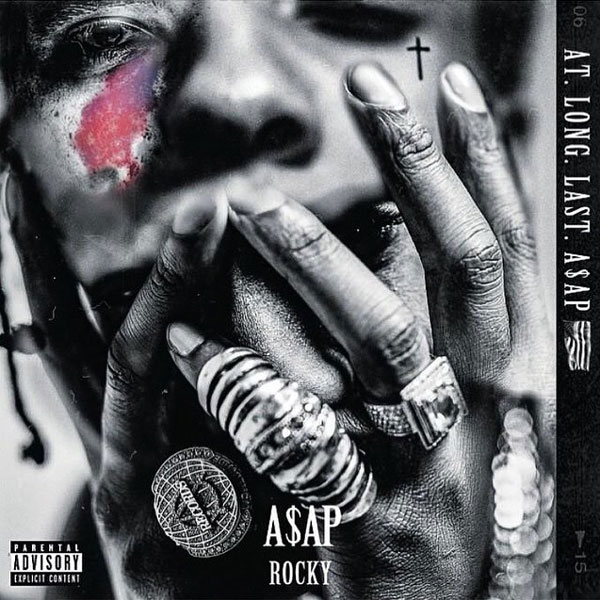 The wait is almost over. The highly-anticipated sophomore release from Harlem rapper ASAP Rocky is due out on June 2, and ASAP has finally shared the track listing with fans. 
At.Long.Last.Asap is an 18-track project that features a star-studded guest roster.
For this album, ASAP collaborated with Kanye West, Mos Def, UGK, Lil Wayne and ScHoolboy Q, among others. There's even a track that pairs ASAP Rocky with Miguel and Rod Stewart.
In addition to the track listing, ASAP also released the cover art, a tribute to his fallen friend ASAP Yams, who is credited as an executive producer on the project.
Check out the track listing below:
1. "Holy Ghost" feat. Joe Fox
2. "Canal St." feat. Bones
3. "Fine Whine" feat. M.I.A., Future & Joe Fox
4. "L$D"
5. "Excuse Me"
6. "JD"
7. "Lord Pretty Flacko Jodye 2″
8. "Electric Body" feat. ScHoolboy Q
9. "Jukebox Joints" feat. Kanye West & Joe Fox
10. "Max B" feat. Joe Fox
11. "Pharsyde" feat. Joe Fox
12. "Wavybone" feat. Juicy J & UGK
13. "Westside Highway" feat. James Fauntleroy
14. "Better Things"
15. "M'$" feat. Lil Wayne
16. "Dreams (interlude)"
17. "Everyday" feat. Rod Stewart & Miguel
18. "Back Home" feat. Mos Def, Acyde & Yams
Related Articles
---
VIDEO
---
"Dr. Harry Delany is a renowned Harlem born and raised surgeon, the son of the great jurist and civil rights leader, Hubert Delany...." This monthly post is made in partnership with Harlem Cultural Archives.