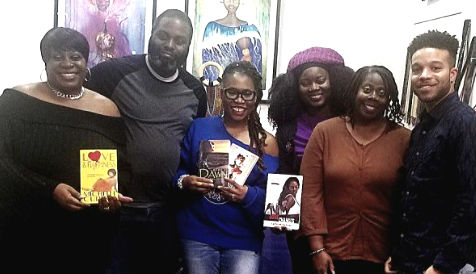 By Eartha Watts Hicks, editor-in-chief
We writers are, pardon me for saying so, an odd bunch. But then, we get together, start thinking and talking, sharing ideas and our process. We learn that other recipes are just as good, if not better and more effective than our own. We also see the beauty in each other's style, all-the-time swagger, attitudes and approach to the craft.
On Saturday, December 16th, 2017, two beautiful spirits brought joy to a small group of writers, aspiring writers, and those who appreciate great writing. Both ladies, themselves, brilliantly gifted.
Thank you to all who braved the elements and came out to support our Harlem World Magazine Holiday Reading and Discussion at Calabar Imports. Harlem World Holiday Book Experience and Open Mic Event at Calabar Imports was brought to you by Harlem World Magazine and sponsored by Calabar Imports.
Thank you, Daniel Tisdale, chief executive officer at Harlem World Magazine, for all you do to preserve Harlem's history, embrace our vibe, and sustain our legacy. And especially for all the ways you work to keep art alive.
Thank you, Atim Annette Oton, for sharing Calabar Imports's lush space and artifacts, your time and your wisdom. You are courage with poise.
Michelle Big-Body Cuttino thank you for sharing your art, your journey, your candidness, and for all you do to help all 'us girls' big and small to embrace every part of ourselves.
And Nigeria, yeasssss! Thank you for showing us through your art that problems don't disappear instantly, because we've decided to follow Jesus. And for sharing and showing that our faith, strength, energy, and will, continually need to be strengthened (and replenished). And for all you do to educate and edify in Jesus' name.
Join Nigeria Lockley online at www.NigeriaLockley.com. Connect with her @NewNigeria or #NigeriaLockley, #NewNigeria or #JoinTheTea.
Learn more about Michelle Cuttino at www.MichelleCuttino.com. Connect with her @MichelleCuttino or #MichelleCuttino, #MichelleBigBodyCuttino, or #BigBodysRock.
Again, Harlem World Holiday Book Experience and Open Mic Event at CALABAR IMPORTS has been brought to you by Harlem World Magazine and the Harlem World Marketing Team, sponsored by Calabar Imports.
CALABAR IMPORTS is Harlem's own eclectic boutique space featuring art, fashion, accessories, and home décor curated from around the world by owner Atim Annette Oton. There are also has 2 store locations in Brooklyn. For more information, visit www.calabarimports.com.
---
---
SUBSCRIBE & CONNECT WITH HARLEM WORLD MAGAZINE
Website: www.harlemworldmag.com
Twitter: @HWMag
Facebook: https://www.facebook.com/HarlemWorldMagazine/
Instagram: @HarlemWorldMagazine
Email: HarlemWorldInfo@yahoo.com
#HarlemWorldMagzine
For more information about Harlem World Magazine's Services, visit http://harlemworldmag.com/marketing/. To Sponsor an event or reach Harlem World Magazine's Marketing Team, please direct queries by telephone to 212.252.6859 or by email to harlemworldfinfo@yahoo.com. Harlem World Magazine supports Harlem World Cares, http://harlemworldmag.com/harlem-world-cares/
Eartha Watts Hicks is editor-in-chief of Harlem World Magazine, member of The Harlem Writers Guild and author/publisher of Love Changes. Visit www.earthatone.com. Connect @Earthatone and #Earthatone.
Related Articles