---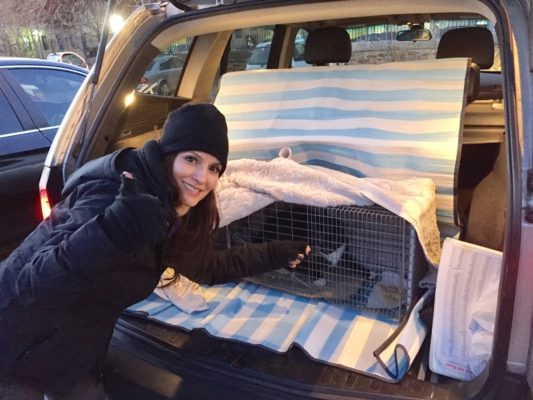 When Alicia Harding moved to her Harlem home in 2015, she noticed a group of stray cats living in front of her apartment building. It wasn't until Harding went to feed them that she understood the gravity of the situation, she told Patch.
"I went to Duane Reade, I got some cans of cat food, I opened them up and then out of nowhere like 15 cats appeared and were swarming around the food."
Harding had never worked as an animal rescuer, but could tell that the cats were not spayed or neutered and were starving. Harding grew up with animals because her mother was an animal rescue.
Harding eventually connected with one of her new neighbors and other rescuers to take all the cats off the street. The experience prompted Harding to get more actively involved in animal rescue and to found NYC Animal Rescue Girls — an all-female volunteer group that has rescued more than 100 cats since 2015. Harding said that the group wasn't meant to be all-female, but it just "happened that way."
Harding and her group of volunteers take cats from the street and find them permanent homes. The first step is trapping cats, then cats are brought to a vet to be fixed, given to a foster home and eventually adopted.
One of the main contributors to the New York's stray cat problem — Harding said the estimated population is 1 million homeless cats — is not that people are generally malicious toward cats, but are either misinformed or just don't care. Often times people get cats just to keep mice and rats away, but don't properly care for the cat or have it fixed, which could lead to the creation of a feral cat colony.
Volunteers at NYC Animal Rescue Girls help Harding with every step of the rescue process. Volunteers do tasks such as fostering cats, transporting cats to the vet, feeding colonies, running social media accounts and even trapping — the "dirty work" — Harding said.
Desiree Lafore has helped Harding trap stray cats since the group started in 2015. She met Harding through a mutual friend when she moved to New York, and she said that she's "never worked with anyone like Alicia."
"She will stay hours on a coldest nights if she knows there is a sick cat or a dangerous situation," LaFore said "We have even slept in the car for hours while trapping, so that the cat is not sitting out in the cold."
NYC Animal Rescue Girls is completely volunteer-run, which means its a second-job for most of its members — LaFore is a makeup artist and Harding is an actress. The group has grown in size since it was originally founded, but is still small because volunteers have real lives.
"People think, 'oh you're a cat person, you're a crazy cat lady,' but that's not the case," Harding said. "That 'crazy cat lady' name is given a bad rap. We have lives, we just are compassionate and see a sick, starving animal on the street and want to help it."
All of the cats NYC Animal Rescue Girls have up for adoption can be seen on the group's Instagram page. Social media has helped the group get its name out and find permanent homes for many cats.
Check out NYC Animal Rescue Girls' Instagram page.
Photo courtesy of Alicia Harding. Desiree LaFore has volunteer with NYC Animal Rescue Girls since it started in 2015. She mainly helps trap stray cats.
Related Articles
---