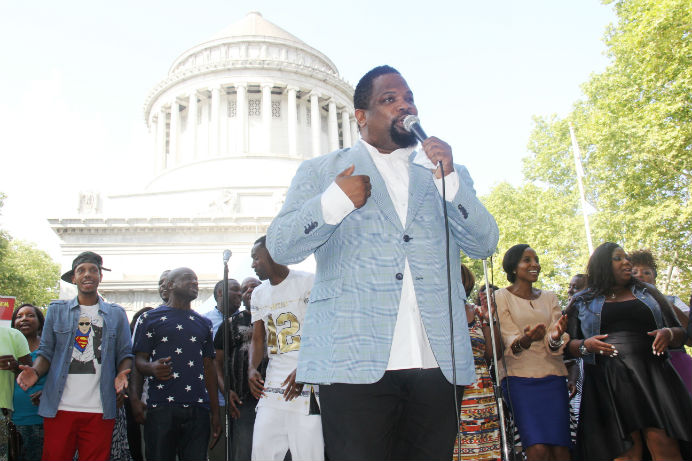 Harlem Week holds Economic Development Day at the Second Annual Basil Paterson Awards Luncheon Honors that honors Paula Madison, Africa Channel and Former Diversity VP at NBC Michelle Roberts, Executive Director, National Basketball Players Assoc Wendy Lewis, Senior Vice President, Major League Baseball.With Former Gov. David Paterson; Hon. Carl McCall and Hon. Serge Letchimy, President of Martinique
Harlem Week Economic Development Day Conference and Awards Luncheon on Tuesday, August 11 from 9:30am – 5:00pm
Columbia University, Alfred Lerner Hall, 115th Street & Broadway
International Business & Health Conferences
---
Become a Harlem insider - Sign-Up for our Newsletter!
---
9:15 – 10:15 – Affordable Health Care with Panelists: Roger Miliner, Metro Plus; Paul Zurlo, Emblem; Michelle Drayton, Visiting Nurse Service of New York
10:30 – 11:30–Get Healthier Harlem with moderator John Palmer, Touro College andPanelists:  Alwyn Cohall, Columbia University Medical Center –  Dr. Alwyn Cohall, Professor of Sociomedical Sciences, Population and Family Health and Pediatrics/Pediatrics; Dr. Dayana Eslava, Mt. Sinai St. Lukes; Shauneequa Owusu, New York Academy of Medicine Partnership/Community Engagement
9:15am – 10:15am–Minority & Women Owned Business Enterprise with Moderator: Darwin Davis, Principle, BAC Enterprises and Panelists:Panelists: LaVerna Fountain, VP Construction Business services & Communications, Columbia University; Michael Clay, Director Opportunity Programs Group, Dormitory Authority State of New York; Michael Sutton, President, Infrastructure Engineering
10:30am – 11:30am–Energy Efficiency Business Opportunities with Moderator: Michael Jones-Bey, Director, Supplier Diversity at Con Edison and Panelists: John Skipper, Manager, Con Edison; Doug Lawrence, Founder, 5 Stone Green Capital; Alison Miller, Deputy Executive Director, Earth Institute Columbia University
10 AM – 3 PM — Indoor  Business & Professional Services Expo
10 AM – 5 PM — Outdoor Farmer's Market
12 Noon – 2 PM — Basil A. Paterson Business Awards Luncheon
Paula Madison, Africa Channel and Former Diversity VP at NBC
Michelle Roberts, Executive Director, National Basketball Players Assoc
Wendy Lewis, Senior Vice President, Major League Baseball
SPEAKERS: Former Gov. David Paterson; Hon. Carl McCall and Hon.  Serge Letchimy, President of Martinique
3PM – 5PM — Tech "Meet-Up" & Business Conference presented by Silicon Harlem
Scott M. Stringer, Comptroller of the City of New York
Maya Wiley, Counsel to the Mayor of New York
Clayton Banks, Founder, Silicon Harlem
Celebrating its 41st year in 2015, HARLEM WEEK offers over 100 events from July 26th through August 22nd to over 2 million attendees from all over New York and the world.  HARLEM WEEK celebrates the neighborhoods assets and unique flavor, promoting Harlem's rich African, African-American, Caribbean, Hispanic and European history, culture, arts, religion, entertainment and sports.
Related Articles
---
VIDEO
---
"Dr. Harry Delany is a renowned Harlem born and raised surgeon, the son of the great jurist and civil rights leader, Hubert Delany...." This monthly post is made in partnership with Harlem Cultural Archives.