---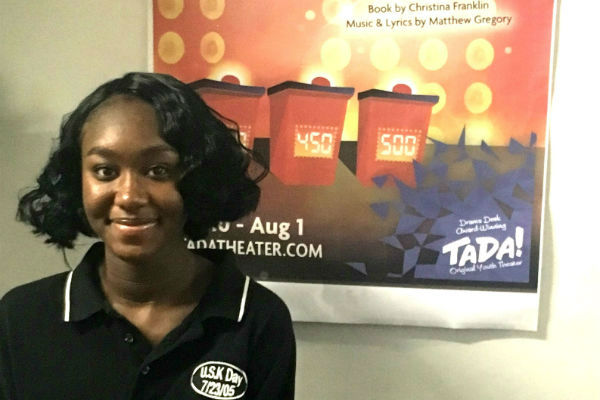 This summer, the Drama Desk award-winning TADA! Youth Theater presents the 90s pop musical, Game Changers.
A throwback to the popular kids' game shows of the 1990s, Games Changers follows six young contestants, each determined to be the first to make it to the top of Mt. Victory and win the game. As the challenges increase in difficulty and the stakes heighten, each contestant learns more about themselves and each other, ultimately leading to the realization that in order to win the game, they must do something that's never been done before…
Manhattan children appearing in Game Changers include Harlem's Yealie Ulaba-Samura, 15, as Kris; AJ Walker, 15, as Kris; Marlena Vega, 13, as Tracy; Evie Lee, 12, as Kelly, and Olivia Chew, 12, as Brittany.
Yealie Ulaba-Samura, a 15-year-old from Harlem, will be starring as Kris in Game Changers. "My character, Kris, has been the host of Game Changers for the past eight years. Since it has been the same routine over and over again, on camera, Kris appears bright and bubbly. Off camera, she is drained, impulsive and rude to her assistants."
Yealie shared, "Through TADA!, I have grown a lot as an actor and vocalist. I've learned to hone my craft by following the script word-for-word and acting at all times, even when I don't have a predominant role. Because of my experience of playing powerful female characters, I have also developed emotionally."
Yealie is currently a freshman at St. Jean Baptiste High School in Manhattan and, although she loves theater, she has other plans for her future. She relates most to the character of Priscilla, one of the contestants on Game Changers, due to her ambitious work ethic and dream of becoming President one day.
When asked about the meaning theater holds in her life, Yealie said, "A lot of barriers have been broken for African-American women, who are often overlooked in theater. The stage can be a platform for me to challenge other people's views of the world." Regarding her advice for those interested in theater, she said, "You might not get a leading role when you first join, but that is ok. Don't let it stop you from taking your role seriously and being proud of your work."
Performances of Game Changers run July 10 at 7:00PM; July 16, 17, 18, 23, 24, 25, 30, 31 at 12:00PM and 2:00PM; July 11, 12, 19, 26 at 12:00PM; July 13, 20, 27 at 2:00PM and 4:00PM; August 1 at 12:00PM and 2:00PM. For tickets, please visit https://www.tadatheater.com/buy-tickets/.
Game Changers is written by Christina Franklin (TADA! Resident Youth Ensemble Alum, Assistant Director: The Public Theater's White Noise, New York Theater Workshop's Slave Play), with music and lyrics by Resident Music Director Matthew Gregory (Radio City Music Hall, Joe's Pub, Feinstein's, 54 Below). The production is directed by TADA! Founder and Producing Artistic Director Janine Nina Trevens, with choreography by Associate Artistic Director and Resident Choreographer Joanna Greer. Members of the production team include Set Designer Anton Volovsek, Costume Designer Ceanna Bryant (TADA! Resident Youth Ensemble Alum), Lighting Designer Steve O'Shea, Production Stage Manager Ashley Knowles, Assistant Director Gabriela Gross (TADA! Resident Youth Ensemble Alum), and Assistant Stage Manager Clara Kim (TADA! Resident Youth Ensemble Alum).
Founded in 1984, TADA! Youth Theater inspires young people from different backgrounds to be creative, learn, and think differently through high-quality musical theater productions and educational programs. The Drama Desk award-winning nonprofit produces original musicals for family audiences, offering free, year-round, pre-professional training and positive youth development programs, such as the Resident Youth Ensemble (ages 8-18), classes and camps for the public, and musical theater residencies in NYC schools and community centers. TADA! works to ensure that young people increase their self-confidence and creativity and develop advanced skills in leadership, communication, responsibility, collaboration, and problem-solving – all of which are essential to success in their academic and professional careers. Many young people who have participated in the program are inspired to pursue a career in the creative arts; in fact, TADA! alumni include Academy Award-winner Jordan Peele (member of the TADA! Board of Directors), Kerry Washington (Scandal), Josh Peck (Drake & Josh), Mizuo Peck (Night at the Museum trilogy), Amar Ramasar (New York City Ballet Principal Dancer), and members of alt-pop band AJR.
Photo Caption: Yealie Ulaba-Samura, 15, of Harlem, will play Kris in TADA! Youth Theater's production of "Game Changers" from July 10th through August 1st, 2019. Photo courtesy of TADA! Youth Theater. By TADA!
---