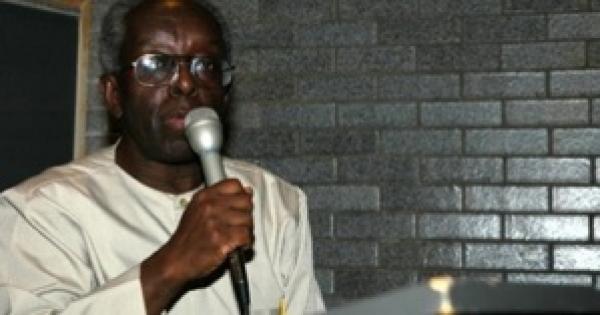 The great Pan-African leader Elombe Brath's legacy will be recognized Friday June 23, 2017, when the southwest corner of Adam Clayton Powell Jr. Boulevard between 124th and 125th Streets in Harlem officially becomes Elombe Brath Way.
Better known simply as "Elombe" to his many admirers in New York, the United States, in Africa, the Caribbean, South America and other African Diaspora, Brath died May 19, 2014 at the age of 77 after a long illness. There will be a ceremony Friday but the bigger celebration will be on Elombe Brath's birthday on September 30, according to one of his sons Cinque Brath.
Brath visited every African country and met many of the leaders, in many cases, when they were still liberation fighters struggling for the independence of their country. He traveled throughout the world educating people about Africa and leading campaigns to end White minority rule in South Africa, Zimbabwe, Namibia, Mozambique, Angola, Guinea Bissau and many other territories where minority rule continued long after most African countries won their independence. Brath was a walking Encyclopedia of African history and lectured widely in universities throughout the world about Africa's history, the liberation struggle and the need for Pan-African unity.
He was along-side the late Percy Sutton, Manhattan borough president as they hoisted a new street sign when the corner of 125th Street and 7th Avenue was renamed "African Liberation Square" on in 1973. Sutton also declared the month of May as African Liberation Month. He was the founder of the Patrice Lumumba Coalition, following in the footsteps of earlier Pan-African nationalist leaders in Harlem like Marcus Garvey and Carlos Cooks.
During his home-going ceremony on May 31, 2014, the leading Pan-African author, journalist and professor, Herb Boyd recalled of Elombe: "Elombe joined the South West African Relief Committee to assist SWAPO President Sam Nujoma in getting aid to the country of Namibia, which was then suffering under the yoke of the racist apartheid regime. This marked the beginning of his numerous relationships with freedom fighters, struggling to liberate their countries from colonial and white minority rule. They included leaders such as Samora Machel of Mozambique, Thomas Sankara of Burkina-Faso, Kanyama Chiume of Malawi and Robert Mugabe of Zimbabwe. In 1973, he was awarded the Croix de Chivalry by President Ahmed Sekou Toure of Guinea for continuous work toward the African Democratic Revolution."
Related articles
Related Articles