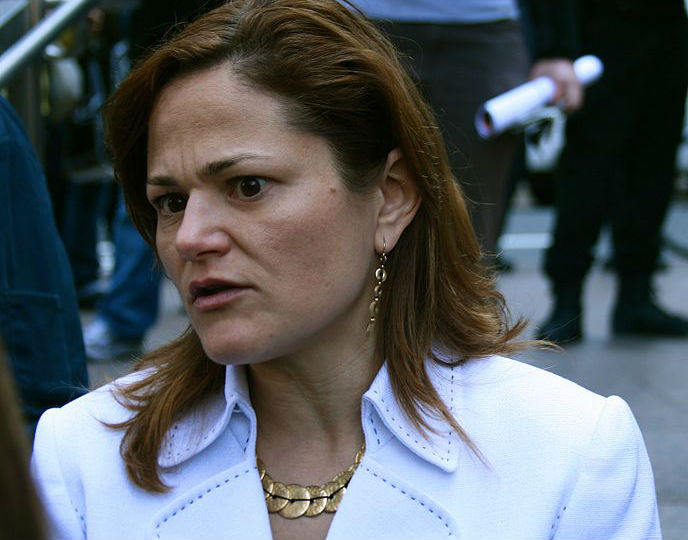 New York City Department of Housing Preservation and Development (HPD) Commissioner Maria Torres-Springer and New York City Department of Consumer Affairs (DCA) Commissioner Lorelei Salas today announced the launch of the "Ready to Rent: Financial Counseling for Affordable Housing" program. This new program, in partnership with the financial counseling provider Ariva and HPD's Housing Ambassadors, will provide free one-on-one financial counseling and additional assistance to those seeking affordable housing.
"HPD is committed to providing New Yorkers with the resources they need to find and secure affordable housing," said HPD Commissioner Maria Torres-Springer. "The Ready to Rent program connects residents to financial counseling and services to help them build a stronger foundation from which to apply for affordable housing opportunities. I would like to thank DCA, Ariva, our Housing Ambassador partners, and Speaker Melissa Mark-Viverito for their partnership in giving New Yorkers the tools they need to achieve their goals."
"For many New Yorkers living in or near poverty, access to affordable housing is a vital part of their financial stability," said Department of Consumer Affairs Commissioner Lorelei Salas. "Our Office of Financial Empowerment is committed to helping New Yorkers better prepare their finances so that they can secure an affordable place to live and raise their families. We encourage New Yorkers to take advantage of the one-on-one housing-focused financial counseling being offered through the Ready to Rent program to help families improve their credit scores and submit a strong housing application."
The City Council recognizes the importance of financial counseling in the housing placement process, and our support of this potential resource encouraged the funding allocated to the Ready to Rent program through the FY 2017 budget..
"The City Council recognizes the importance of financial counseling in the housing placement process, and our support of this potential resource encouraged the funding allocated to the Ready to Rent program through the FY 2017 budget," said Speaker Melissa Mark-Viverito (pictured above). "Coming to the table fully informed is the greatest asset that a prospective tenant can have when seeking affordable housing opportunities, and we are happy to be a partner in this fantastic initiative uniting residents with accommodations of a reasonable cost."
Through a series of educational events and in-person sessions, Ready to Rent will provide New York City residents with housing-specific financial counseling and assistance with the affordable housing application process. Resources for City residents with limited English proficiency will be provided including interpreters, printed materials in multiple languages, and multilingual staff.
Ready to Rent events will be hosted by Housing Ambassadors—community-based service providers, who partner with HPD to help New Yorkers across the city find and apply for affordable housing. Ariva, a nonprofit that provides free, comprehensive financial counseling and coaching to low-income New Yorkers will be on site to schedule financial counseling sessions in various neighborhoods. The housing-focused financial counseling sessions will be tailored to each individual's affordable housing goals. Counselors will work with residents to review their credit history and the credit factors that affect housing eligibility, assist them in identifying financial goals, and help create realistic budgets that include rent, moving costs, and other housing-related expenses. Ariva counselors are trained on the U.S. Department of Housing and Urban Development's income qualifications and fair housing policies, and HPD/HDC's affordable housing marketing and lottery process, policies, and procedures. To schedule an appointment with an Ariva financial counselor, New Yorkers can also call 311 and ask for "Financial Counseling for Affordable Housing."
"Ariva is pleased to continue our collaboration with DCA and HPD on the Ready to Rent program and we thank Speaker Mark-Viverito for her leadership in bringing this project to scale," said Irene Baldwin, Ariva's Executive Director. "New Yorkers of all income levels know the difficulty of finding affordable apartments and the problem is particularly acute with poor and working people. The Ready to Rent pilot last year provided high quality custom financial counseling to 325 apartment seekers, 141 of whom saw measurable, positive financial outcomes. We look forward to working with our partners to build on these impressive results in the months ahead."
"This grant will play a key role in better equipping vulnerable sectors of the population to secure affordable housing; in addition, this collaboration will allow the populations that we serve, to understand, and implement, the mechanisms at play to achieve upward mobility. We are excited to be participating in this city-wide initiative and are looking forward to building our services," said Los Sures Executive Director Ramon Peguero.
"NHS Brooklyn is thrilled to be part of the Ready to Rent Financial Counseling for Affordable Housing Program," said Neighborhood Housing Services of Brooklyn Executive Director, Tonya Ores. "I commend HPD Commissioner Maria Torres-Springer for her vision to provide residents with the financial tools they need to obtain affordable housing in New York City. As a Housing Ambassador, NHS Brooklyn will provide the necessary support and direct services to residents in our communities. Financial Counseling will empower many residents to make sound financial decisions for themselves and their families."
"Financial empowerment services can provide financially-vulnerable households with the tools, knowledge and resources they need to more readily access affordable housing," said Eileen Auld, New York Tri State Director, Citi Community Development. "By building on the learnings of the Citi Foundation's earlier collaboration with HPD and OFE, the City of New York is enabling more New Yorkers to secure affordable housing and improve their financial stability."
Ready to Rent was created from an earlier pilot program conducted by HPD, DCA, and Ariva, with the support of the Citi Foundation and the Mayor's Fund to Advance New York City. The pilot program studied the financial barriers that prevent affordable housing applicants from qualifying for housing and assessed whether financial counseling could help applicants who are seeking affordable housing better prepare their finances and subsequently their applications. Based on the initial findings of the study, the agencies created a new guide, Ready, Set, Apply: Getting Ready for Affordable Housing in NYC (Spanish) to help New Yorkers best prepare for and navigate the housing application process.
Ready to Rent was made possible through a $450,000 investment by City Council Speaker Melissa Mark-Viverito to create a financial empowerment program for New Yorkers seeking affordable housing. Together, HPD and DCA are working to enhance and integrate the HPD Housing Ambassador program and DCA's financial empowerment services to better serve New York residents. The Speaker's funding supports financial counseling with a housing focus in more than 10 targeted neighborhoods and Housing Ambassador events across the city, expanded in-person assistance for applicants at Housing Ambassador offices, and new technology and equipment for Housing Ambassadors to assist New Yorkers through the application process.
---
---
Ready to Rent follows the launch of HPD's informative video series on the affordable housing lottery process. The first video in the series, Applying to a New York City Affordable Housing Lottery: Video Guide, is out now.
For more information on Housing Ambassadors and Ready to Rent events please visit HPD's website.
Related Articles
VIDEO
---
Harlem Cultural Archives is a donor and foundation-supported Historical Society, Its mission is to create, maintain and grow a remotely accessible, online, interactive repository of audio-visual materials documenting Harlem's remarkable and varied multicultural legacies, including its storied past as well as its continuing contributions to the City and State of New York, the nation, and the world.
Support Harlem Cultural Archives
and
click here to get more Harlem History
, Thank you.