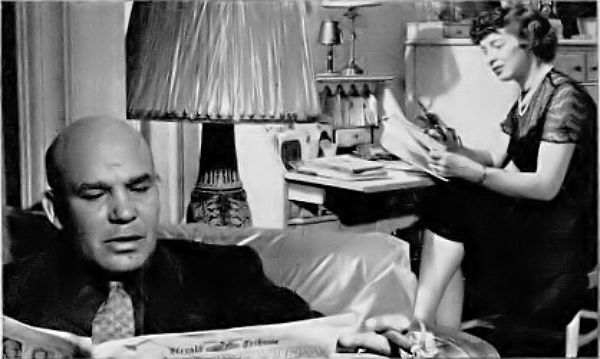 BlackExPat wrote that Jay Clifford, who was born in 1887, and married his wife Grace in the early 1900's. He and his wife threw huge parties in Harlem during the 1930s, so much so that they became known as 'Mr. and Mrs. Society.'
He worked as a mathematics teacher in the famous Dunbar High School of Washington D.C., and as a US Customs Inspector before they settled down in Harlem. Along the way he became a New York socialite and man about town in New York City.
For reasons that are unclear Jay decided to leave New York (and his wife) to live in Paris sometime in the late 1940s, while in his 60's. Jay and his wife were unfortunately already estranged and his move to Paris just added to the strains in the relationship. The April 9, 1953 issue of Jet magazine reports that she quietly divorced him.
Jay Clifford did not live a quiet retired life in Paris, far from it. He replicated his socialite past in New York and became the host to many Black Americans and Americans in general who passed through Paris. He was actually known as "Mr. Socialite". He was a friend of Harlem writer Richard Wright and many testimonies to the legendary Black expatriate community in Paris mention him at least in passing. He seems to be one of the few non-famous people in the community, as opposed to the writers and jazz musicians, whose memory survived. He did accomplish one feat of history though in becoming the first African American admitted to the prestigious American Club of Paris in 1952.
In December 1951, apparently due to financial troubles, he lost his apartment and was forced to live in a hotel. Apparently he got his apartment back by early 1953 since a January issue of Jet reports him still throwing parties and in addition reportedly making money "hand over fist" investing in foreign films to redistribute them in the US with a Jewish-American partner. He also acted as a guardian to the young and pretty African American singer Pat Rainey while she sang in Parisian cafes. He stayed there for an undetermined amount of time until he relocated to the French Riviera: first to Cannes and later Monte Carlo in Monaco by 1955. Asked why he went from Cannes to Monte Carlo he told Jet Magazine, "because the casinos in Monte Carlo open an hour earlier". His role as grand host in Paris was reputed by the Baltimore Afro-American to have been taken over by Mrs. Franklin E. Frazier, wife of the famous Howard Professor Dr. Franklin E. Frazier.
From here it seems Jay was larger than life wheeling and dealing in the casinos of Monte Carlo with the rich and famous of the world. It is not clear what his income stream was but during his time living in Monte Carlo he continued to be an excellent host and reputedly a great storyteller. In 1960 he starred in an Italian movie where he played the part of a gangster, dated a beautiful Russian ballerina (Nadia Steinbock), and once offered to trade his roulette gambling secrets for the womanizing secrets of the spectacular international playboy and diplomat from the Dominican Republic, Porfirio Rubirosa. He claimed to Jet Magazine he had developed an "algebraic" method to beat the odds of roulette crediting his time as a math teacher as inspiration.
In late 1967 Jay Clifford had to briefly return to Cincinnati in the US for an operation at the Veterans' Hospital of Cincinnati. After four months in the hospital, in early 1968 he returned to the French Riviera wryly commenting to Jet magazine that he could no longer tolerate the US winters after living in France for over 15 years. Unfortunately the good times couldn't last forever and Jay died of the complications from his operation in 1968 at the ripe age of 81 in Monte Carlo, Monaco.
Related Articles