---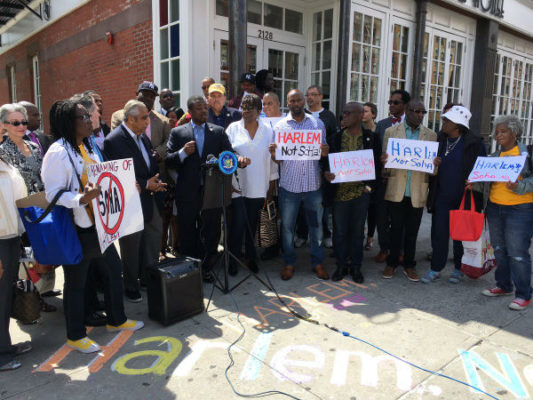 In one of his first orders of business in the New York State Senate, newly-elected Harlem Senator Brian Benjamin has introduced legislation to prevent the real estate industry and other actors from rebranding existing neighborhoods without residents' permission.
The bill — called the "Neighborhood Integrity Act" — would require public officials to initiate a public review procedure to rename a neighborhood or modify its established geographical boundaries. It would also regulate private interests by subjecting real estate brokers to fines and the loss or suspension of their license for marketing properties in neighborhoods that aren't officially recognized.
The bill could potentially mean the end for "neighborhoods" such as BoCoCa, SoBro, ProCro and most importantly to Harlemites, SoHa.
Harlem community leaders held a press conference in May to condemn the rebranding of a sliver of Central Harlem — West 110th to 125th streets between Morningside Drive and Park Avenue — as "SoHa." Elected officials, community board members, residents and faith leaders denounced the rebranding as a tool of the real estate industry to gentrify Harlem and whitewash its culture and history.
"How dare someone try to rob our culture and try to act as if we were not here and create a new name and a new reality as if the clock started when other people showed up" Benjamin said during the rally.
After the rally, Benjamin told Patch that the bill would be based off legislation Congressman Hakeem Jeffries attempted to pass during his tenure in the New York State Assembly. The Neighborhood Integrity Act is currently being discussed at the committee level in the State Senate. Benjamin, a Democrat, may have trouble passing the bill through the Republican-controlled Senate.
See the full text of Benjamin's bill below:
Photo by Patch
Originally published June 9, 2017.
Related Articles
---