---
Harlemites were paying tribute to Prince after news of the music superstar's death broke today.
During the course of his legendary career, Prince made several appearances at the famed Apollo Theater in Harlem, and the theater played his music as the marquee read "Nothing Compares 2 U".
Prince donated $1 million to the Harlem Children's Zone. The organization's president Geoffrey Canada released a statement:
To the world Prince was an incredible, unique genius who reached multiple generations of fans, but to the Harlem Children's Zone he was a wonderful benefactor who personally reached out to us to donate a million dollars. He said he wanted to help prepare the next generation for college. He did so quietly, stating he wanted other artists to contribute to improving the conditions of the disadvantaged in this world. We have a special love for him as a musician, social activist and human being. He will be sorely missed.
Prince also donated $250,000 to the Uptown Dance Academy when he found out they were going to lose their space.
Long-time New York Congressman Charles Rangel remembered one of Prince's appearances at the Apollo.
I remember being at the Apollo in the 1990s when he made his debut there and all of Harlem just was electric, the way he came on stage. It was a line around 125th Street. We will miss him. He's made his mark. We lost him so early, but sometimes that's the way when God gives us a gift he doesn't allow us to keep him that long. We will miss the Prince.
Prince's last concert in New York City was a private concert on March 18th at Avenue in the Meatpacking District.
He performed for about an hour in front of an intimate crowd and announced at the show that he was writing a memoir with Random House that was tentatively titled "The Beautiful Ones," after a song from his 1984 album, "Purple Rain."
It was scheduled to be released next year.
March 1993
Prince played the Apollo Theater for the first time.
"Yeah, we uptown tonight!" Prince yelled to the crowd, which included Rep. Charles Rangel. The concert was by invitation only and most of the tickets went to community groups.
During that New York City swing, he also appeared at Club USA, a long defunct club off Times Square, for an unannounced 2 a.m. show.

June 2009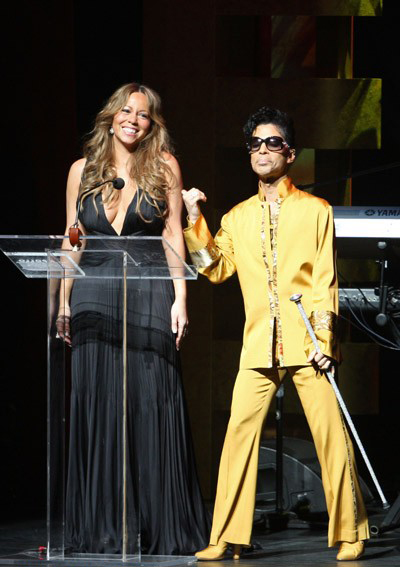 Prince appeared as part of Apollo Theater's 75th Anniversary Gala with Mariah Carye to help induct singers into the Apollo Legends Hall of Fame.
October 2010
In a characteristically offbeat appearance at the Apollo Theater, Prince announced his Welcome 2 America tour in a two minute appearance, and then left the stage.
"Welcome," Prince said to the crowd. "We're here in New York to announce a series of events that will begin on a purple day in December 2010."
"Come early and come often," he said, as he closed his remarks. "No concert is ever the same."
Via source
Related Articles
---