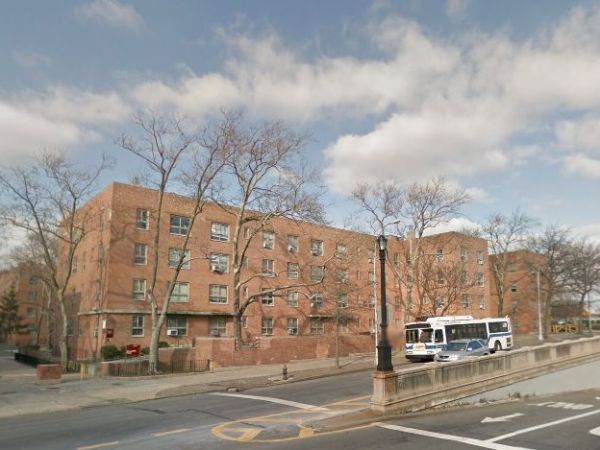 The Macomb's Bridge branch of the New York Public Library — located within the Harlem River Houses — has about a fourth as much seating space as a subway car. With just 12 seats, the 685-square-foot library is the smallest in the city, but by 2019 it will be five times larger, the New York Public Library and New York City Housing Authority announced Thursday.
The library's board of trustees has decided to move the branch across the street to a 3,375-square-foot ground floor space, NYCHA Chair and CEO Shola Olatoye said Thursday. The new space is also a NYCHA-owned building and would house the library for the duration of a 20-year lease with the possibility of a 10-year extension.
"This community has been incredibly patient as we worked to find the right location for a bigger, better Macomb's Bridge Library, and we are so happy to report that we – along with our partners at NYCHA – have indeed found that location," said NYPL President Tony Marx in a statement. "The hard-working staff of Macomb's has long made big things happen in a very small space. We can't wait to see what they can do in the future."
The move is expected to increase visits to the Macomb's Bridge Library by 40 percent annually, according to the announcement. In the fiscal year of 2016 the library was visited 31,471 times, despite its small facility.
The move will be supported by area politicians, such as City Council Member Inez Dickens, Manhattan Borough President Gale Brewer and State Assembly Member Herman Farrell, Jr. who have allocated $2.022 million to fund the project, according to the announcement.
"As a strong supporter for the Macombs Branch of The New York Public Library, I am proud to say this day has been long awaited," Dickens said in a statement. "It is because of the concerted efforts and determination of residents in this community that future generations now have a place to expand their knowledge, test their limits and breakdown barriers to success."
The expansion is expected to be completed in mid 2019 and the library is currently in the process of finalizing the lease with NYCHA and finding an architect to design the new space. In the future the library will survey neighborhood residents to find out what they would like to be featured in the new library, as well as holding public meetings to discuss the expansion project.
Via source
Related Articles
---