---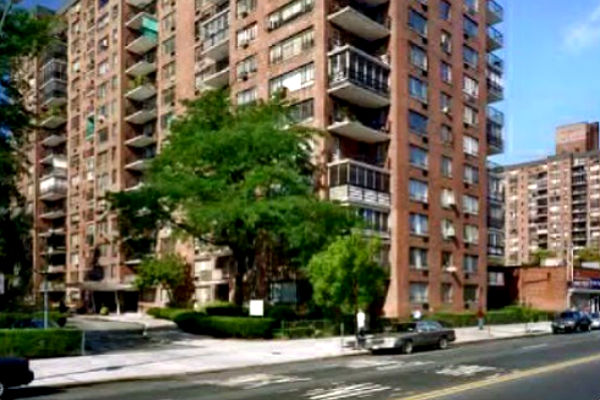 Faced with a looming City Council rejection, the Harlem developer behind the embattled Lenox Terrace redevelopment has unveiled an alternative plan to dramatically alter the apartment complex's footprint—only this time without public approval.
The Olnick Organization is in the final stages of a contested rezoning that would add five new buildings to Lenox Terrace, a six-building development erected in 1958 between 132nd and 135th streets on Lenox Avenue. Those 28-story towers would create 1,600 mixed-income apartments, only 400 of which would be below-market-rate. Olnick has pitched similar projects since 2003 only for them to stall.
But this time the developer says it will move forward with new construction with or without approval from the City Council. If the rezoning is shot down, Olnick aims to pursue a somewhat scaled-down version that can be built under the property's existing zoning. This alternative would include four roughly 20-story buildings, but without any of the affordable units, upgrades to existing apartments, or public amenities proposed under the zoning changes.
Ethan Goodman, an urban planner at Fox Rothschild working with Olnick on the redevelopment, told lawmakers at a recent City Council hearing that the amenity package would be "infeasible" without new density.
"What's most important here is that the new development and the improvements to existing housing must and will happen together," said Goodman. "Unfortunately, upgrades to the existing buildings just can't happen without some new development." Those upgrades would include free renovations for longtime tenants, along with new amenities including roof decks, playrooms, a gym, yoga studios, and six acres of green space reports Curbed NY.
Tenant advocates are not impressed with Olnick's pledge to update existing apartments, saying these are enhancements the landlord should already be making, and some argue that the amenities are designed more as a lure for higher rent-paying tenants than for existing residents. Fears of gentrification and the erosion of Harlem's identity as a mecca of black American culture are at the top of many tenants' minds.
Harlem Councilmember Bill Perkins has staunchly opposed the project and says it would cause a "ripple effect" of development that would overburden the area's transportation, school, and hospital infrastructure.
"I have not changed my position that this project is not good for our community," Perkins said at the Council hearing. "The neighborhood would have to undertake the burden of this project, which is ill-conceived for a community that already lacks sufficient resources."
Lenox Terrace resident Gary Sales described Olnick's as of right alternative to casting the rezoning as an "offer you can't refuse" in an attempt to ram a redevelopment through despite the variety of community concerns.
"That says to me that they don't have any real feeling for this neighborhood," said Sales. "They're not trying to do something for the community, they're trying to offer some promises so they can make profit."
But not everyone feels that way. The Greater Harlem Chamber of Commerce, the Greater Harlem Housing Development Corporation, and the Harlem Arts Alliance have endorsed the rezoning as part of a coalition of neighborhood organizations and some Lenox Terrace tenants who say the rezoning could spur an "economic boom" in the neighborhood.
Lenox Terrace has historically served as a middle-class refuge for black tenants, attracting dozens of cultural icons from comedian Nipsey Russell
and singer Mahalia Jackson to political leaders Percy Sutton and Basil Paterson. Former U.S. Congressman Charles Rangel and former New York governor David Paterson are current residents.
"What does it benefit anyone if you create something that's wonderful but none of the people that live in the community will benefit from it and will all be displaced?"-Michael Henry Adams,
Michael Henry Adams, a historian of Harlem's architecture and culture, hoped that the modernist 1958 complex would receive landmark status, but the city's Landmark Preservation Commission says the site doesn't meet its criteria.
---