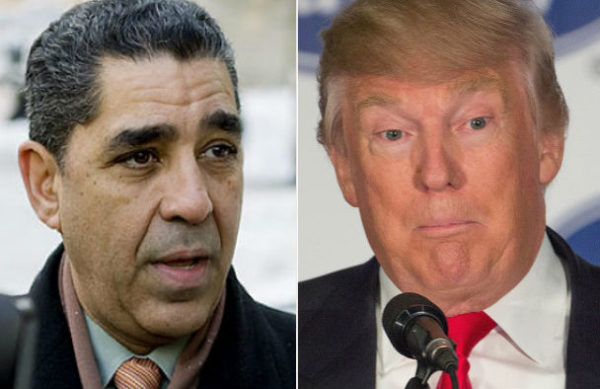 Harlem Congress person Adriano Espaillat has represented New York's 13th Congressional Distrcit for only a few weeks, but has already become one of Congress' most vocal critics of President-elect Donald Trump and his incoming administration. Espaillat announced during MLK weekend that he would not be attending Trump's inauguration because of the President-elect's "hateful rhetoric."
"President-elect Donald Trump is trying to take us back! And the people Trump is appointing– Steve Bannon, Jeff Sessions – are trying to take us back!" Espaillat said in a message posted to Facebook. "That's why I am not attending the presidential inauguration. Donald Trump and the hate-filled rhetoric that plagued his election simply will continue in his administration."
Espaillat — the first Dominican-American and formerly undocumented immigrant to serve in Congress— also said in his post that it is "up to us" to preserve the legacy of Martin Luther King Jr. and President Barack Obama and that Trump's vision for the United States, "is not Dr. King's Dream!"
The Freshman Congressman representing Harlem, Washington Heights, Inwood and parts of the Bronx was critical of Trump's anti-immigrant rhetoric throughout the campaign and delivered a passionate pro-immigrant speech at the Democratic National Convention. Espaillat's decision to boycott Trump's inauguration isn't the first time he will be speaking out against the Trump administration either. In a speech to the house floor Espaillat denounced Attorney General nominee Jeff Sessions for disparaging remarks the Alabama Senator made about immigrants from the Dominican Republic while debating immigration reform in 2006.
Many Democratic lawmakers have decided to boycott Trump's upcoming inauguration — which will be held Thursday Jan. 20 — due to Trump's divisive campaign rhetoric and his recent feud with Democratic Congressman John Lewis.
In an interview with NBC on Friday, Lewis said he believed Russian influence had a hand in getting Trump elected. Asked about working with Trump, Lewis responded that it would be difficult. "I don't see this president-elect as a legitimate president," he said.
In his response Saturday morning, Trump also had harsh words to say about John Lewis' 5th Congressional District, which includes downtown Atlanta, along with surrounding communities — some impoverished, others affluent. Saying the congressman should spend more time helping his district, Trump referred to the area as being "in horrible shape and falling apart (not to mention crime infested)."
Trump continued with another criticism of Lewis: "All talk, talk, talk — no action or results," Trump said. "Sad!"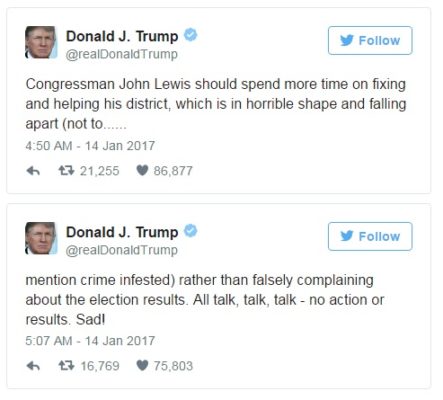 Via source
Related Articles