---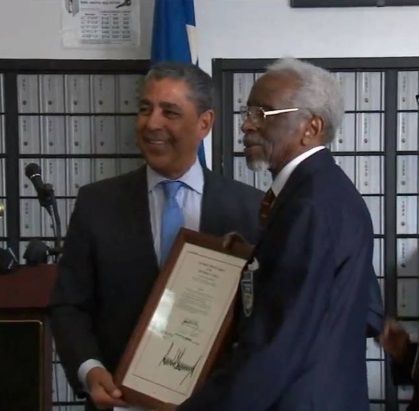 The United States Postal Service has renamed a Harlem post office facility in honor of the Tuskegee Airmen, a group of African-American pilots who fought in World War II, following passage of a bill by Rep. Adriano Espaillat, which was signed into law earlier this year. A ceremony was held Monday at the post office on Macombs Place, which will now be known as the Tuskegee Airmen Post Office Building.
"Renaming this post office facility after the Tuskegee Airmen is a fitting tribute to honor their memory and contributions to this country," said Rep. Adriano Espaillat.
During the event, Rep. Espaillat was joined by city and state leaders and recognized the service of Wilfred R. DeFour Sr. who served as a Tuskegee Airmen and recently celebrated his 100th birthday. "Mr. DeFour is a lifelong New Yorker and returned to New York City after his military service to work for the U.S. Postal Service for 33 years where he demonstrated extraordinary pride in his work for the people of Harlem as evidenced by his ascendance to Superintendent of Special Delivery and Parcel. His contribution to our New York City community is omnipresent, and it is my personal honor to highlight his life of achievement and service to our nation, honoring him and each of the Tuskegee Airmen during today's renaming ceremony," Rep. Espaillat concluded.
---