---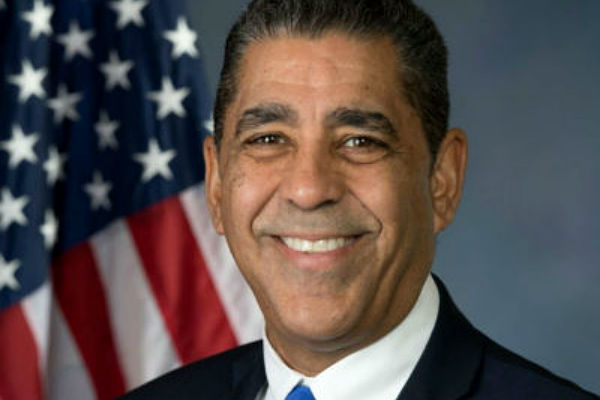 Representative Adriano Espaillat released the following statement on his bill, the Green Climate Fund Authorization Act of 2021.
Which commits the United States to provide $8 billion in climate financing to keep the planet under 1.5 degrees Celsius of global warming and promotes environmental justice and human rights.
"The global climate crisis is upon us, and it is an existential threat. We have waited far too long to take serious action to combat climate change, and it is time the United States restores its leadership in the world by contributing to international efforts to mitigate and adapt to climate change. As the world's largest historical greenhouse gas emitter and one of the wealthiest countries in the world, it is incumbent upon the United States to contribute its fair share to global mitigation and adaptation efforts by providing financing to developing countries for just and equitable climate action. The Green Climate Fund is the world's largest dedicated fund helping developing countries reduce their greenhouse gas emissions and enhance their ability to respond to climate change. Through supporting the Green Climate Fund, the United States can promote environmental justice by assisting marginalized communities in countries that contribute the least to climate change, yet bear the greatest burden of its impacts. This is a moral imperative," said Rep. Adriano Espaillat (NY-13).
"We have a moral and legal obligation to fund the Green Climate Fund. But more than that, doing so is an absolute necessity if we're serious about fixing the climate crisis. Without support from countries like the U.S. – as one of the world's richest countries and the world's biggest climate polluter – poorer countries, many of which have had no role in causing climate change, have little ability to transition to clean economies or protect their people from climate impacts. Any comprehensive climate solution must include climate finance to support climate action in poor countries, and the Green Climate Fund is the best channel for that support," said Brandon Wu, Director of Policy & Campaigns at ActionAid USA.
"We know that any effective, just US climate policy must recognize this country's responsibility to contribute to global solutions, including through an unprecedented commitment to climate financing. Moreover, we know where the money goes matters. The more that resources needed to mitigate and adapt to climate breakdown are channeled to changemakers at the grassroots level — and particularly women and girls in frontline communities of the Global South — the better chance we have to tackle climate breakdown locally and globally. Frontline women climate defenders sustain their communities through climate catastrophes, from preserving local water sources through drought to storing seeds after floods destroy crops. We must resource their vital work and advance policies guided by their expertise. We commend the Green Climate Fund Authorization Act for spotlighting that our policy efforts must center women, communities of color, Indigenous Peoples, and all frontline communities globally, and for committing to fulfill US obligations to climate financing," said Yifat Susskind, Executive Director, MADRE.
"Climate change doesn't start and stop within our borders. While the U.S. is making progress on climate by proposing bold policies that will bolster renewable energy and clean transportation, we must also support the transition to a green economy across the globe. Authorizing a Green Climate Fund will provide climate financing to support global mitigation and adaptation in a just and equitable manner. We thank Congressman Espaillat for his leadership and look forward to working with him as this legislation progresses," said Julie Tighe, President of the New York League of Conservation Voters.
The Green Climate Fund Authorization Act of 2021 would authorize $8 billion over two years in appropriations to the Green Climate Fund, an independent, multilateral fund established by the United Nations Framework Convention on Climate Change to help developing countries limit or reduce their greenhouse gas emissions and adapt to climate change.
To date, the Green Climate Fund Authorization Act has been endorsed by: Action Corps, ActionAid USA, American Jewish World Service, Center for Biological Diversity, Center for International Environmental Law (CIEL), Church World Service, EcoEquity, Friends of the Earth U.S., Islamic Relief USA, League of Conservation Voters, MADRE, Mennonite Central Committee U.S. Washington Office, NYLCV, Sunrise Movement, Union for Reform Judaism, Women's Environment & Development Organization (WEDO), Zero Hour.
Representative Espaillat is the first Dominican American to serve in the U.S. House of Representatives and his congressional district includes Harlem, East Harlem, West Harlem, Hamilton Heights, Washington Heights, Inwood, Marble Hill and the north-west Bronx.
First elected to Congress in 2016, Representative Espaillat is serving his third term in Congress. Representative Espaillat currently serves as a member of the influential U.S. House Committee on Appropriations responsible for funding the federal government's vital activities.
He is also a member of the Congressional Hispanic Caucus (CHC), where he serves as the Second Vice-Chair and is a member of the Congressional Progressive Caucus, where he serves as Deputy Whip.
Representative Espaillat also currently serves as a Senior Whip of the Democratic Caucus. To find out more about Rep. Espaillat, visit online at https://espaillat.house.gov/.
---