---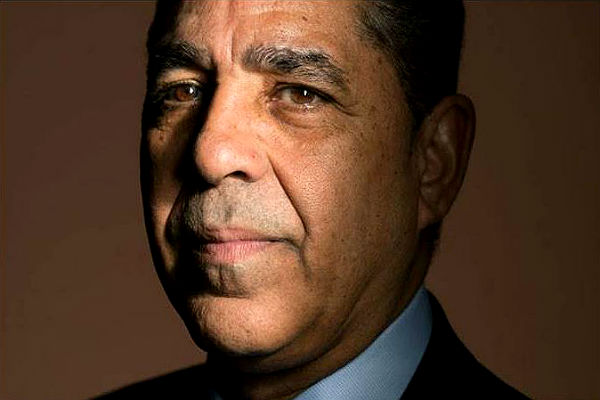 Today, Representatives Adriano Espaillat, Joaquin Castro and Senator Alex Padilla announced the introduction of the Fair Adjudications for Immigrants Act.
Which would remove certain barriers to naturalization and citizenship, and prevent the unfair removal of immigrants based on prior conviction status.
The bill would ensure immigrants with past criminal convictions that have been adjudicated, pardoned, or suspended by the sentencing court, have access to a path to naturalization and will no longer be at risk for removal.
"Our immigration system is broken. And for far too long, our nation's immigrants have been unjustly denied a legal pathway to citizenship and still face deportation due to criminal convictions that have been pardoned, adjudicated, or suspended. This is unfair, unjust, and unacceptable," said Congressman Espaillat. "No one deserves to be ostracized for their troubled past or a conviction that's been thrown out – and no one should be denied their chance at the American Dream because of it either. It's my hope that by passing this bill, we can begin to rebuild this country's immigration system from the ground up, making it more equitable and accessible for all who call this nation home."
"Immigrants should not be barred from naturalization and risk deportation because of a past criminal conviction that is no longer valid in court," said Congressman Castro. "Unfortunately, our nation's immigration system is deeply broken and often makes it more difficult rather than helpful for immigrants to obtain a legal pathway to citizenship – Congress must pass reforms. This bill takes critical steps to prevent unjust deportations and help aspiring new Americans pursue their dreams."
"For far too long, our immigration laws have put the American Dream further out of reach by making it nearly impossible for immigrants, especially those with resolved convictions, to become citizens. We can no longer turn a blind eye to them," said Senator Padilla. "We must ensure that our immigration system is fair and that a previously dismissed or pardoned conviction neither prevents an immigrant from being able to naturalize nor factors into any removal decisions."
"The United States immigration system imposes the harsh penalty of detention and deportation as a second punishment for people emerging from the criminal legal system, destabilizing families and communities. This injustice is even more pronounced when the underlying conviction has been vacated or pardoned or otherwise erased in the criminal legal system yet remains valid for immigration purposes. We applaud the introduction of the Fair Adjudications for Immigrants Act, which would ensure no one is deported from their loved ones because of a conviction or sentence no longer recognized by the criminal court," said Heidi Altman, Director of Policy at National Immigrant Justice Center.
"The INA's broad and distorted definition of 'conviction' has resulted in unjust and deeply harmful immigration repercussions for countless people, further fueling this country's cruel detention and deportation machines," said Sirine Shebaya, Executive Director of the National Immigration Project. "The National Immigration Project is proud to endorse the Fair Adjudications for Immigrants Act because it is a critical step in ensuring immigrants are able to benefit from criminal justice reform, have a second chance at rebuilding their lives after contact with the criminal legal system, and ultimately receive fair and humane treatment in the United States."
This bill would apply retroactively to any conviction, adjudication, or judgment entered before, on, or after the enactment of this bill. The bill also establishes that the grounds of inadmissibility and deportability do not apply to an immigrant with a criminal conviction if, after having provided notice and an opportunity to respond to the prosecuting authorities, the sentencing court issues a recommendation to the Secretary of Homeland Security that the immigrant not be removed on the basis of the conviction.
Specifically, the bill amends the definition of "conviction" to ensure that in certain circumstances, a conviction is not a barrier to naturalization or a reason for removal. The bill amends the definition of "conviction" in the INA to "a formal judgment of guilt of the noncitizen entered by a court," and excepts the following circumstances from being considered a conviction:
An adjudication or judgment of guilt that has been dismissed, expunged, deferred, annulled, invalidated, withheld, vacated, or pardoned by the President of the United States or the Governor of any State,
Any adjudication in which the court has issued a judicial recommendation against removal, an order of probation without entry of judgment, or any similar disposition,
A judgment that is on appeal or is within the time to file direct appeal.
The Fair Adjudications for Immigrants Act is cosponsored by: Representatives Alexandria Ocasio-Cortez (NY-14), André Carson (IN-07), Dina Titus (NV-01), Eleanor Holmes Norton (D-DC), Grace Meng (NY-06), Ilhan Omar (MN-05), James P. McGovern (MA-02), Jan Schakowsky (IL-09), Jesús G. "Chuy" García (IL-04), Juan Vargas (CA-51), Mark Takano (CA-41), Mary Gay Scanlon (PA-05), Mondaire Jones (NY-17), Tony Cárdenas (CA-29), and Nydia M. Velázquez (NY-07).
Read the bill in its entirety here.
The Fair Adjudications for Immigrants Act has been endorsed by:
National Immigration Project of the National Lawyers Guild, National Immigrant Justice Center, National Immigration Law Center, International Refugee Assistance Project (IRAP), Center for Constitutional Rights, America's Voice, Immigration Hub, United We Dream Network, Public Counsel, Immigrant Legal Resource Center (ILRC), Center for Law and Social Policy (CLASP), Immigrant Defense Project, Capital Area Immigrants' Rights Coalition, Legal Aid Justice Center, Make the Road New York, The Bronx Defenders, Coalition for Humane Immigrant Rights (CHIRLA), Florence Immigrant & Refugee Rights Project, Tahirih Justice Center, Freedom Network USA, Black Alliance for Just Immigration, Alianza Nacional de Campesinas, Asian Pacific Institute on Gender-Based Violence, National Partnership for New Americans, #DetentionKills, AIDS Alabama, Immigrant Legal Advocacy Project, La Resistencia, United Stateless, Illinois Coalition for Immigrant and Refugee Rights, Jobs With Justice, Lights for Liberty, Haitian Bridge Alliance, Immigrant and Non-Citizen Rights Clinic, CUNY School of Law, StoptheDrugWar.org, Wayne State Asylum & Immigration Law Clinic, Hispanic Federation, Migrant Center for Human Rights, Quixote Center, Civil Rights Education and Enforcement Center (CREEC Law), NC Coalition Against Domestic Violence, Iowa Coalition Against Sexual Assault, Alianza Americas, Drug Policy Alliance, National Network for Immigrant & Refugee Rights, Unidad Latina en Accion CT, Vermont Network Against Domestic and Sexual Violence, Mennonite Central Committee U.S., New York State Coalition Against Domestic Violence, National Korean American Service & Education Consortium (NAKASEC), The Advocates for Human Rights, Washington Defender Association, Immigrant Justice, Ministry Team of Cedar Lane Unitarian Universalist Church, Government Information Watch, Immigrant Law Center of Minnesota, Arizona Coalition to End Sexual and Domestic Violence, Bethesda Presbyterian Church, Families for Freedom, Idaho Coalition Against Sexual & Domestic Violence, Presente.org, UNITED SIKHS, PG Change Makers, Louisiana Advocates For Immigrants in Detention, Battered Women's Justice Project, Center for Disability Rights, Takoma Park Mobilization – Equal Justice, Jewish Activists for Immigration Justice of Western MA, Muslim Voices Coalition, Comunidad Latina De Hawaii, Hawai'i Coalition for Immigrant Rights, New Jersey Coalition to End Domestic Violence, RISE, Doctors for Camp Closure, American-Arab Anti-Discrimination Committee (ADC), Arab American Association of New York, Connecticut Shoreline Indivisible, Wind of the Spirit Immigrant Resource Center, Committee on National Legislation, Women Watch Afrika, Jetpac Resource Center, African Communities Together, Just Neighbors, The Public Defenders Coalition for Immigrant Justice, Center for Victims of Torture, Disciples Refugee & Immigration Ministries, NETWORK Lobby for Catholic Social Justice, Bridges Faith Initiative, Mainers for Accountable Leadership, Advocating Opportunity, Standpoint, Asian American Legal Defense and Education Fund (AALDEF), Adelante Alabama Worker Center, Interfaith Community for Detained Immigrants, Legal Aid Society of Metropolitan Family Services, Rocky Mountain Immigrant Advocacy Network, Iowa Coalition Against Domestic Violence, Immigrant Justice Network, Asian Americans Advancing Justice | AAJC, Church World Service, Just Futures Law, Americans for Immigrant Justice, Immigrant Legal Defense, UnLocal, ISLA: Immigration Services and Legal Advocacy.
Representative Espaillat is the first Dominican American to serve in the U.S. House of Representatives and his congressional district includes Harlem, East Harlem, West Harlem, Hamilton Heights, Washington Heights, Inwood, Marble Hill and the northwest Bronx.
First elected to Congress in 2016, Representative Espaillat is serving his third term in Congress. Representative Espaillat currently serves as a member of the influential U.S. House Committee on Appropriations responsible for funding the federal government's vital activities.
He is also a member of the House Committee on Education and Labor and the Congressional Hispanic Caucus (CHC), where he serves in a leadership role as the Second Vice Chair and is a member of the Congressional Progressive Caucus, where he serves as Deputy Whip.
Representative Espaillat also currently serves as a Senior Whip of the Democratic Caucus. To find out more about Rep. Espaillat, visit online at https://espaillat.house.gov/.
---