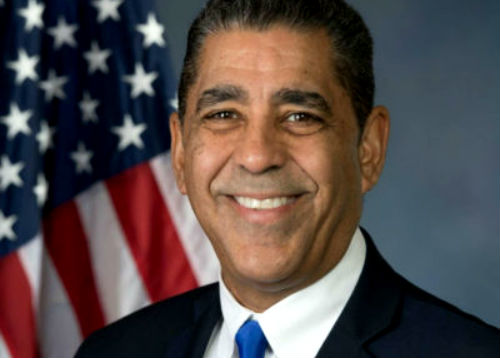 Congressman Adriano Espaillat has been among the most vocal congressional leaders in his calls for emergency federal relief and resources to Puerto Rico following Hurricane Maria's landfall in September. From his legislative efforts to provide emergency financial assistance and call for congressional hearings, and his trips to assess devastated communities, Rep. Espaillat continues to amplify the critical needs and ongoing challenges that residents continue to face nearly four months later, including limited access to medical assistance and resources which continues to have a significant impact on pregnant women, newborns and infants.
Vanessa Caldari, a certified professional midwife who has attended births in Puerto Rico for over 20 years and founder of Mujeres Ayudando Madres Inc., CENTRO MAM, a catalyst for change and empowerment around birth, women's issues, and societal norms in Puerto Rico, will attend tonight's State of the Union Address as Rep. Espaillat's guest to continue to raise awareness of maternal and infant health needs on the island as it continues to lack infrastructure, power and basic supplies and necessities.
"President Trump has failed the American public on a number of issues," said Rep. Espaillat. "Including but certainly not limited to his tax scam that raises taxes on the middle class and gambles the future of America's children, workers and seniors. His giveaway of massive tax breaks to corporations and the wealthiest one percent. His attempts to strip away health care from tens of millions of families and destroy protections for individuals with pre-existing conditions. His continued efforts to sow hate, division and chaos throughout communities around the nation – by advancing a mass deportation and anti-immigrant agenda, attacking voting rights, rolling back civil rights efforts across the government and attempts to use DREAMers as bargaining chips for an extreme anti-immigrant agenda, including an effort to cut legal immigration by 50 percent.
"Among one of Trump's most significant failures has been to the American citizens of Puerto Rico. Four months following devastation to the island, thousands of U.S. citizens remain without adequate resources or assistance, only half of the population has reliable electricity and water, medical supplies are scarce and violence has sparked while the death toll continues to rise. These conditions are uninhabitable and have greater significant impact to pregnant women, infants, individuals with medical conditions, seniors and the poor," he concluded.
"Puerto Rico continues to face a major crisis mired in devastation, as pregnant women and infants remain among the most vulnerable," said Vanessa Caldari, CPM, BSN and founder of Mujeres Ayudando Madres Inc. and CENTRO MAM. "Many are unaware of the devastation that continues throughout communities in Puerto Rico and the daily hardships families continue to face. Obstetricians and doctors have stopped attending clinics and office hours as expectant mothers are sent to hospitals filled with the dead and dying due to lack of infrastructure and power. Medical problems or prenatal issues are exacerbated by unsanitary conditions such as infected waters, lack of plumbing and electricity, excessive heat, mosquitos and flies, and lack of nutritious food. It's a matter of life and death if we cannot meet the primary needs of Puerto Rican mothers and children.
"As MAM continues to coordinate on the ground to distribute supplies and provide outreach to the community, I am attending the State of the Union address to call for more immediate attention to the needs of mothers and children in Puerto Rico and ensure their voices are heard and they receive the prenatal and postpartum care that they deserve," she concluded.
Related Articles
VIDEO
---
Harlem Cultural Archives is a donor and foundation-supported Historical Society, Its mission is to create, maintain and grow a remotely accessible, online, interactive repository of audio-visual materials documenting Harlem's remarkable and varied multicultural legacies, including its storied past as well as its continuing contributions to the City and State of New York, the nation, and the world.
Support Harlem Cultural Archives
and
click here to get more Harlem History
, Thank you.