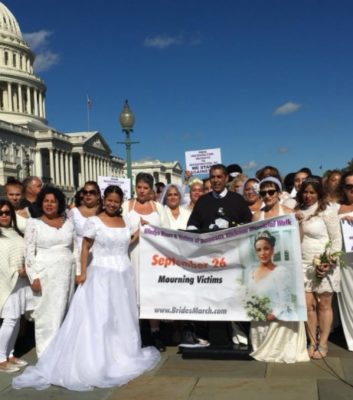 Today, Rep. Adriano Espaillat (NY-13) was joined by Democratic Leader Nancy Pelosi; Rep. Linda Sanchez (CA-38), Vice Chair of the House Democratic Caucus; …
… Rep. José E. Serrano (NY-15); Rep. Sheila Jackson Lee (TX-18); Rep. Debbie Wasserman Schultz (FL-23); Rep. Robin Kelly (IL-02); Rep. Debbie Dingell (MI-12); Rep. Alma Adams (NC-12); Rep. Julia Brownley (CA-26); and Rep. Yvette Clarke (NY-09) for a press conference to raise awareness of domestic violence and remember the life of Washington Heights bride-to-be Gladys Ricart and domestic violence victims and survivors around the nation.
"Today, we stand united with the family of Gladys Ricart, survivors and advocates in support of victims of domestic violence and continue to lend our collective voices to stop the abuse that impacts each of our communities," said Rep. Adriano Espaillat.
"Freedom from abuse is a basic human right," said Democratic Leader Nancy Pelosi. "We are all grateful for the leadership of Congressman Espaillat, New York Latinas Against Domestic Violence, Brides Marchers and all the activists fighting for a future free from the scourge of domestic violence. Together, we must honor the life of Gladys Ricart and all victims of abuse with activism, action and courage."
"In New York City alone, the NYPD responds to nearly 300,000 domestic violence incidents each year. It is time to stop the abuse and stand in solidarity with all the victims who oftentimes suffer in silence. I was proud to join Rep. Espaillat and Brides March to raise awareness on an issue that has an impact not only on women but in many cases also their children. As the lead Democrat on the Appropriations Subcommittee that funds the Department of Justice, I will continue to fight for VAWA funding to help prevent domestic violence and support survivors," said Rep. José E. Serrano.
"During Domestic Violence Awareness Month, it is imperative that we rededicate ourselves to the unfinished work of ensuring that every individual can live in safety, security, and without fear of domestic violence," said Rep. Sheila Jackson Lee.
"Every individual deserves to feel safe and live in homes and communities that are free from violence and abuse," said Rep. Debbie Dingell. "I thank Congressman Espaillat and the brides for raising awareness throughout this country. The Brides March helps give voice to those who don't have a voice and create communities without violence."
According to the Centers for Disease Control and Prevention, 1 in 4 women and 1 in 7 men will experience severe physical violence by an intimate partner in their lifetime, a number that is even greater in minority communities. The purpose of today's press event was to raise awareness and address initiatives to help support victims of domestic violence in communities around the nation. New York Latinas Against Domestic Violence participated as part of the organization's annual "Brides March" vigil in honor of murdered Washington Heights, New York bride-to-be Gladys Ricart, a victim of domestic violence who lost her life tragically on her wedding day.
View more photos from today's press event. Click here to watch video of today's press conference at the steps of the U.S. Capitol.
Related Articles